Posted by
Mary Chastain
Thursday, February 13, 2020 at 1:00pm
| 2/13/2020 - 1:00pm
The union stressed that "[W]orkers should have the right to choose to keep healthcare Culinary Union members have built, sacrificed for, and went on strike for 6 years, 4 months, and 10 days to protect."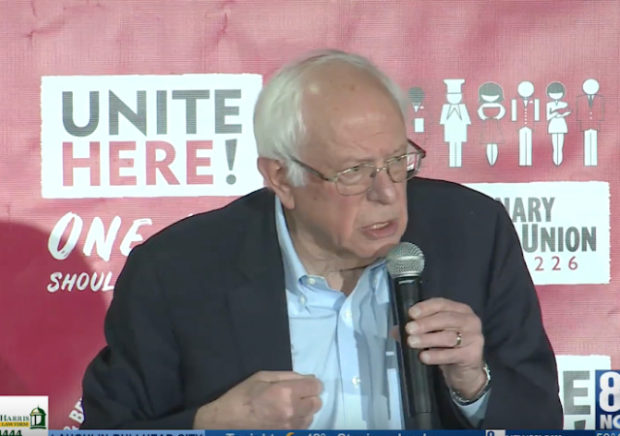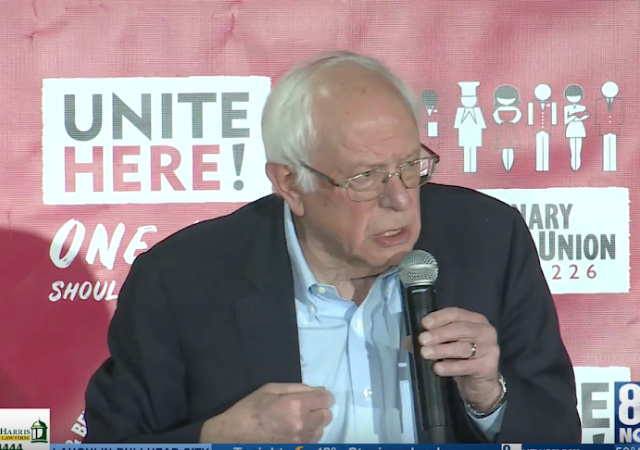 The powerful Nevada Culinary Union Local 226 stated that supporters of Sen. Bernie Sanders (I-VT) "viciously attacked" the union after it pointed out that his required Medicare for All could kill culinary healthcare.
The union has around 60,000 members. This includes "housekeepers, porters, bartenders," and others in Las Vegas, NV.
Here is the flyer the union sent to members. It mentions Medicare for all under Sen. Elizabeth Warren (D-MA), but her plan would "[R]eplace Culinary's Healthcare after 3-year transition or at end of collective bargaining agreements."
Since the whole political world will now be watching whether @Culinary226 endorses someone in Nevada, which would be a genuine earthquake, here's the candidate policy explainer they've sent to members: pic.twitter.com/X3Cgvr3YAX

— Matt Pearce ? (@mattdpearce) February 12, 2020
The Sanders campaign immediately fired back:
"Bernie has stood with workers his entire career, fighting on picket lines against pension cuts and corporate greed. Medicare for All will be no different; the program is crafted with the working class and particularly union members in mind," said Sarah Michelsen, Bernie 2020 Nevada State Director. "Bernie has been clear that under Medicare for All, we will guarantee that coverage is as comprehensive or more so than the health care benefits union workers currently receive, and union health clinics, including the Culinary's health clinic, will remain open to serve their members. With health care as a human right, unions will have more leverage to negotiate better wages and benefits."
In a statement, the union wrote that it "believes everyone has the right to good healthcare and that healthcare should be a right, not a privilege." It reminded Sanders and his supporters that it "already enacted a vision for what working people need – and it exists now."
The union stressed that "[W]orkers should have the right to choose to keep healthcare Culinary Union members have built, sacrificed for, and went on strike for 6 years, 4 months, and 10 days to protect."
The union then expressed disappointment "that Senator Sanders' supporters have viciously attacked the Culinary Union and working families in Nevada simply because our union has provided facts on what certain healthcare proposals might do to take away the system of care we have built over 8 decades."
STATEMENT by Geoconda Argüello-Kline: It's disappointing Senator Sanders' supporters have viciously attacked the Culinary Union & working families in NV simply because we provided facts on proposals that might takeaway what we have built over 8 decades. ➡️https://t.co/zUqTizBFSF pic.twitter.com/sWnRZ0r2vR

— The Culinary Union (@Culinary226) February 12, 2020
Sanders spoke to the Culinary Union two months ago. People "heckled" Sanders while shouting, "Union health care!" and others screamed, "How are you going to pay for it?"
Clark County, which includes Las Vegas and the union, along with Washoe County, which has Reno, generally decides who wins the Nevada caucuses.
The caucus takes place on February 22.