Posted by
Vijeta Uniyal
Saturday, December 7, 2019 at 2:00pm
| 12/7/2019 - 2:00pm
U.S. special envoy Brian Hook: "This is the worst political crisis the regime has faced and its 40 years."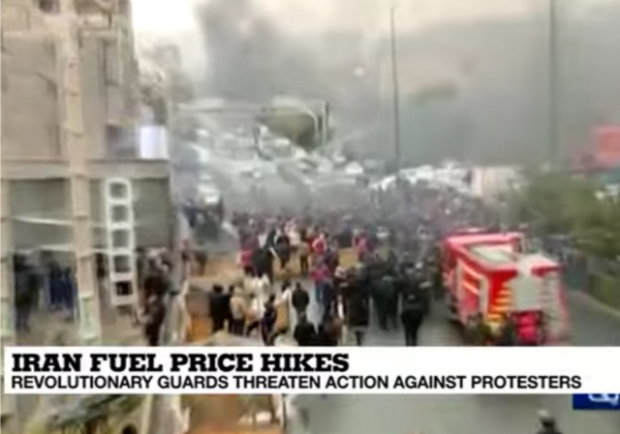 Tehran may have killed more than 1,000 protesters during the deadly clampdown against anti-regime protests, the U.S. State Department said. "As the truth is trickling out of Iran, it appears the regime could have murdered over a thousand Iranian citizens since the protests began," the U.S. Special Representative for Iran, Brian Hook, disclosed on Thursday.
"Thousands of Iranians have been injured, and at least 7,000 more arrested," special envoy Hook said. "This is the worst political crisis the regime has faced and its 40 years."
A video footage cited by the U.S. State Department showed Iranian security forces encircling a group of unarmed protesters, shooting indiscriminately at them from machine guns mounted on pickup trucks and mowing down at least 100 demonstrators in this single incident.
Anti-regime protests began in mid-November after Tehran announced rationing of gasoline and a sharp hike in fuel prices. What began as discontent over deteriorating living conditions turned into nationwide anti-regime protests, hitting around 20 major cities across Iran, including the capital Tehran. Protesters called for the end of the Islamic regime, setting fire to propaganda billboards, banks, and regime's offices.
The Iranian regime called in the  Islamic Revolutionary Guard Corps (IRGC), a U.S.-designated terrorist group, to quell the protests. Pro-regime forces deployed snipers, machine guns, and helicopter gunships to kill anti-regime protesters. Video evidence showed "security forces shooting unarmed demonstrators from behind while they were running away, and shooting others directly in the face and vital organs," The UN High Commissioner for Human Rights, Michelle Bachelet, confirmed on Friday.
Reuters news agency reported U.S. special envoy's remarks:
Iranian security forces may have killed more than 1,000 people since protests over gasoline price hikes began in mid-November, U.S. Special Representative for Iran Brian Hook said on Thursday, adding that many thousands were also wounded in the unrest.

"As the truth is trickling out of Iran, it appears the regime could have murdered over a thousand Iranian citizens since the protests began," Hook told reporters at a briefing at the State Department.

Among those were at least a dozen children, Hook said, but cautioned that the numbers were not definitive as Tehran blocked information. He said that "many thousands of Iranians" had also been wounded and at least 7,000 detained in Iran's prisons.
While forces loyal to the Islamic regime are gunning down unarmed Iranians on the streets, the country's so-called Supreme Leader Khamenei has called for the detained protesters to be treated "with Islamic compassion." The regime is complying by raping and torturing detainees arrested in the wake of recent protests, media reports suggested. Iranian state-controlled TV channels aired forced confessions extracted from detained dissidents.
Amid popular unrest at home, Tehran is advancing its nuclear-capable ballistic missiles in violation of the United Nations Security Council resolution, Britain, France, and Germany stated in a statement on Wednesday. In recent months, the Islamic regime has launched military operations in neighboring Arab countries, attacked oil tankers in international waters, and repeatedly vowed to annihilate Israel.
While President Donald Trump pursues a policy of "maximum pressure" against the regime, European countries have responded to this blatant aggression by appeasement. Last week, more European Union member states — including Belgium, the Netherlands, and three Scandinavian countries — joined the Iranian payment mechanism that aims to bypass U.S. sanctions. Britain, Germany, and France are the leading promoters of the set up, which Washington sees as a money laundering and terrorism financing scheme.
U.S. special envoy Brian Hook on deadly Iranian clampdown

[Cover image via YouTube]