Posted by
Mary Chastain
Monday, December 9, 2019 at 1:30pm
| 12/9/2019 - 1:30pm
Good and bad news for everyone on the political spectrum.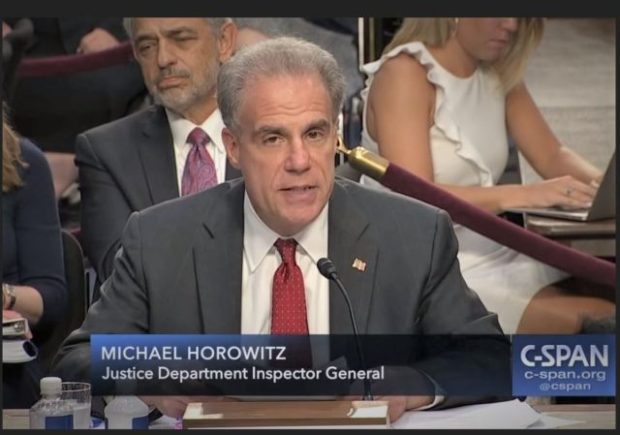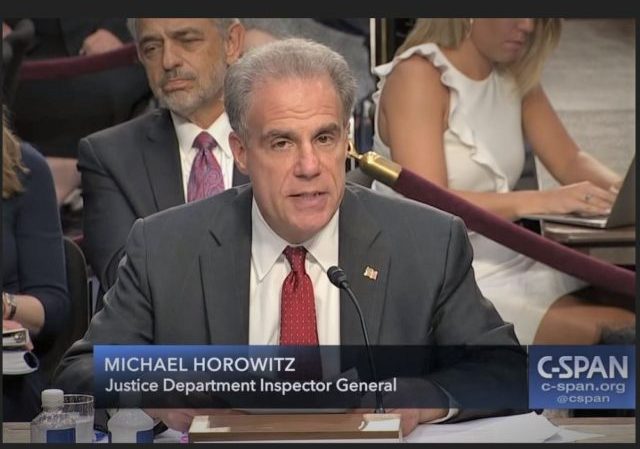 Department of Justice Inspector General Michael Horowitz released his report on the origins of the Russia investigation, which is likely to please both sides of the political spectrum.
The IG found justification to investigate the Russia investigation and did not find any "intentional misconduct or political bias." However, the investigators discovered many "significant" errors concerning the FISA warrant on former Trump campaign adviser Carter Page.
Opening the Russia Investigation
FBI's then-Counterintelligence Assistant Director E.W. "Bill" Priestap made the decision to open the Russian investigation called Crossfire Hurricane.
Horowitz's office determined "that AD Priestap's exercise of discretion in opening the investigation was in compliance with Department and FBI policies."
The office "did not find documentary or testimonial evidence that political bias or improper motivation influenced" Priestap's decision.
The FBI had little information to go on to start the investigation, but the evidence brought in by Horowitz led the team to conclude "that Crossfire Hurricane was opened for an authorized investigative purpose and with sufficient factual predication."
Major Mistakes Regarding FISA Applications
The IG report stated the investigators "did not find documentary or testimonial evidence that political bias or improper motivation influenced the FBI's decision to seek" the first FISA authority on Page.
Yet the report says the team "found that the FBI did not have information corroborating the specific allegations against" Page described in Christopher Steele's dossier.
The IG office ripped the FBI for failing "to adhere to its own standards of accuracy and completeness when filing applications" for FISA warrants "to surveil Carter Page."
The office also included what they "believe is an absence of sufficient policies to ensure appropriate Department oversight of significant investigative decisions that could affect constitutionally protected activity." The report said:
Nevertheless, we found that members of the Crossfire Hurricane team failed to meet the basic obligation to ensure that the Carter Page FISA applications were "scrupulously accurate." We identified significant inaccuracies and omissions in each of the four applications-7 in the first FISA application and a total of 17 by the final renewal application. For example, the Crossfire Hurricane team obtained information from Steele's Primary Sub-source in January 2017 that raised significant questions about the reliability of the Steele reporting that was used in the Carter Page FISA applications. But members of the Crossfire Hurricane team failed to share the information with the Department, and it was therefore omitted from the three renewal applications. All of the applications also omitted information the FBI had obtained from another U.S. government agency detailing its prior relationship with Page, including that Page had been approved as an operational contact for the other agency from 2008 to 2013, and that Page had provided information to the other agency concerning his prior contacts with certain Russian intelligence officers, one of which overlapped with facts asserted in the FISA application.
Horowitz provided the "seven significant inaccuracies and omissions" in the first application: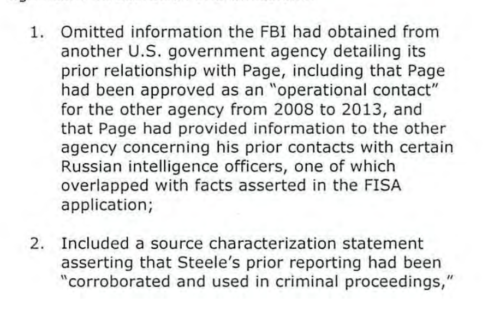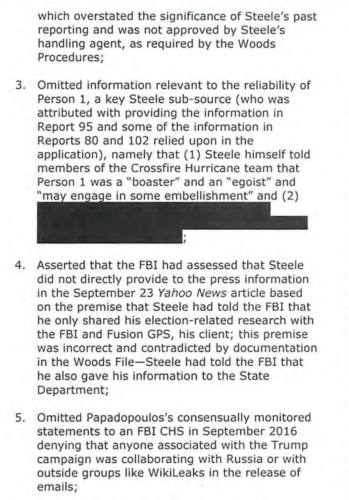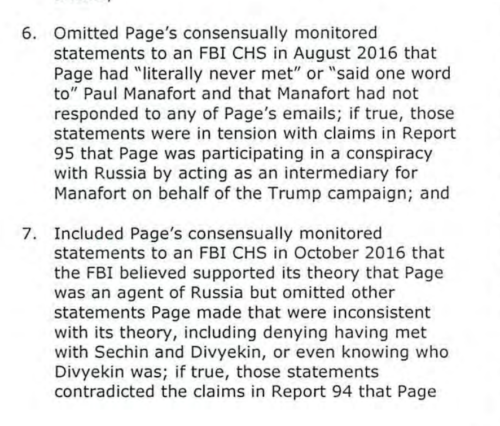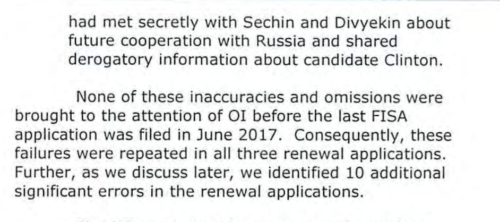 The FBI did not fare any better with its three renewal applications for the continued FISA on Page. They found ten more errors within these three applications: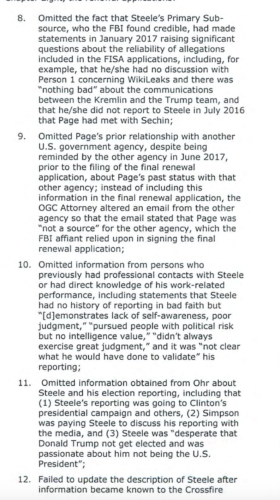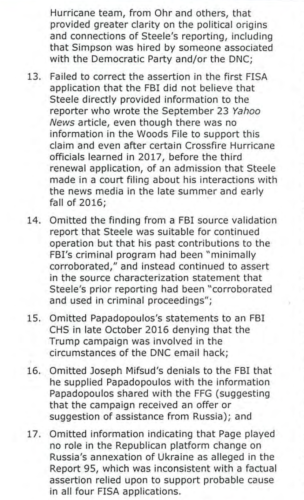 Despite the mistakes outlined by Horowitz, the office would "not speculate whether the correction" of any of the mistakes "would have resulted in a different outcome."
Horowitz provided a list of recommendations to the DOJ and FBI. The last bit recommended the Bureau "review the performance of all employees who had responsibility for the preparation, Woods review, or approval of the FISA applications, as well as the managers, supervisors, and senior officials in the chain of command of the Carter Page investigation, for any action deemed appropriate."