Posted by
William A. Jacobson
Saturday, July 27, 2019 at 10:00am
| 7/27/2019 - 10:00am
"they were pushed toward unpaid positions over paid ones, misled over the availability of financial assistance, and asked to sign highly restrictive nondisclosure agreements"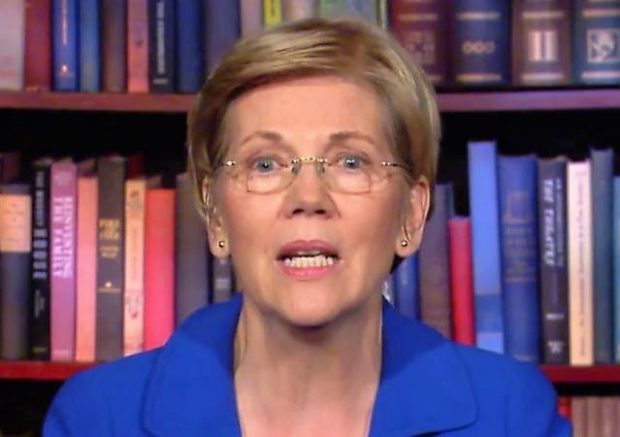 Elizabeth Warren's not practicing what she preaches is a recurring theme in her political career, beyond her Native American problem.
As we covered in 2012 and again recently, Warren made millions representing large corporations in legal cases hostile to consumers and workers, yet portrayed that work completely differently: Elizabeth Warren's erroneous claim to have tried to help women with breast implant claims when she represented Dow Chemical
She also attacks businesses for not paying enough to workers, yet as we reported in 2013, didn't pay her Senate office interns: Elizabeth Warren pays interns $0 per hour.
Warren claimed to rectify the unpaid internship practice in her Senate office as she prepared for a presidential run, but it has resurfaced at her presidential campaign operation in the form of a "fellowship" program.
The Daily Beast reports, Warren Fellowship Applicants: Campaign Program Was a 'Great Scam':
Sen. Elizabeth Warren (D-MA) has built much of her political career as a champion of workers and consumers against the deceptive and exploitative practices of corporations and employers.

But as she navigates the latest chapter of that career arc—a run for the Democratic nomination for the presidency—the Massachusetts Democrat faces criticism from several of her own supporters who said the lowest tier of her campaign structure doesn't match the image she projects.

Two early converts to Warren described the process for entry into her campaign's volunteer fellowship program as deceptive and at times exploitative in interviews with The Daily Beast. They said they were pushed toward unpaid positions over paid ones, misled over the availability of financial assistance, and asked to sign highly restrictive nondisclosure agreements that worker advocacy groups concede are irregular. Both applicants verified their accounts with emails and text messages from the Warren campaign.
The Daily Beast story has the details:
"What was sold to me was very different than it actually was," said Jonathan Nendze, a rising senior at Seton Hall University who was offered a volunteer fellowship position on Warren's campaign. "It was kind of a great scam of getting people to show up and work in the capacity of volunteer, but to function as a paid intern in the amount of work they're doing," he said.

Like other Democrats running for the White House, Warren's campaign offers paid internships. But unlike many others, the campaign also offers volunteer fellowships and volunteer fellowships for academic credit. Earlier this month, The Daily Beast reported that some workers' rights groups and activists worried that having an unpaid option could lead to a loophole for campaigns to exploit free labor. In the aftermath of that report, two applicants who were offered positions in Warren's volunteer fellowship program in early-voting states came forward to say that they felt their experiences illustrated those fears.
There is an interesting side issue, Warren required unpaid fellows to sign Non-Disclosure Agreements:
Ultimately, Nendze was offered a position as a volunteer fellow. As part of the on-boarding process, he was sent a mandatory non-disclosure agreement—to sign upon accepting the offer and passing the campaign's vetting process—stating that volunteer fellows would "not communicate with any member of the press" or "make any statement that may impair or otherwise adversely affect the goodwill or reputation" of Warren for President Inc., among other provisions.

The Campaign Workers Guild, a group focused on improving working conditions on campaigns, said providing NDAs to unpaid volunteers on campaigns is not a common practice, though it occasionally happens in large-scale races. Former Vice President Joe Biden, one of the only Democratic 2020 campaigns to offer a similar unpaid fellowship program, does not require volunteer fellows to sign NDAs, a campaign official confirmed.

Nendze said he did not sign the agreement. The emails sent to Nendze were reviewed by The Daily Beast.
The campaign's NDAs, given to unpaid fellows, stipulate that they must "not communicate with any member of the press" or "make any statement that may impair or otherwise adversely affect the goodwill or reputation" of Warren for President Inc.https://t.co/yC5hyfiwqY

— Hanna Trudo (@HCTrudo) July 26, 2019
And there's more. After the Daily Beast contacted Warren's campaign, the campaign put on a show of public support for the fellows:
Just under a week after @thedailybeast contacted Warren's campaign to detail multiple specific complaints from applicants offered volunteer fellowship positions, Warren hosted a call to thank interns and fellows in her program.

— Hanna Trudo (@HCTrudo) July 26, 2019
REAL PIC OF ME LISTENING TO @ewarren AS SHE CALLS EVERY. SINGLE. ONE. OF HER CAMPAIGN FELLOWS AND INTERNS TO THANK US FOR OUR WORK IN THE FIELD!!!!!!!!! ????????? https://t.co/o1828ZpoiG

— Arden Dressner Levy (@ardenialevy) July 24, 2019
This is pretty classic Warren campaign tactics — when contacted for comment on an investigation, they proactively try to create a narrative before publication. That is what happened when The Washington Post contacted Warren's campaign about her representation of Dow Chemical regrading breast implant litigation:
Shortly after The Post contacted Warren's campaign for comment on this story, a lawyer from Warren's campaign called Gold­rich, the advocate for breast implant victims, to ask her to make a positive statement about the settlement.

"They asked, 'Could I make a comment about whether the deal was fair? Would I say it was a fair deal? Was it fair?' " said Goldrich, recalling her conversation. "I wouldn't say that."
You know who is most upset with this? Bernie supporters, who have noted how Bernie has received enormous negative media coverage for not paying $15 an hour, while Warren receives relatively little coverage for paying fellows nothing.
I'm not interested in beating up on these campaigns, but it's important set the record straight. They found a way not to pay interns. Bernie pays interns $20 per hour + expenses. It's really time to stop the slanderous "gotcha" attacks on Bernie's campaign https://t.co/5vxerkkUrs

— James J. Zogby (@jjz1600) July 23, 2019
Somehow Bernie Sanders paying all staff a minimum of $36,000 (now $42,000) in cheap cost of living states like Iowa and South Carolina was a bigger scandal — all over media — than Warren not paying interns at all.

— Zaid Jilani (@ZaidJilani) July 26, 2019
It's only a matter of time before Bernie goes after Warren.