Posted by
Fuzzy Slippers
Saturday, March 16, 2019 at 7:30pm
| 3/16/2019 - 7:30pm
NYU student confronts Chelsea in viral video: "a massacre stoked by people like you and the words that you put out into the world"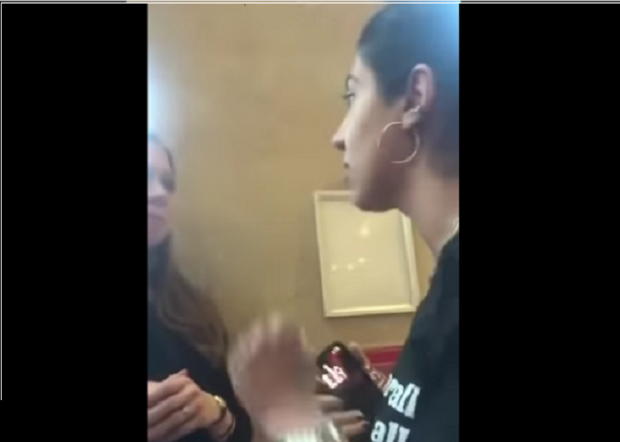 Last month, Chelsea Clinton was among the many Democrats who condemned Rep. Ilhan Omar (D-MN) for her anti-Semitic ravings.
Yesterday, Chelsea was surrounded by a mob of NYU students who berated her for these comments and blamed her and her comments for the New Zealand mosque attack that left 49 dead and another 48 injured.
According to the students in the released video, Chelsea's condemnation of Omar's anti-Semitism was directly responsible for the New Zealand mosque attack.
This is NUTS. Chelsea Clinton simply called out @IlhanMN's anti-Semitism and is now being attacked by leftists over "islamophobia" and linking her to the New Zealand massacre.pic.twitter.com/TyzUxgf36M

— Caleb Hull (@CalebJHull) March 16, 2019
My best friend @vivafalastin told @ChelseaClinton that it's a disgrace that she came to the vigil, calling out Chelsea's Islamophobia and hypocrisy. pic.twitter.com/8sdWH86BhB

— Esor (@itme_esor) March 15, 2019
Muslim students have berated Chelsea Clinton at a vigil for the victims of the New Zealand mosques massacre, saying she is to blame for the attack.

Clinton, who is pregnant with her third child, was attending the vigil at New York University on Friday when senior Leen Dweik began castigating her in an astonishing moment caught on video.

'This right here is the result of a massacre stoked by people like you and the words that you put out into the world,' says Dweik, gesturing to the vigil for the 49 who were killed in Christchurch when a white nationalist shooter stormed two mosques.

'And I want you to know that and I want you to feel that deeply – 49 people died because of the rhetoric you put out there,' Dweik continues, jabbing her index finger toward Clinton as other students snap their fingers in apparent approval of her words.
Here is a pregnant Chelsea Clinton being accosted in public by NYU students blaming her for the New Zealand massacre. You are free to have your opinion, but how you express yourself matters. Note how Clinton never shuts down or stops listening, despite not deserving any of this. pic.twitter.com/V6XcC3lWCB

— Amee Vanderpool (@girlsreallyrule) March 16, 2019
this is absolute horseshit. chelsea clinton calling out ilhan omar's anti-semitism is not islamophobia and blaming her for christchurch is completely uncalled for. i'm muslim and i thought omar crossed the line into anti-semitism.

muslims need allies. this video ain't it, chief. https://t.co/uGncCxphxx

— siraj hashmi (@SirajAHashmi) March 16, 2019
The activist in the video and her friend who shared it bragged about it on Buzzfeed: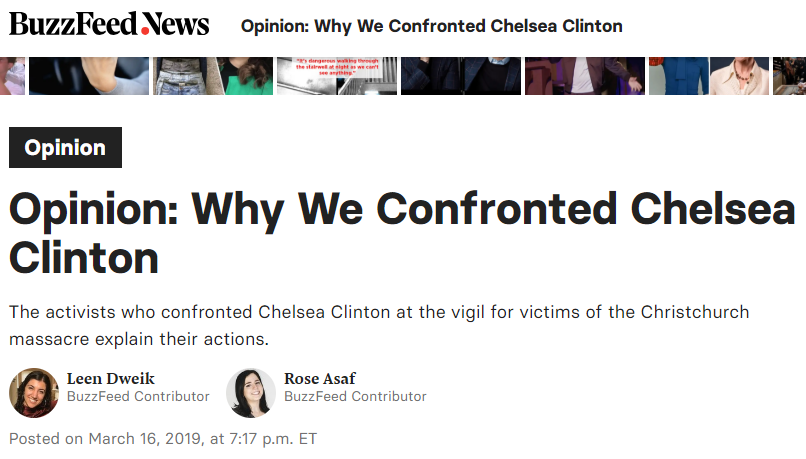 We did a double take when we first noticed Chelsea Clinton was at the vigil. Just weeks before this tragedy, we bore witness to a bigoted, anti-Muslim mob coming after Rep. Ilhan Omar for speaking the truth about the massive influence of the Israel lobby in this country. As people in unwavering solidarity with Palestinians in their struggle for freedom and human rights, we were profoundly disappointed when Chelsea Clinton used her platform to fan those flames. We believe that Ilhan Omar did nothing wrong except challenge the status quo, but the way many people chose to criticize Omar made her vulnerable to anti-Muslim hatred and death threats.
It's an attempt to prevent criticism of anti-Semitism:
People who argue that Chelsea Clinton's criticism of Ilhan Omar's antisemitism led to the massacre in NZ (which is patently absurd) but who argue that Ilhan's words that *genuinely* target Jews don't lead to violent antisemitism are spectacularly hypocritical.#regressiveleft

— Ben Maxwell Freeman (@benmfreeman) March 16, 2019
How this for reasoning? Unless a Muslim member of Congress is allowed to use anti-Semitic tropes without consequence, hateful zealots will attack mosques in New Zealandhttps://t.co/QV6VvFi8CI

— Rich Lowry (@RichLowry) March 16, 2019
The shooter in New Zealand hated Muslims and was also an antisemite. How whitewashing @Ilhan's antisemitism would combat someone like this is quite mysterious.

— David Bernstein (@ProfDBernstein) March 16, 2019
Following release of the video clip of the confrontation, the internet lit up in response as some on the left leapt to Chelsea's defense, and the person who first tweeted the video apparently falsely claimed that she was getting legal advice from none other than Michael Avenatti.
I have nothing to do with this and have never communicated with this woman. This is an absolute lie. https://t.co/1YoBxXwQH8

— Michael Avenatti (@MichaelAvenatti) March 16, 2019
This person is, according to her Twitter profile, a "Jewish leftist, organizer, parody ire & known in alt-right circles as "Antifa chick R*se." , she/ her, instagram."
#RoseAsaf has spread hatred of #Israel & expressed opposition to bipartisan bill drafted in response to growing #AntiSemitism in the U.S. Cofounder of the anti-Israel #JVP #SJP #BDS @NYU, author of #NYU #BDS bill. #IfNotWhoCares @canarymission #JewsForPork https://t.co/BWYQyd1UsI pic.twitter.com/6wcbngZEOD

— WoMen Fight AntiSemitism (@WoMenFightAS) March 16, 2019
She also seems a bit unhinged.
The next person who says I attacked Chelsea is getting sued for defamation! We would have been arrested if we "attacked" her.

— Esor???? (@Esor__Fasa) March 16, 2019
And a bit of a snowflake.
I'm getting triggered by all the comments…may go private

— Esor???? (@Esor__Fasa) March 16, 2019
Having long been the victims of such tactics, the right was quick to come to Chelsea's defense; however, Michelle Malkin shares a reminder for us all.
Not me. Not sorry. The Clinton family has ruthlessly politicized violence to silence conservatives for decades, never defended those falsely accused. Tables turned. #LetTheLeftEatItself https://t.co/Q2nWheUzsq

— Michelle Malkin (@michellemalkin) March 16, 2019
A preview of the nightmare to come as we head into the 2020 presidential election?
Aaaaaand that woman who confronted Chelsea Clinton was wearing a Bernie 2020 shirt, in case you were wondering how the primaries and general were going to play out. Expect them to pull more of these stunts. pic.twitter.com/xOps8isXyO

— Jordan (@_Jordan_J_) March 16, 2019