Posted by
Mary Chastain
Monday, November 19, 2018 at 4:30pm
| 11/19/2018 - 4:30pm
"We promised to change the status quo, and we intend to deliver on that promise."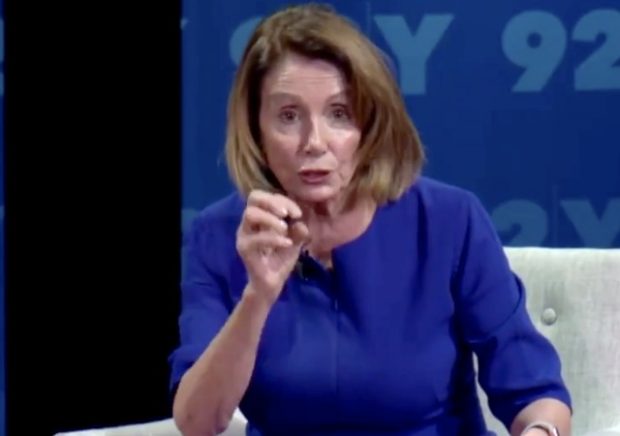 Rep. Nancy Pelosi (D-CA) remains confident that she'll become Speaker of the House again, but sixteen Democrats just threw a major wrench into her plans.
The Democrats released a letter today, launched by Rep. Katheleen Rice (D-NY), promising to oppose Pelosi's appointment since they promised to "change the status quo" upon their arrival in DC.
NEW: 16 House Democrats sign letter thanking Rep. Pelosi for her years of service and leadership, but urge "that the time has come for new leadership in our Caucus." pic.twitter.com/TfyJJkqbyB

— NBC News (@NBCNews) November 19, 2018
Two Democrats who have not yet won their race signed the letter: Ben McAdams from Utah and Democrat Anthony Brindisi. McAdams is currently trailing incumbent Republican Rep. Mia Love while Brindisi leads incumbent Republican Rep. Claudia Tenney.
The Hill listed the other incoming freshman who signed the letter: Jeff Van Drew (N.J.), Joe Cunningham (S.C.) and Max Rose (N.Y.).
Here are the others that signed the letter: Democratic Reps. Tim Ryan (Ohio), Seth Moulton (Mass.), Reps. Linda Sanchez (Calif.), Ed Perlmutter (Colo.), Kurt Schrader (Ore.), Filemon Vela (Texas), Jim Cooper (Tenn.), Bill Foster (Ill.), Brian Higgins (N.Y.), Stephen Lynch (Mass.).
Five other Democrats have voiced opposition to Pelosi, but didn't sign the letter: "Rep. Conor Lamb (Pa.) and Reps.-elect Jason Crow (Colo.), Jared Golden (Maine), Mikie Sherrill (N.J.) and Abigail Spanberger (Va.)."
The Democrats lost Rep. Marcia Fudge (D-OH) even though she originally signed it and thought about running against Pelosi. The two ladies had a meeting last Friday, but neither one told anyone details about it.
Fudge will make her decision after Thanksgiving.
Will this hurt Pelosi? From The Hill:
It's unclear if the anti-Pelosi lawmakers have the numbers to topple the longtime Democratic leader. Democrats picked up at least 37 seats in the midterms, but four races have yet to be called, so it remains to be seen how high the number will rise.

If Democrats win all of the outstanding contests, Pelosi could lose 18 votes within her party and still clinch the gavel (assuming all Republicans oppose her). If Democrats lose all of those uncalled races, she could afford to lose 14.
The Washington Post reported that Rep. Diana DeGette will not try to unseat Rep. James Clyburn (D-SC) to become the #3 Democrat in the House after it upset those who admire him:
"Since my announcement, I have been heartened by the backing I have received across the caucus," DeGette said in a statement. "Over the last few days, however, many of my supporters have expressed concern about pressure they are receiving to return the three senior leaders to their posts without opposition."

DeGette, who has long served as chief deputy whip, launched her campaign after the Nov. 6 election by touting her experience in rounding up support for difficult pieces of legislation — implicitly making the case that Clyburn, 78, was not up to or interested in the task.

But the challenge upset backers of Clyburn, a former Congressional Black Caucus chairman and a revered figure among the caucus's roughly 50 African Americans — who bristled at the notion that the caucus's top tier could be all-white.

"Out of the three of the leadership positions, he is the only one with announced opposition," Rep. Cedric L. Richmond, the current Congressional Black Caucus chair, said last week. "I just think it is offensive and insulting."