Posted by
Kemberlee Kaye
Friday, November 2, 2018 at 4:00pm
| 11/2/2018 - 4:00pm
"The value was under $300 and it will be appropriately reported to the FEC."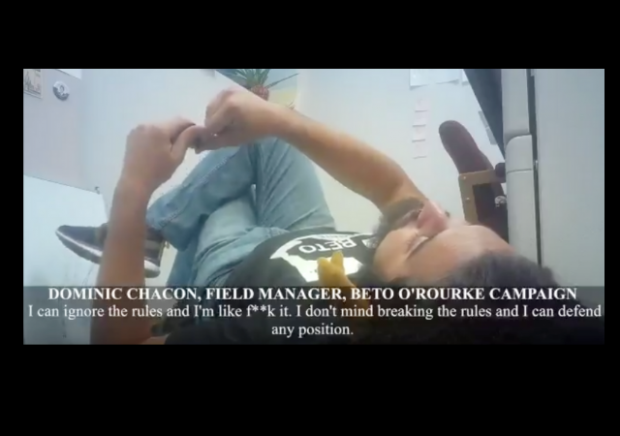 Thursday night, Project Veritas released it's latest undercover video. The video appears to show Beto staffers discussing what they know to be improper campaign spending.
In the video, various staffers discuss using campaign funds to help incoming immigrants. This is not one staffer suggesting as much nor a volunteer, but several different staffers suggesting (based on the video clips provided by Project Veritas) they're aware using campaign funds is not allowed and go on to discuss ways to skirt the spending rules.
One even mentions the possibility that getting busted could invoke a $50,000 fine.

The video:
BREAKING @PVeritas_Action: BREAKING: "Nobody needs to know" Beto Campaign Appears to Illegally Spend Funds on Supplies for Caravan Aliens, Campaign Manager Says "Don't Worry" https://t.co/ZKR7XsMZMN pic.twitter.com/6BjWpD6yM1

— James O'Keefe (@JamesOKeefeIII) November 2, 2018
Friday, O'Rourke's campaign responded, saying "staffers recently "took it upon themselves" to use campaign funds to donate supplies to an El Paso nonprofit and that the contributions — less than $300 total — will be "appropriately reported" to the Federal Election Commission," reports the Amarillo ABC affiliate. The campaign also claims that staffers used prepaid cards to buy baby wipes and other supplies for migrants staying with a local charity.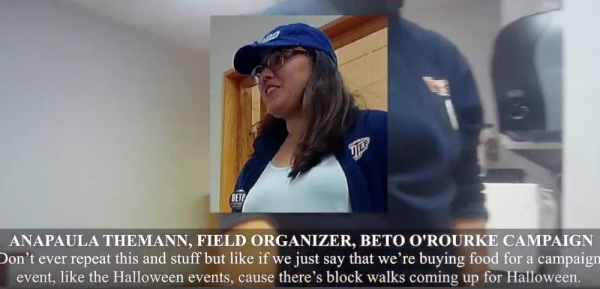 Responding to the video Friday morning, O'Rourke's campaign said that the staffers were responding to an unrelated incident last week in which the federal government dropped off over 100 migrants seeking asylum at a bus station in downtown El Paso. The local newspaper said that bus station officials then called Annunciation House, a Catholic nonprofit immigrant shelter.

"Staff members took it upon themselves to use prepaid cards from one of our more than 700 field offices to buy baby wipes, diapers, water, fruit and granola bars, and donate them to a local humanitarian nonprofit (Annunciation House) that helps mothers and children in the community," O'Rourke spokesman Chris Evans said in a statement. "The value was under $300 and it will be appropriately reported to the FEC."

It is not unusual for campaigns to make donations to groups like Annunciation House. Campaigns are allowed to give to charity "as long as the candidate does not receive compensation from the charitable organization before it has expended the entire amount donated," according to the FEC website.
In El Paso, Jame O'Keefe confronted O'Rourke Campaign Manager, Jody Casey:
We sent your paper the press release last night when we published. We showed video Beto Campaign Manager @jodyforbeto in person, and asked her about use of campaign funds on caravan migrants, she said "no comment," which is a comment. pic.twitter.com/GUwGDq28zI

— James O'Keefe (@JamesOKeefeIII) November 2, 2018
Friday, Project Veritas said Beto should further clarify:
Charity is honorable but be honest if you break the law to do it, @BetoORourke @jodyforbeto pic.twitter.com/3gTfx6IZgt

— James O'Keefe (@JamesOKeefeIII) November 2, 2018
Essentially, this:
Fair enough, but that's not what people are saying. They're saying the video is fake and edited improperly. We stand by our reporting and the accuracy and quotes of the Beto staffers and Campaign manager. Charity is honorable but be honest if you break laws to do it @jodyforbeto https://t.co/RqZY89dbXN

— James O'Keefe (@JamesOKeefeIII) November 2, 2018