Posted by
Vijeta Uniyal
Monday, November 26, 2018 at 2:30pm
| 11/26/2018 - 2:30pm
Over 3000 participants attended the 5th German Israel Congress.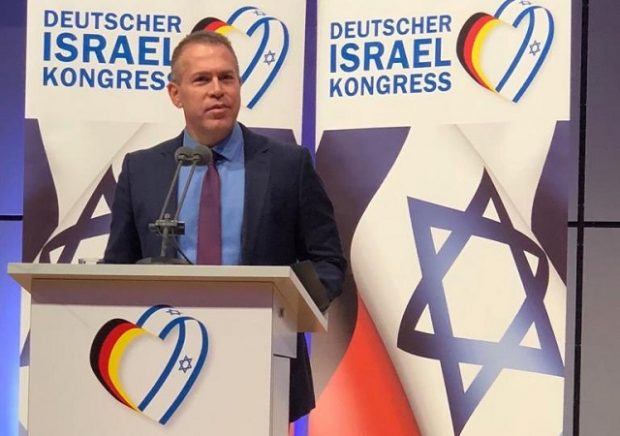 Amid rising antisemitism and anti-Israel activism in Europe, over 3000 members of Jewish diaspora and supporters of Israel gathered in Frankfurt, Germany, for the 5th German Israel Congress this weekend. Widely regarded as the biggest pro-Israel event in Europe, the conference was attended by leading politicians, government officials, and public figures from Germany and Israel.
Israel's Strategic Affairs Minister Gilad Erdan took the opportunity to urge the German government to take a tougher stance on Iran.
"Germany should take a more aggressive stance against the Iranian regime," Minister Erdan said. "It was only yesterday that President Rouhani called Israel metastatic cancer. History has taught us that anti-Semitic threats from fanatical leaders, and exporters of terror who have hegemonic aspirations, must be taken seriously."
Shalom & Herzliche Grüße vom #DILK18 Noch bis 19.30 feiern wir #Israel und die deutsch-israelische Freundschaft! #DILK18 ????????️????????️ #Israel70 pic.twitter.com/WENrpSaEvc

— Israelkongress (@Israelkongress) November 25, 2018
Presently, Chancellor Angela Merkel is spearheading a European campaign to circumvent the latest round of U.S. sanctions against Iran in an attempt to coax the regime into keeping the Obama-era nuclear deal alive. With backing from Germany and France, the European Union is scrambling to create a non-dollar trading mechanism to shield European companies and banks engaged in sanctions-busting with Tehran.
Erdan also raised the issue of European and EU funding for the anti-Israel boycott movement (BDS).
"German states and cities have taken steps to ensure that public funds are not transferred to BDS initiatives," Israeli minister said. "The EU would never finance organizations that promote racism, so too, it should cease funding organizations that promote boycotts against the State of Israel. Germany can lead the way in halting the flow of funds to these organizations."
Earlier this year, an official Israeli study exposed links between the international BDS movement and Palestinian terrorist groups. The BDS campaigners in the West are "relying heavily" on the propaganda generated by Islamist terror groups, the report revealed.
I had the pleasure of serving as the keynote speaker at the largest pro-Israel gathering in Europe. My grandmothers both survived Auschwitz. Yesterday I represented the Jewish State before thousands of Israel's supporters in Germany.  #DILK18 1/4 pic.twitter.com/csyTe8hUNJ

— גלעד ארדן (@giladerdan1) November 26, 2018
Israel's Ministry of Strategic Affairs reported Erdan's address at the Sunday's conference:
"Germany should take a more aggressive stance against the Iranian regime … It was only yesterday that President Rouhani called Israel metastatic cancer. History has taught us that anti-Semitic threats from fanatical leaders, and exporters of terror who have hegemonic aspirations, must be taken seriously."

Minister Erdan declared that the common goal should be to change the behavior of the Iranian regime: "Forcing a change in Iran's behavior is necessary for the safety of the people of Israel, of the people of Iran, and of the people of Europe."

Recently, Minister Erdan said that Israel has been revealed to several Iranian attempts to carry out terror attacks on European soil, which Israel helped exposed: "Iran will not stop and continue to try to carry out terror attacks in Europe."

"Changing the behavior of the regime is what the Iranian people want, that is what the Gulf States want, and I call on Germany to join the US sanctions against Iran, and if Germany does so, other European countries will do the same."
The mayor of the city of Frankfurt Uwe Becker, a Christian conservative politician, who inaugurated the conference, described the event as a "beacon of solidarity with Israel in the most pro-Israel city outside Israel." Becker called upon the German government to recognize Jerusalem as Israel's capital.
Becker's appeal comes at time when Merkel has reportedly been pressuring Eastern European states not to move their embassies to Jerusalem. "Merkel called Romania's President Klaus Iohannis in April, urging him to stop Bucharest's declared announcement to move its diplomatic building to Israel's capital," Jerusalem Post's Benjamin Weinthal reported earlier this month.
Uwe Becker mayor of Frankfurt in the israel Congress " Jerusalem is the capital of israel ????????"#DILK18 pic.twitter.com/RHUzddWYQH

— Rogel Rachman (@RogelRachman) November 25, 2018
On a personal note, it was an opportunity to meet old friends,
Always a privilege being with my good friend @iUniyal, who is doing truly inspiring work leading @Indians4Israel, in harnessing grassroots support for #Israel in the #Indian community! #DigiTell18 pic.twitter.com/qQWSOe2Wq0

— Arsen Ostrovsky (@Ostrov_A) November 25, 2018
and make some new ones.
With Israeli Minister Gilad Erdan at the 5th German Israel Congress (#DILK18) and #DigiTellEurope18 pic.twitter.com/JukoHdXQBi

— Vijeta Uniyal (@iUniyal) November 25, 2018
The former Miss Iraq, Sarah Idan, was among the honored guests at the conference. Idan was forced to flee Iraq after receiving death threats for taking a harmless selfie with Israeli contestant Adal Gandelsman during 2017 Miss Universe pageant.
One of the few beauty queens who really means it when she says she wants world peace: Sarah Idan, the Israel-friendly Miss #Iraq, at the #Israel Congress in Frankfurt. #DILK18 pic.twitter.com/UHWSYKchUx

— Orit Arfa (@Oritar) November 25, 2018
The conference organized to highlight solidarity with Israel and the Jewish people was overshadowed by an attack on a female Israeli journalist in Berlin. A group of migrant men threw a firework at the young TV reporter Sunday evening after disrupting her coverage, German newspaper Die Welt reported.
Antonia Yamin, a correspondent for Israeli channel KAN, described the assailants as migrant men between the ages of 18 and 19. She "was speaking Hebrew during the reporting. This could have agitated the four young men," the German newspaper concluded. Apparently, in Merkel's German it's enough to speak Hebrew in public to provoke a violent reaction.
The incident is a grim reminder of the resurging antisemitism in Germany in the wake of the recent migrant wave. Seven decades after the Holocaust, Walking-While-Jewish is once again an invitation to verbal abuse and physical assault on German streets.
Promotional video for the 5th German Israel Congress

[Cover image courtesy Minister Gilad Erdan, State of Israel]