Posted by
Vijeta Uniyal
Thursday, June 21, 2018 at 12:00pm
| 6/21/2018 - 12:00pm
"The relationship between terrorist organizations and the BDS movement has never been closer, ideologically or operationally."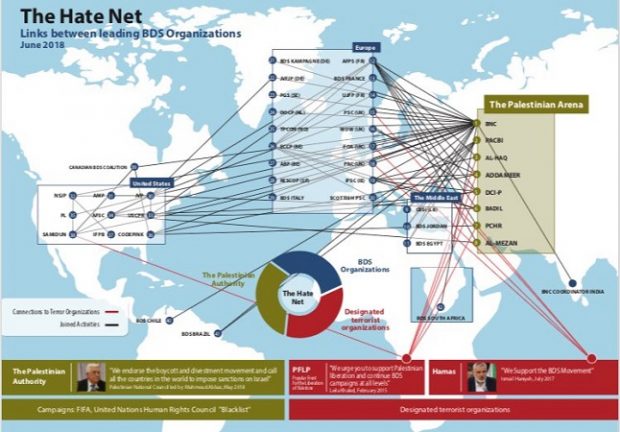 The Israeli government has released detailed research they claim exposes the connection between global anti-Israel boycott movement and terrorist groups. The study commissioned by the Israeli Minister of Strategic Affairs and Public Diplomacy described the web of connections joining prominent anti-Israel boycott organizations as the "hate network," with their findings allegedly connecting prominent BDS groups operating in the West to Palestinian terror groups such as Hamas and Popular Front for the Liberation of Palestine (PFLP).

The findings were made public on Tuesday by Israel's Public Security and Strategic Affairs Minister Gilad Erdan at the annual Global Coalition 4 Israel Forum (GC4I) in Jerusalem. "The relationship between terrorist organizations and the BDS movement has never been closer, ideologically or operationally," Erdan told the GC4I participants.
The minister also claimed the BDS groups were 'relying heavily' on the propaganda coming directly from Hamas and the Palestinian Authority. Researchers commissioned by his ministry found that nearly a quarter of the BDS organizations had ties to terrorist groups PFLP and Hamas.
Legal Insurrection received a summary of the key findings presented at the GC4I Forum, Jerusalem:
Minister of Strategic Affairs and Public Diplomacy Gilad Erdan revealed for the first time the "Network of Hate". This map showcases the network of ties between 42 of the most prominent BDS organizations― ten of which have ties with the internationally recognized terrorist organizations Hamas and the Popular Front for the Liberation of Palestine (PFLP). Minister Erdan presented the information at this year's Global Coalition 4 Israel Forum (GC4I), an event focused on strategies for countering BDS and anti-Israel delegitimization. (…)

The Ministry of Strategic Affairs asserts boycott organizations are relying heavily on falsified propaganda disseminated by Hamas and the PA, with a quarter of them shown to have ties to the terrorist organizations PFLP and Hamas.

BDS organizations are interconnected and operate together as an integral network directed from Ramallah and the BDS National Committee (BNC). (…)

Minister Erdan concluded, "The relationship between terrorist organizations and the BDS movement has never been closer, ideologically or operationally. I will continue to go after the leaders of this hate-filled campaign emanating from Gaza and Ramallah."
PFLP, a Palestinian Marxist terror outfit first gained notoriety in the 1970s for carrying out a series of aircraft hijackings. The outfit continues to carry out terrorist attacks against Israeli civilians. Hamas, on the other hand, is an offshoot of the notorious pan-Islamic Muslim Brotherhood movement, that took control of Gaza more than ten years ago. Since then, Hamas has been using Gaza as a base to carry out terrorist attacks and launching rockets against Israeli civilian population.
Minister of Strategic Affairs @giladerdan1 reveals this evening The Hate Net: A Research Highlighting The Prominent Role of the PA and Hamas in Leading BDS and Certain BDS Organizations' Ties to Terror Groups #GC4I2018 pic.twitter.com/MmcudKdxNp

— 4IL (@4ILorg) June 19, 2018
Both Hamas and PFLP have been designated as terrorist organizations by the U.S., European Union, and other Western nations. This, however, does not prevent these terrorist groups from recruiting and fundraising in the West. In the last German general election held in September 2017, PFLP was allowed to place candidates on a joint list with the Marxist-Leninist Party of Germany. Last December, PFLP celebrated its 50th anniversary in Berlin, marking its longstanding collaboration with Far-Left German terrorist groups, including the notorious Baader-Meinhof Gang.
Hamas has also found safe haven in Germany, with 300 of its operative residing in the country, a 2016 report of the German domestic intelligence agency BfV disclosed. Hamas's activities are only overshadowed by that of its Shiite evil twin Hezbollah. Iran-sponsored Lebanese terrorist group has around thousand operatives in Germany, with narcotics and money laundering operations spanning across Europe.
The research commissioned by Israel's Ministry of Strategic Affairs and Public Diplomacy not only reveals ideological affinity between anti-Israel activism and Palestinian terrorism, but operative links between certain BDS groups and Palestinian terrorist organization. It also reminds us of the true nature of the anti-Israel boycott movement. We are not dealing with a grassroots campaign, as the BDS Movement often portrays itself, but with a well-coordinated global operation. As anti-Israel groups mushroom across campuses in the Western World, it is more important than ever to expose the ideological and operational links between these so-called activist groups and terrorist organizations.
[Cover image via Twitter]