Posted by
William A. Jacobson
Tuesday, October 2, 2018 at 9:00am
| 10/2/2018 - 9:00am
"They're trying to throw him under the bus, I think as a demonstration that other people who come forward will be treated very roughly"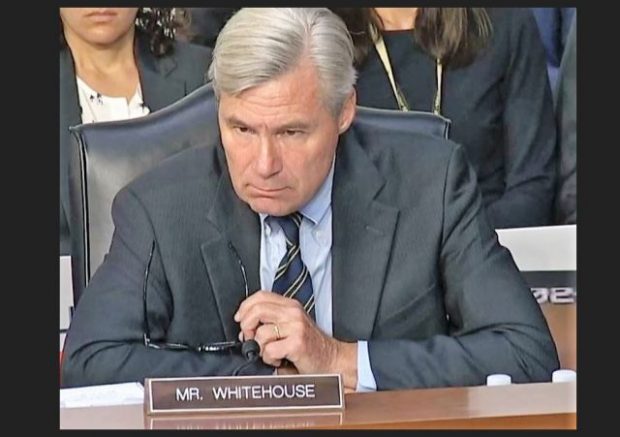 Sheldon Whitehouse, the Democrat Senator from Rhode Island, has been one of the most aggressive attackers against Brett Kavanaugh.
Whitehouse's grilling of Kavanaugh over a high school yearbook is being widely mocked, even on Saturday Night Live.
Whitehouse generated even more controversy when it was disclosed that Whitehouse referred a constituent who made an allegation that Kavanaugh was involved in a 1985 sexual assault to a reporter at the same time as Whitehouse referred the matter for investigation to the FBI and Judiciary Committee. That accusation was later recanted, and the constituent has been referred by the Judiciary Committee to the Department of Justice for investigation and possible prosecution.
Whitehouse's conduct is becoming an issue in his relection campaign. Challenger Robert Flanders, who says donations and support are flooding after Whitehouse's antics, says:
"By referring that constituent to a reporter, Senator Whitehouse showed that he was more interested in fomenting a media-feeding frenzy than in ascertaining the veracity or credibility of the allegation," Flanders stated in a press release. "This type of partisan hatchet work indicates that Sheldon Whitehouse cares more about stopping the elevation of Judge Kavanaugh to the United States Supreme Court than he does about fundamental fairness, due process, and the integrity of the United States Senate."
Yet Whitehouse views the false accuser as the victim, not Kavanaugh, and is criticizing how the false accuser has been treated.
But during an interview with reporters Sunday night, Whitehouse said the Republican Committee staff "outed" the man.

"This is a regular guy — constituent — and they're trying to throw him under the bus, I think, as a demonstration that other people who come forward will be treated very roughly. It's the Republican Committee staff who outed this guy to begin with, not the FBI. Not me. Not him himself. Not the press," said Whitehouse, a Democrat who is seeking re-election. "This was a stunt pulled by the Republican Committee staff and I hope that when things calm down a little bit, there will be appropriate apologies made to our constituent."
Whitehouse's spokesman claims no media reports came out of Whitehouse's referral of the accuser to a reporter, but Whitehouse's office has not responded to our email seeking identification of the reporter to whom Whitehouse referred the accuser.
Meanwhile, Tom Cotton is calling out Whitehouse for his obsession with the high school yearbook:
[email protected] is treating a high-school yearbook like it's the Da Vinci Code, which I would call a "dark hole of phony narrative," but maybe that's just me
.@SenWhitehouse is treating a high-school yearbook like it's the Da Vinci Code, which I would call a "dark hole of phony narrative," but maybe that's just me https://t.co/Rihh6pkBha

— Tom Cotton (@TomCottonAR) October 2, 2018