Posted by
William A. Jacobson
Tuesday, September 4, 2018 at 8:30pm
| 9/4/2018 - 8:30pm
Social media mob goes after half-Mexican, half-Polish Jewish grandchild of Holocaust survivors for supposedly flashing a White Power hand sign.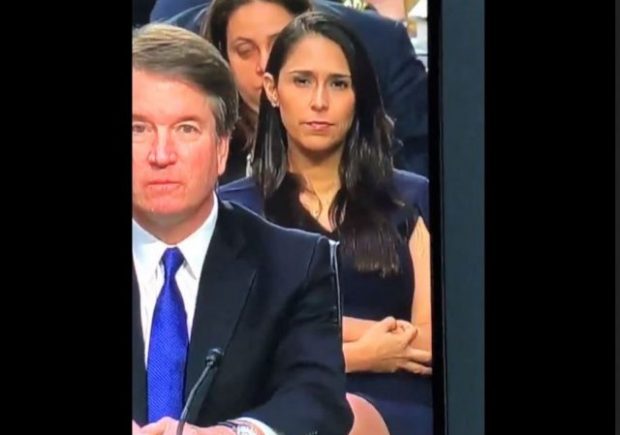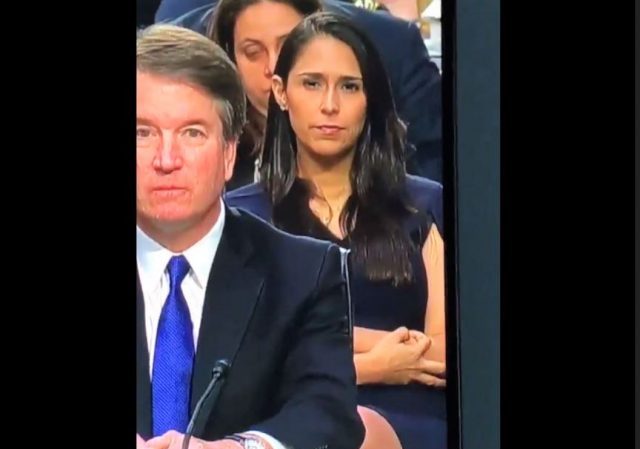 It's getting hard to describe how insane #TheResistance to Brett Kavanaugh has become.
The first day of hearings, which involved no testimony by Kavanaugh, devolved into a circus.
We've already covered today the antics of Democrat Senators trying to abort the hearings by repeatedly interrupting, the disruptions by Linda Sarsour and crew, and the stage and phony claim that Kavanaugh refused to shake the hand of the father of a Parkland school shooting victim.
All those things were stupid political theater.
But there is an evil attack on a former Kavanaugh law clerk, Zina Bash, which shows how malicious #StopKavanaugh has become.
Bash has done numerous media appearances in support of Kavanaugh's nomination.
Zina Bash: "What they're missing is a long history, a very long record of enforcing laws that protect the American people and the American economy." pic.twitter.com/uOvOJ6bSwB

— Fox News (@FoxNews) July 22, 2018
Bash was sitting behind Kavanaugh as #TheResistance disrupted the hearings. She was in camera view.
Anti-Trump social media users with large followings singled her out for supposedly snide facial expressions and flashing a white power sign.
Who is she? What's up with the white power sign? @MSNBC pic.twitter.com/VUU9QsFdXW

— Keith R. Dumas (@rubin_kd) September 4, 2018
What fresh hell is this!!!???
Kavanaugh's assistant Zina Bash giving the white power sign right behind him during the hearing? This alone should be disqualify!!! pic.twitter.com/ZzXVqgTXhC

— Amy Siskind (@Amy_Siskind) September 4, 2018
Kavanaugh's former law clerk Zina Bash is flashing a white power sign behind him during his Senate confirmation hearing. They literally want to bring white supremacy to the Supreme Court. What a national outrage and a disgrace to the rule of law. https://t.co/uQGOpNa6xg

— Eugene Gu, MD (@eugenegu) September 4, 2018
She even was accused of being a neo-Nazi.
This neo-nazi is Zina Bash. She's intentionally throwin up White Power signs at a Supreme Court Justice confirmation hearing. On national TV. She works for Kavanaugh & is also one of the writers for Trump's immigration policy. This is their new Amerikkka. #StopKavanaugh https://t.co/Dw3ZD2M5bk

— Kelly Mantle (@thekellymantle) September 4, 2018
The attacks on Bash spread, and she and her family were the subject of articles at Heavy and elsewhere discussing their personal lives.
So who is Zina Bash? She's the half-Mexican, half-Polish Jewish lawyer whose family on her father's side survived the Holocaust.
This is Zina Gelman Bash, a White House lawyer and the granddaughter of Polish Jews who just barely escaped the death camps. Take a bow. https://t.co/MpN6TT3f2Z

— Lachlan Markay (@lachlan) September 4, 2018
So, I've checked in with Twitter to see that "Zina Bash" is trending. Huh. I know her. Why is she trending? She made a white-supremacist hand gesture? This is the nuttiest, stupidest allegation in the history of the world (or at least tied for). Really, y'all: Get a life.

— Jay Nordlinger (@jaynordlinger) September 4, 2018
Bash's husband, appointed as a U.S. Attorney by Trump, came to her defense:
The attacks today on my wife are repulsive. Everyone tweeting this vicious conspiracy theory should be ashamed of themselves. We weren't even familiar with the hateful symbol being attributed to her for the random way she rested her hand during a long hearing. 1/3

— US Attorney John Bash (@USAttyBash) September 4, 2018
Zina is Mexican on her mother's side and Jewish on her father's side. She was born in Mexico. Her grandparents were Holocaust survivors. We of course have nothing to do with hate groups, which aim to terrorize and demean other people — never have and never would. 2/3

— US Attorney John Bash (@USAttyBash) September 4, 2018
Some of the Twitter comments have even referred to our baby daughter. I know that there are good folks on both sides of the political divide. I hope that people will clearly condemn this idiotic and sickening accusation. 3/3

— US Attorney John Bash (@USAttyBash) September 4, 2018
Trump Derangement Syndrome is real, and there will be collateral damage.