Posted by
Mary Chastain
Thursday, September 20, 2018 at 9:00am
| 9/20/2018 - 9:00am
Grassley to Feinstein: "Instead, you chose to sit on the allegations until a politically opportune moment. I cannot overstate how disappointed I am in this decision."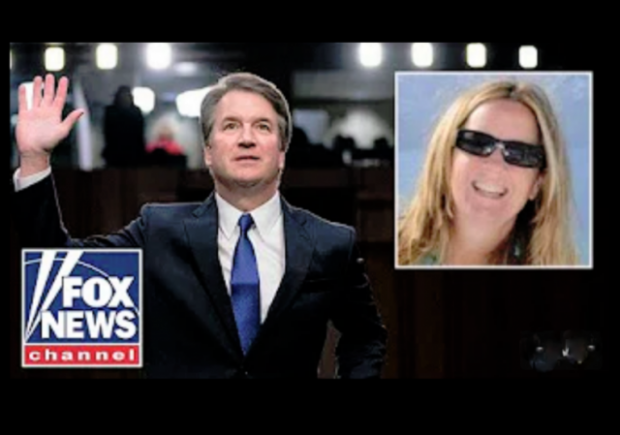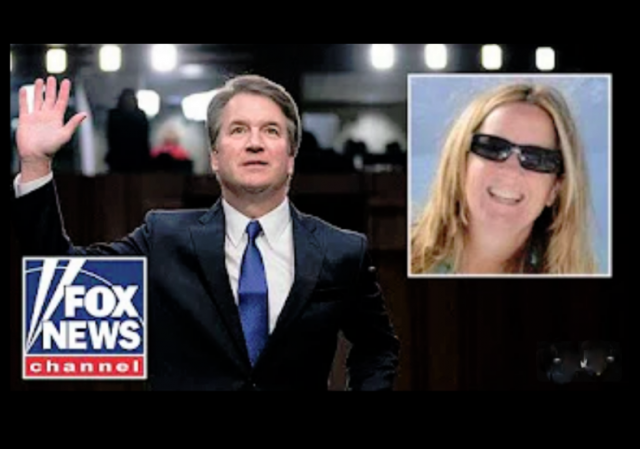 It still looks like Brett Kavanaugh's accuser Christine Blasey Ford will not show up for a hearing set for Monday, which has caused some mayhem at Capitol Hill.
The decision to not show up has caused the teetering Republicans to push for a confirmation vote if nothing happens on Monday.
To make matters worse, Feinstein won't give the Republicans the letter that contains the accusations of sexual assault against Kavanaugh. Does this mean that no one else has actually seen the letter? Just Feinstein? How does she expect Ford to get a proper hearing on Monday if everyone else lacks all the tools?
Ford Open to Hearing Next Week If It's Fair
From The New York Times:
In the email, obtained by The New York Times, the lawyer for Christine Blasey Ford said that testifying Monday — the timetable Republicans have set for a hearing — "is not possible and the Committee's insistence that it occur then is arbitrary in any event." The lawyer reiterated that it is Dr. Blasey's "strong preference" that "a full investigation" occur before her testimony — wording that stopped short of demanding an F.B.I. probe and suggested she is open to testifying without one.
In the email, addressed to top Republican and Democratic aides on the committee, the lawyer, Debra Katz, wrote that she would like to set up a call later on Thursday to "discuss the conditions" under which Dr. Blasey would be prepared to testify.
"As you are aware, she has been receiving death threats, which have been reported to the Federal Bureau of Investigation, and she and her family have been forced out of their home," the email said. "She wishes to testify, provided that we can agree on terms that are fair and which ensure her safety."
NEW: Text of e-mail from Christine Blasey Ford's lawyer to Senate Judiciary Committee. pic.twitter.com/UlRZVEUhxm

— Sheryl Gay Stolberg (@SherylNYT) September 20, 2018
Still doubt the hearing will happen on Monday since Ford's attorney said it "is not possible" for her client to testify on that day.
HuffPost Poll Shows Ford Credibility is Tanking
Yes, you read that correctly. A poll at HuffPost found that Ford's credibility is polling low.
% that find Ford allegations credible:

Men: 28%
Women: 25%

(HuffPost poll) https://t.co/VwxNM1qKBX

— Adrian Gray (@adrian_gray) September 20, 2018
From HuffPost: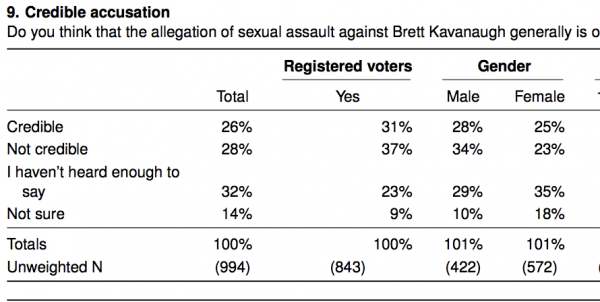 Ford Receiving Threats
For the love of everything holy in this world, DO NOT do this, people. From Mediaite:
Since her name became public, reported the New York Times today, Ford has been inundated with harassment and threats.

Ford has been "inundated with vulgar email and social media messages," reports the Times, including death threats. Citing "a person close to" Ford who also wishes to remain anonymous, they report that the harassment has been so severe she has had to move herself and her children out of their home, and is arranging for "private security."

"From what I've heard you have 6 months to live, you disgusting slime," said one of the messages, according to the Times.
Ford's Former Classmate Walks Claim About Assault
BREAKING: Frmr classmate of Blasey Ford walks back social media claim of knowledge of assault by Kavanaugh.

"In my post, I was empowered and I was sure it probably did [happen], I had no idea that I would now have to go to the specifics and defend it before 50 cable channels"

— The Daily Caller (@DailyCaller) September 20, 2018
BREAKING: Frmr classmate of Blasey Ford walks back social media claim of knowledge of assault by Kavanaugh.

"That it happened or not, I have no idea, I can't say that it did or didn't."

— The Daily Caller (@DailyCaller) September 20, 2018
From NPR:
"In my [Facebook] post, I was empowered and I was sure it probably did [happen]," Miranda told NPR. "I had no idea that I would now have to go to the specifics and defend it before 50 cable channels and have my face spread all over MSNBC news and Twitter."

Miranda on Twitter noted that she did not have "first hand knowledge" of the incident.

Miranda said staff from the Senate Judiciary Committee had reached out to her, something she was not expecting. She said she will not go through with a committee interview if asked.

Miranda says in high school she played soccer with Ford — whom she refers to as Chrissy — and that she continues to support her. Miranda added that despite not knowing specifics of what went on at the party three decades ago, she remembers that there was a "buzz" that went around the weekend of the party in question about an alleged incident involving students from her school and Kavanaugh's.
Grassley Sets Friday Deadline
Ford has until Friday to decide if she will testify on Monday in front of the committee. From Fox News:
Grassley, in a letter to Ford's attorneys on Wednesday, set a 10 a.m. Friday deadline to respond to the invitation "if she intends to testify on Monday."

"You have stated repeatedly that Dr. Ford wants to tell her story," Grassley wrote in the letter. "I sincerely hope that Dr. Ford will accept my invitation to do so, either privately or publicly, on Monday."

It's still not clear if Ford — who claims Kavanaugh sexually assaulted her more than 35 years ago while in high school — will ultimately accept the invitation to testify on Capitol Hill.
Republicans Still Pushing for Ford to Testify
After learning of the allegation, Chairman @ChuckGrassley took immediate action to ensure both Dr. Ford and Judge Kavanaugh have the opportunity to be heard, in public or private. Republicans extended a hand in good faith. If we don't hear from both sides on Monday, let's vote.

— Senator Bob Corker (@SenBobCorker) September 19, 2018
When Dr. Ford came forward, I said that her voice should be heard and asked the Judiciary Committee to delay its vote on Judge Kavanaugh. It did so. I now implore Dr. Ford to accept the invitation for Monday, in a public or private setting. The committee should hear her voice.

— Jeff Flake (@JeffFlake) September 19, 2018
I hope that Dr. Ford will reconsider and testify before the Senate Judiciary Committee on Monday. It is my understanding that the Committee has offered to hold either a public or a private session, whichever would make her more comfortable.

— Sen. Susan Collins (@SenatorCollins) September 19, 2018
McCaskill Will Vote Against Kavanaugh
Vulnerable incumbent Democrat Senator Claire McCaskill announced she will vote against Kavanaugh when the vote hits the floor. From The New York Times:
Ms. McCaskill said she was concerned about the accusation against the judge, but based her decision on campaign finance law. "He has revealed his bias against limits on campaign donations, which places him completely out of the mainstream of this nation," she said in a statement.
The Kansas City Star had more:
"Going even further, Judge Kavanaugh will give free reign to anonymous donors and foreign governments through their citizens to spend money to interfere and influence our elections with so-called 'issue ads.' These 'issue ads' are now flooding the airways in this nation to directly influence election outcomes, drowning the concept of individuals having the strongest voice in our democracy."
Feinstein Holds Onto the Letter
Senate Judiciary Chairman Chuck Grassley blasted ranking member Dianne Feinstein because she will not give him Ford's letter that sparked this circus. From Fox News:
Senate Judiciary Committee Chairman Chuck Grassley on Wednesday unloaded a torrent of criticism on Sen. Dianne Feinstein for her handling of the sexual assault accusations against Supreme Court nominee Brett Kavanaugh, telling the ranking Democrat on the committee, "I cannot overstate how disappointed I am."

Saying Feinstein "chose to sit on the allegations until a politically opportune moment," Grassley demanded she immediately turn over an unredacted copy of the letter from Kavanaugh's accuser, Christine Blasey Ford, that Feinstein received July 30.

Feinstein, D-Calif., shared the letter with federal authorities and other senators only last week, days before a key Judiciary Committee vote on Kavanaugh's confirmation, after a leak about the letter was published in The Intercept. Republicans have accused Democrats of orchestrating that leak.

Grassley, R-Iowa, who called the document a "significant piece of evidence in Judge Kavanaugh's confirmation process," said that despite multiple requests, he still has access only to a redacted copy of the letter included in supplemental background materials provided by the FBI to a select group of senators.
Grassley said he needs the letter in order to have a proper hearing on Monday.
It looks like Feinstein cannot accept responsibility for the mayhem and keeps trying to deflect blame to the Republicans. She said:
Feinstein appeared to wash her hands of the process in a brief interview outside her Senate office with Fox News on Tuesday, saying, "I have no say, I'm the lead Democrat. … I think it's really too bad that no one called her, or called her lawyer."

She added: "This is a woman who has been profoundly impacted by this. Now, I can't say everything's truthful. I don't know."
Except THEY HAVE REACHED OUT TO HER. Numerous times! They are trying to do everything they can to hear from Ford and let her voice be heard whether it's in the public or private.
Grassley brushed off Feinstein's statement:
In his letter Wednesday, Grassley unequivocally dismissed Feinstein's suggestions that her delays were motivated by a desire to protect Ford's identity, and suggested that her actions had in fact compromised any legitimate desire to preserve her anonymity.

"These allegations could have been raised to me, or to Judge Kavanaugh, while protecting Dr. Ford's anonymity," Grassley said. "Had Dr. Ford not made her allegations public via The Washington Post over the weekend, I still would not know her identity."

He continued: "These allegations could have been raised both within the last seven weeks and in a way that protected Dr. Ford's anonymity. Instead, you chose to sit on the allegations until a politically opportune moment. I cannot overstate how disappointed I am in this decision."