Posted by
Fuzzy Slippers
Sunday, August 19, 2018 at 6:00pm
| 8/19/2018 - 6:00pm
Trump: "Social Media is totally discriminating against Republican/Conservative voices. Speaking loudly and clearly for the Trump Administration, we won't let that happen."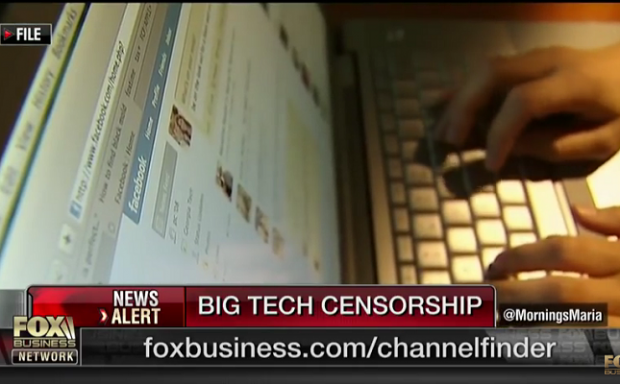 From Big Tech taking orders from the questionable SPLC to the Big Tech coordinated removal of Alex Jones from social media, from YouTube "fact-checking" climate change materials and PragerU to Facebook and Twitter shadow-banning and/or suspending conservative and right-leaning voices, Big Tech has been in full censorship mode in recent months. Their targets are almost exclusively Republicans, conservatives, and those who identify as right-leaning.
President Trump came out strongly against Big Tech, stating that "Social Media is totally discriminating against Republican/Conservative voices. Speaking loudly and clearly for the Trump Administration, we won't let that happen."
What is somewhat surprising is that there are so few voices on the left arguing against this type of censorship.  There was once an intellectual left who believed in free speech, who felt secure enough in their ideology and arguments to welcome opposing viewpoints and civil debate on the issues.   Those days seem to be long gone, though one remnant of this dying left-wing belief in American speech freedoms is Bill Maher.
On his show, Maher mentions Jones being banned across Big Tech platforms, and his audience claps and cheers mindlessly. Maher is noticeably irritated and responds by stating what used to be obvious (and used to be true) "if you're a liberal, you're supposed to be for free speech."
HBO talk-show host Bill Maher spoke out in defense of controversial right-wing host Alex Jones after Jones was suspended from several social media platforms, saying that everyone has a right to free speech.

Maher, noting that Jones has "told crazy lies" about him, said on his HBO show Friday that "if you're a liberal, you're supposed to be for free speech."

"That's free speech for the speech you hate. That's what free speech means. We're losing the thread of the concepts that are important to this country," he continued.

"If you care about the real American shit or you don't. And if you do, it goes for every side. I don't like Alex Jones, but Alex Jones gets to speak. Everybody gets to speak," Maher said.

Charlie Sykes, a contributing editor for The Weekly Standard, pushed back on Maher's comments, saying that Jones "doesn't necessarily get to speak on Facebook or Twitter," to which the host agreed.

"If he engages in vile slander and fabrication about children who are murdered at Sandy Hook and he harasses the parents of children who were murdered at Sandy Hook … Facebook, Twitter don't have an obligation to provide him a platform because they're private companies," Sykes said.
Watch the segment:
Meanwhile, just Saturday, Twitter CEO Jack Dorsey announced that he "fully admits" his platform's "bias is more left-leaning."
Big Tech's coordinated efforts to silence speech that does not toe the progressive left's party line is a real problem without an obvious solution.  After all, they are not (officially) part of government, though they do seem to be working closely with and heavily financing Democrat pols, so they cannot be held responsible for violating First Amendment protections. The First Amendment doesn't say anything about what non-government entities can and cannot say or do in terms of censorship.
John Hinderaker at Powerline has posited that the "left is outsourcing censorship of the internet."
Liberals can't use the government to censor conservatives on account of the 1st Amendment, so they have outsourced censorship to the tech titans of Silicon Valley. This is one of the biggest issues of our time: https://t.co/tg7sCcCGvb via @powerlineUS

— John Hinderaker (@jhinderaker) August 18, 2018
Hinderaker writes:
Unfortunately, most political conversation these days occurs not on the "free" internet, where independent sites like Power Line reside, but rather on social media–Facebook, Twitter, YouTube and so on. Other players include Google (in its search capacity), Apple, Pinterest, Spotify, etc. Happily–if you are a leftist–all of these tech companies are run by liberals. And because they are private companies, they are not constrained by the First Amendment. They can restrict or ban conservative communications on the ground that they are "hate speech," or on no grounds whatsoever, with impunity.

. . . . Tech titans stick together. Two weeks ago, Apple, Facebook, YouTube and Spotify simultaneously "de-platformed" Alex Jones and Infowars. Twitter held out briefly, and then, in response to demands from liberals, also banned Jones and Infowars. I have never paid attention to Infowars and have no idea whether its content has merit. But simultaneous bans and suspensions across platforms can hardly be coincidental. The phrase "combination or conspiracy in restraint of trade" comes to mind.
Hinderaker concludes with some tentative ideas for solutions to this very real problem, a problem he quite rightly calls "one of the most important issues of our time."
The Left's attempt to outsource censorship to its Silicon Valley allies is one of the most important issues of our time. The proper solution may lie in creating competitive platforms, or in legislative, regulatory or judicial action. Perhaps platforms fitting a particular legal definition should be regulated as public utilities. After all, Federal Express doesn't refuse to deliver packages to the National Review office on the ground that they may contain conservative communications, and telephone companies haven't tried to cut off connections when two conservatives are talking. Why should Facebook, Twitter and YouTube be permitted to engage in political discrimination?
President Trump said Saturday that his administration will not let the Big Tech censorship of the internet continue.  It is not yet clear what, if any, action they can take.
Social Media is totally discriminating against Republican/Conservative voices. Speaking loudly and clearly for the Trump Administration, we won't let that happen. They are closing down the opinions of many people on the RIGHT, while at the same time doing nothing to others…….

— Donald J. Trump (@realDonaldTrump) August 18, 2018
…..Censorship is a very dangerous thing & absolutely impossible to police. If you are weeding out Fake News, there is nothing so Fake as CNN & MSNBC, & yet I do not ask that their sick behavior be removed. I get used to it and watch with a grain of salt, or don't watch at all..

— Donald J. Trump (@realDonaldTrump) August 18, 2018
….Too many voices are being destroyed, some good & some bad, and that cannot be allowed to happen. Who is making the choices, because I can already tell you that too many mistakes are being made. Let everybody participate, good & bad, and we will all just have to figure it out!

— Donald J. Trump (@realDonaldTrump) August 18, 2018