Posted by
Fuzzy Slippers
Saturday, January 27, 2018 at 11:30am
| 1/27/2018 - 11:30am
Calls the plan an "act of cowardice" that holds "DREAMers hostage"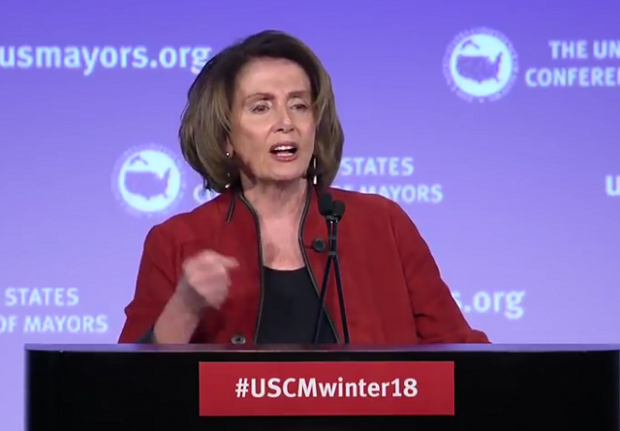 I admit to being a bit puzzled by the leftist outrage over President Trump's proposed DACA deal.  I fail to see anything "racist" about providing a pathway to citizenship for over a million illegal aliens (or in any of the other proposed provisions).
House minority leader Nancy Pelosi (D-CA), however, seems to imagine that it's some kind of  white supremacist plot.
The Trump Administration's anti-immigrant framework is an act of staggering cowardice which attempts to hold the #DREAMers hostage to an unmistakable campaign to make America white again. https://t.co/bhrbQd6YX2

— Nancy Pelosi (@NancyPelosi) January 26, 2018
The Washington Free Beacon reports:
House Minority Leader Nancy Pelosi (D., Calif.) on Friday castigated the White House's newly released immigration reform proposal as a "campaign to make America white again."

Her comments came the day after the White House released a framework for immigration reform that proposes a pathway to citizenship for 1.8 million young illegal immigrants in exchange for $25 billion to go toward a wall on the U.S.-Mexico border and other border-security measures.

Speaking at the United States Conference of Mayors, Pelosi blasted the framework with racially-charged rhetoric, suggesting that the White House plan seeks to hurt minority groups.

"Let me just say what I said last night: that plan is a campaign to make America white again," Pelosi said, claiming that the proposal will cut legal immigration by 50 percent.
Watch:
People on Twitter were quick to respond:
How can an elected official be this inflammatory and idiotic!

My God! Just delete your account!

Lowest unemployment for blacks and Latinos in at least 20 years! If he's a racist Trump sucks at it pic.twitter.com/afZBHZwGbx

— Ex-Dem????????Latina (@ExDemLatina) January 26, 2018
Americans are #Dreamers ALSO.. we dream of a safe country for our children without fear of gangs. We #Dreamers also dream of going to enjoy the city by the bay and not getting shot dead by an illegal alien that illegally broke back into our county 5+ times. we dream of a safe USA

— Anita FayeRealtor (@AnitafsFaye) January 26, 2018
That has to be the stupidest thing you said since 'unemployment checks do more for the economy than jobs or lower taxes'. My wife is Cambodian. She survived Pol Pot. She's now a US citizen. We BOTH voted for Trump. #MAGA pic.twitter.com/GTbbxOT871

— We're Trump voters. Deal with it 🙂 (@WeVoted4Trump) January 26, 2018
Uh…no. The cowardice was displayed by @TheDemocrats who did not address the #Daca issue at the start of Obama's 1st term.
All you have now is the race card. And that card has been declined. #RaceBaitFail #EmptyRhetoric #NoIdeasLeft

— Keith James (@BlackMagic63) January 27, 2018
Awww. Race card time. Last card in the deck. Play it when all else has failed. Nice try, #NuttyNancy https://t.co/tAXxfB1EUg

— James Woods (@RealJamesWoods) January 27, 2018
Meanwhile, Fox News provides a flashback to Obama circa 2006:
.@BarackObama in 2006: "Those who enter our country illegally and those who employ them disrespect the rule of law. And because we live in an age where terrorists are challenging our borders, we cannot allow people to pour into the U.S. undetected, undocumented, and unchecked." pic.twitter.com/b5USOQ8kXi

— Fox News (@FoxNews) January 21, 2018