Posted by
Mary Chastain
Monday, December 4, 2017 at 10:46am
| 12/4/2017 - 10:46am
"If Congress were ever to charge him with obstruction of justice for exercising his constitutional authority under Article II, we'd have a constitutional crisis."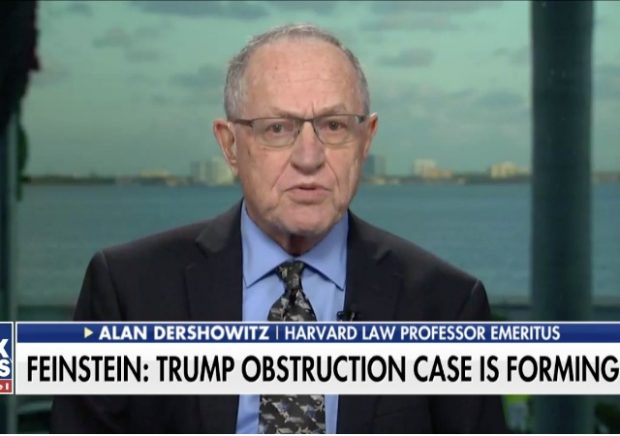 Harvard Law School professor emeritus Alan Dershowitz told Fox & Friends that he cannot find a legit case of obstruction of justice against President Donald Trump. He called it a "hope over reality" for those seeking it:
Sen. Dianne Feinstein (D-Calif.) said on "Meet the Press" that a Senate investigation into Russia's meddling in the 2016 presidential election has revealed possible obstruction.

"I see it in the hyper-frenetic attitude of the White House, the comments every day, the continual tweets. And I see it most importantly in what happened with the firing of Director Comey, and it is my belief that that is directly because he did not agree to 'lift the cloud' of the Russia investigation. That's obstruction of justice," Feinstein said.

On "Fox & Friends," Dershowitz countered that Trump had the constitutional power to fire FBI Director James Comey and to tell the Justice Department who to investigate and who not to investigate.

"If Congress were ever to charge him with obstruction of justice for exercising his constitutional authority under Article II, we'd have a constitutional crisis," Dershowitz said.

He explained that Congress would have to demonstrate "clearly illegal acts" on Trump's part, such as former President Richard Nixon paying "hush money," telling people to lie and destroying evidence in the Watergate scandal.

"There's never been a case in history where a president has been charged with obstruction of justice for merely exercising his constitutional authority. That would cause a constitutional crisis in the United States," Dershowitz said, adding that he hopes Special Counsel Robert Mueller understands that before he considers bringing an indictment or recommending that the matter be referred to Congress.

"And Sen. Feinstein simply doesn't know what she's talking about when she says it's obstruction of justice to do what a president is completely authorized to do under the Constitution."

He added that if Trump truly wanted to impede Mueller's investigation, he could have pardoned Gen. Michael Flynn to prevent him from cooperating.

"The president would have had the complete authority do so and Flynn never would have been indicted, never would have turned as a witness against him," said Dershowitz, a lifelong Democrat.

Watch the full analysis above, and see more from Dershowitz on "The Ingraham Angle" tonight at 10:00pm ET on Fox News Channel.