Posted by
Mary Chastain
Tuesday, February 28, 2017 at 8:30pm
| 2/28/2017 - 8:30pm
Trump's first address to Congress as president.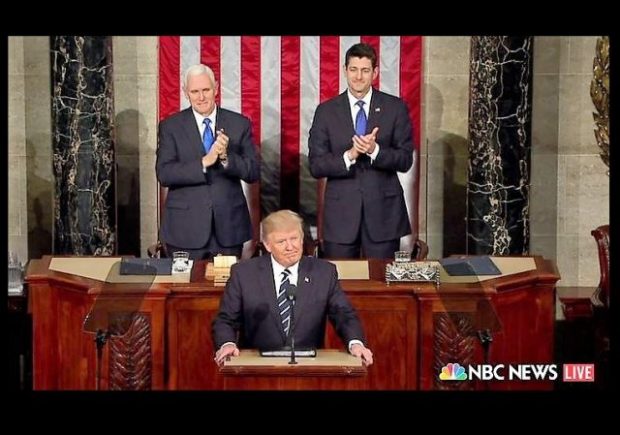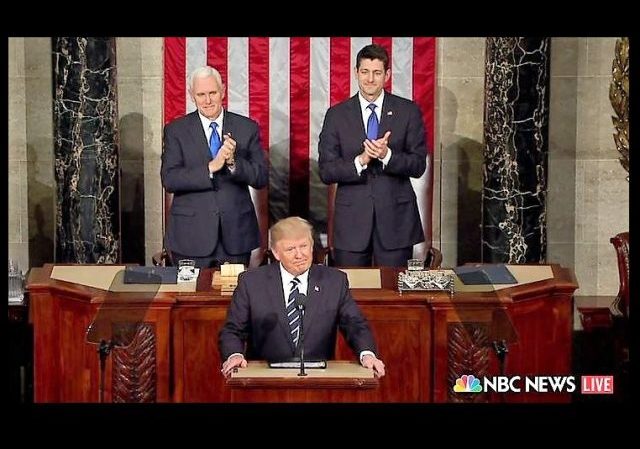 President Donald Trump presented his agenda in front of Congress on Tuesday night. For the first time since he announced his candidacy, Trump sounded presidential and smooth. Kemberlee reported he will speak about these topics:
Tax and regulatory reform
Making the workplace better for working parents
Obamacare reform
Education
Rebuilding the military
Taking care of veterans
Trump said:
"A new chapter of American greatness is now beginning. A new national pride is sweeping across our Nation," he said. "And a new surge of optimism is placing impossible dreams firmly within our grasp."

He described his address as a "message of unity and strength."
Trump asked Congress to come together and work on the mess that is Obamacare. Trump and the GOP promised to repeal and replace the health law, but so far no one has come together in agreement. He wants to present a plan that will lower costs across the board and help people buy insurance across state lines.
The president also called education "the civil rights of our time." He wants his administration to draft an education bill that will help parents choose the right school for their children.
Again, Trump reiterated his promise that he will serve the people of America and wants citizens treated fairly:
And as he did during the presidential campaign, he pushed a nationalist message, making big promises for what will happen when America puts its citizens first: "Dying industries will come roaring back to life. … Crumbling infrastructure will be replaced with new roads, bridges, tunnels, airports and railways gleaming across our very, very beautiful land. … Above all else, we will keep our promises to the American people."

He said his job is to represent the United States, not the world.
I am asking all citizens to embrace this Renewal of the #AmericanSpirit. #JointAddress

— President Trump (@POTUS) March 1, 2017
"From now on America will be empowered by our aspirations, not burdened by our fears." #JointAddress

— Eye on Politics (@EyeOnPolitics) March 1, 2017
"We all bleed the same blood. We all salute the same American flag. We are all made by the same God."-@realDonaldTrump

— Howie Carr (@HowieCarrShow) March 1, 2017
Emotional moment as crowd gives standing ovation to widow of Navy SEAL during #JointAddress https://t.co/bZtqYImWd5 https://t.co/LtzfZkrhz9

— CNN (@CNN) March 1, 2017
We are determined to restore American leadership by standing with our allies and standing up to our enemies. #JointAddress

— Paul Ryan (@SpeakerRyan) March 1, 2017
My job is to represent the United States of America. #JointAddress

— Mary #FlyTheW (@mchastain81) March 1, 2017
Widow of Ryan Owens, Navy SEAL slain in Yemen raid, acknowledged by Pres. Trump at #JointAddress https://t.co/abn2wubjTr pic.twitter.com/ysEatnaXyr

— CBS News (@CBSNews) March 1, 2017
Navy SEAL Chief Petty Officer William "Ryan" Owens was killed one month ago tomorrow. pic.twitter.com/9UIRAMEcYQ

— Jake Tapper (@jaketapper) March 1, 2017
Oh the biggest increase in defense spending……. *sigh* #JointAddress

— Mary #FlyTheW (@mchastain81) March 1, 2017
Introducing families who lost loved ones to illegal immigration. #JointAddress

— Mary #FlyTheW (@mchastain81) March 1, 2017
School choice frees all children. It's disgusting that Dems are against it to save teachers unions. #JointAddress

— Melissa Mackenzie ???? (@MelissaTweets) March 1, 2017
"Education is the civil rights issue of our time," Pres. Trump says in #JointAddress: https://t.co/abn2wubjTr pic.twitter.com/lWtMcdVBpo

— CBS News (@CBSNews) March 1, 2017
Buy American and Hire American. #JointAddress

— Eric Bolling (@ericbolling) March 1, 2017
Repeal and replace Obamacare…..mix of cheers & boos. Some Democrat women giving thumbs down. #JointAddress

— Mary #FlyTheW (@mchastain81) March 1, 2017
Talking about the trillions we spent on the Middle East. Says that money could have been used here to fix infrastructure. #JointAddress

— Mary #FlyTheW (@mchastain81) March 1, 2017
"I am not going to let America be taken advantage of anymore." #JointAddress pic.twitter.com/rHTD2onC4C

— The White House (@WhiteHouse) March 1, 2017
He loves free trade, but it also has to be fair trade. #JointAddress

— Mary #FlyTheW (@mchastain81) March 1, 2017
#TrumpAddress: I'm loving every moment the camera goes to @NancyPelosi! Her face #Priceless #JointAddress pic.twitter.com/QA3UlcvX3B

— Kris Cruz (@rc_kris) March 1, 2017
Make it easier for businesses to do business in America & make it harder for them to leave. #JointAddress

— Mary #FlyTheW (@mchastain81) March 1, 2017
.@POTUS "I have kept my promise to nominate a justice to uphold the values of the Constitution." #JointAddress

— Varney & Co. (@Varneyco) March 1, 2017
Many Dems also not clapping for Israel line #JointAddress

— Katie Pavlich (@KatiePavlich) March 1, 2017
Our obligation is to protect and serve the American people & protect them from radical Islamic terrorism. #JointAddress

— Mary #FlyTheW (@mchastain81) March 1, 2017
My Administration has answered the pleas of the American people for immigration enforcement and border security. #JointAddress

— President Trump (@POTUS) March 1, 2017
Mixed reactions when he mentions the southern wall he wants to build. #JointAddress

— Mary #FlyTheW (@mchastain81) March 1, 2017
Talking about border security. America will be better by enforcing our immigration laws. #JointAddress

— Mary #FlyTheW (@mchastain81) March 1, 2017
He wants to stop the flow of drugs into our nation & provide treatment for those who are addicted. #JointAddress

— Mary #FlyTheW (@mchastain81) March 1, 2017
Pelosi had a sour face when he announced all the jobs:
Nancy Pelosi must hate "new American jobs" – What else could explain that scowl#Jointsession #trumpaddress

— Cameron Gray (@Cameron_Gray) March 1, 2017
Trump mentions draining the swamp. I hear people laughing in the background. #JointAddress

— Mary #FlyTheW (@mchastain81) March 1, 2017
Trump points out the companies that have decided to stay in America and create more jobs. Walmart, Ford, etc. #JointAddress

— Mary #FlyTheW (@mchastain81) March 1, 2017
America must put its own citizens first, because only then can we truly Make America Great Again! #JointAddress #AmericanSpirit

— President Trump (@POTUS) March 1, 2017
.@POTUS: "For too long, we've watched our middle class shrink as we've exported our jobs and wealth to foreign countries." #JointAddress pic.twitter.com/hdDnli1bsv

— FOX Business (@FoxBusiness) March 1, 2017
.@POTUS "We've financed one global project after another, but have ignored our children." #JointAddress

— Varney & Co. (@Varneyco) March 1, 2017
"We are a country that stands united in condemning hate and evil in all of its very ugly forms," Pres. Trump says in #JointAddress. pic.twitter.com/yloXge8DG5

— CBS News (@CBSNews) March 1, 2017
We are a country that stands united in condemning hate and evil in all of its very ugly forms. #JointAddress

— President Trump (@POTUS) March 1, 2017
Trump starts off by addressing the threats to the Jewish community and shooting in Kansas. #JointAddress

— Mary #FlyTheW (@mchastain81) March 1, 2017
Remember the ladies are wearing white for suffragettes because us females are so oppressed or something. #JointAddress

— Mary #FlyTheW (@mchastain81) March 1, 2017
President Trump arrives in the chambers for his #JointAddress to Congress https://t.co/hcJzjKaW0s pic.twitter.com/IZyg1dXrhh

— CBS Evening News (@CBSEveningNews) March 1, 2017
Great Picture of First Lady Melania #trumpaddress #Jointsession #JointAddress pic.twitter.com/mIcsC2xZ7Q

— Immigrants☆4☆Trump (@immigrant4trump) March 1, 2017
Trump has arrived

— Mary #FlyTheW (@mchastain81) March 1, 2017
"Mr. Speaker, the President of the United States."

Donald Trump walks out.

What a world.

— Chris Geidner (@chrisgeidner) March 1, 2017
A Twitter List by LegInsurrection