Posted by
Mary Chastain
Wednesday, February 8, 2017 at 6:00pm
| 2/8/2017 - 6:00pm
52-47 with Manchin being the only Democrat to vote yes.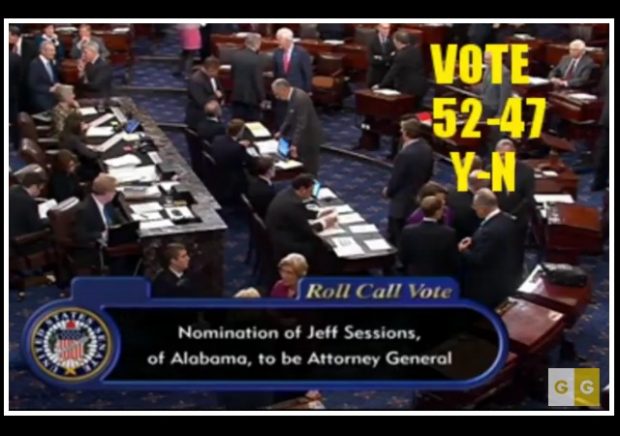 The Senate has confirmed Sen. Jeff Sessions (R-AL) as the next attorney general. The Democrats attempted to persuade their colleagues with a 24 hour debate, but they lost one of their own.
Sen. Joe Manchin (D-WV) voted yes for Sessions. Therefore, Sessions won with 52 yes votes and 47 no votes. Sessions voted as present.
The Democrats have tried to cast Sessions as a racist and an enemy of the gay community. They also don't believe he would stand up to President Donald Trump. But the Republicans, including Sen. Tim Scott (SC), have taken Sessions's side and rebuked all of those claims.
CLIP: U.S. Senate confirms Sen. Jeff Sessions to be Attorney General, 52-47. https://t.co/N9qPdAy0Rf pic.twitter.com/cJkEXv2RvD

— CSPAN (@cspan) February 9, 2017
Sessions will take over the Department of Justice for President Donald Trump, who had the senator's strong support on the campaign trail.
The closeness between the two worried the Democrats, who do not believe that Sessions can say no to Trump. Their worries spiked after Trump dismissed acting Attorney General Sally Yates when she refused to enforce his temporary immigration ban.
From The Wall Street Journal:
Allegations of racial bias sank Mr. Sessions' 1985 nomination for a federal judgeship, and the issue flared up again in this confirmation fight. Mr. Sessions and his allies have pushed back, highlighting civil-rights cases Mr. Sessions supported and showcasing support from black colleagues.

At his recent confirmation hearing, Mr. Sessions described claims that he is racist as "damnably false." Sen. Lindsey Graham (R., S.C.) spoke on the Senate floor on Tuesday in Mr. Sessions' defense and showed an award the National Association for the Advancement of Colored People, which opposed Mr. Sessions' 1985 nomination to the federal bench, had given Mr. Sessions in 2009.
But during the debate, Sen. Tim Scott gave a passionate speech for Sessions, refuting all the claims of racism against Sessions and showed how the critics have skewered the past to smear Sessions.
Scott also read aloud tweets he has received for backing Sessions:
.@SenatorTimScott reads tweets criticizing his endorsement of Sen. Jeff Sessions: "I left out all the ones that use the n-word." pic.twitter.com/AhTnGaUyiz

— CSPAN (@cspan) February 8, 2017
Sessions's colleagues gave him a round of applause after voting ended.
Now the Democrats will begin another 24 hour debate before the Senate votes on Rep. Tom Price as Secretary of Health and Human Services on Thursday.
7:19PM EST: Sessions has the majority with 51 YES votes.
Oh!!! Manchin voted YES on Sessions!

— Mary Elizabeth (@mchastain81) February 9, 2017
It looks like it will go down party lines.

— Mary Elizabeth (@mchastain81) February 9, 2017
7:00PM EST – Taking roll and will vote on confirmation right afterwards.
Sessions sitting on flr as Senate approaches his confirmation vote to be Attorney General.

— Chad Pergram (@ChadPergram) February 8, 2017
"Sessions' hearing in 1986 was an absolute ambush," Grassley says. "He was unfairly attacked then, and he's being unfairly attacked now"

— Burgess Everett (@burgessev) February 8, 2017
Sen. Tim Scott defends Jeff Sessions AG nomination https://t.co/WM5KR1GUzZ pic.twitter.com/Wvam47ZBZm

— WVTM 13 (@WVTM13) February 8, 2017
.@SenatorTimScott reads tweets criticizing his endorsement of Sen. Jeff Sessions: "I left out all the ones that use the n-word." pic.twitter.com/AhTnGaUyiz

— CSPAN (@cspan) February 8, 2017