Posted by
Mary Chastain
Friday, September 23, 2016 at 4:00pm
| 9/23/2016 - 4:00pm
He didn't endorse at the convention.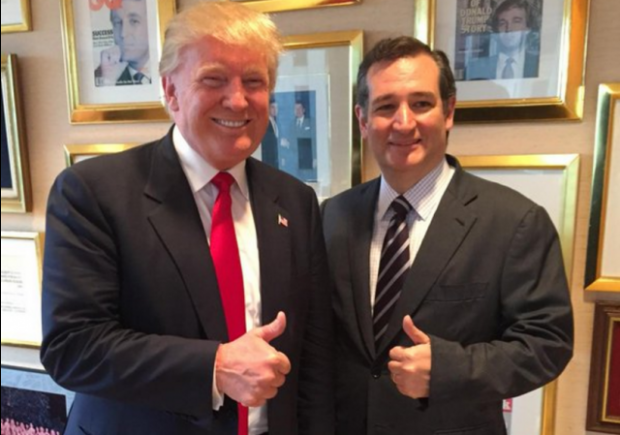 Senator Ted Cruz (R-TX) announced on Facebook that he will indeed vote for GOP presidential candidate Donald Trump in November.
JUST IN: Ted Cruz announces that he will vote for Donald Trump https://t.co/qJaWnsW61g

— NBC News (@NBCNews) September 23, 2016
Trump has accepted Cruz's news:
First on CNN: Donald Trump says he is "greatly honored by the endorsement of Senator Cruz" https://t.co/cyz4Zkxq0b pic.twitter.com/VQi4yFNyZd

— CNN Politics (@CNNPolitics) September 23, 2016
The former presidential candidate came under fire in July when he refused to endorse Trump:
Cruz didn't encourage convention goers and watchers to vote Trump, rather to vote their conscience. When delegates realized he wasn't going to explicitly endorse Donald Trump, they began booing and jeering. Then, Donald Trump made an entrance before Cruz had finished his speech.
The next day he explained why he couldn't endorse Trump at a breakfast with the Texas delegation:
"I have to confess, what you said would be easy to do. How many people here are frustrated with politicians who just say anything? There are a lot of options that I could've taken that politically, would've been a heckuva lot easier.

There's option number one which a whole bunch of people took, which is turn tale and run and don't come to the convention. There are a bunch of people who did that. I ain't one of them.

There's another option. Let me tell you the politically easy option is to stand up and pledge your allegiance to whoever the party nominee might be no matter what. If you're an elected official, that's the right political outcome. Let me tell you something sir, I'm not going to lie to you. Whether you want me to or not, I'm not going to lie to you and what I said last night is what I believe. So, yes."
Cruz also told the delegation he could not support someone who attacked his family. In May, Trump said on Fox News that Cruz's father helped Lee Harvey Oswald assassinate President John F. Kennedy:
"His father was with Lee Harvey Oswald prior to Oswald's being — you know, shot. I mean, the whole thing is ridiculous," he told Fox News. "What is this, right prior to his being shot, and nobody even brings it up. They don't even talk about that. That was reported, and nobody talks about it."
People took to Twitter to express their feelings over the announcement:
Maybe Cruz found out Trump has six fingers on his right hand and he's just trying to get close and seek revenge.

— RINO Pundit (@RINOPundit) September 23, 2016
Thing about the rumored Cruz endorsement is that stuff like this 100 percent proves Trump's points on anti-DC talk. They can all be bought.

— T. Becket Adams (@BecketAdams) September 23, 2016
The real question isn't whether Cruz endorses. The question is whether Trump gives him the full Joffrey/Ned Stark treatment.

— Ben Shapiro (@benshapiro) September 23, 2016
OUT: Vote your conscience.
IN: Con your voters.https://t.co/Y9CtC4nIt7

— Jim Treacher (@jtLOL) September 23, 2016
In one afternoon, we learn that both Ted Cruz and Kim Kardashian are considering supporting Trump. Exciting times

— Betsy Woodruff (@woodruffbets) September 23, 2016
I love Cruz supporting Trump. Just to watch the #NeverTrump crowd react.

— E. Stevenson (@magisterstevens) September 23, 2016
POLL: what did Cruz *really* get in exchange for the Trump endorsement?

— Scott Lincicome (@scottlincicome) September 23, 2016