Posted by
Mary Chastain
Tuesday, May 3, 2016 at 12:00pm
| 5/3/2016 - 12:00pm
Trump throws out more baseless accusations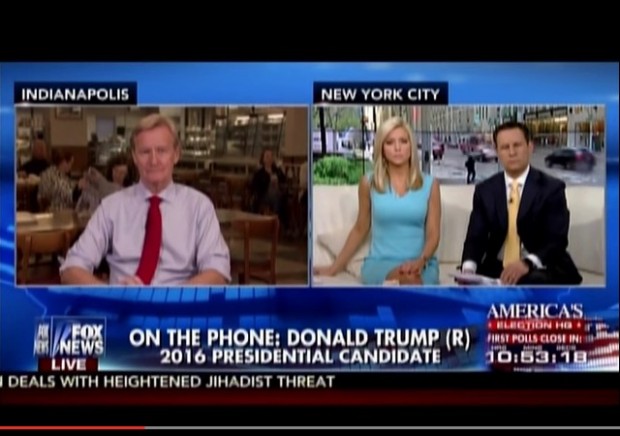 GOP presidential candidate Donald Trump claimed the father of his rival Sen. Ted Cruz (R-TX) helped Lee Harvey Oswald kill President John F. Kennedy.
"His father was with Lee Harvey Oswald prior to Oswald's being — you know, shot. I mean, the whole thing is ridiculous," he told Fox News. "What is this, right prior to his being shot, and nobody even brings it up. They don't even talk about that. That was reported, and nobody talks about it."
No one holds any evidence to prove this claim. The National Enquirer, whose publisher is close friends with Trump, says they hold pictures that show Cruz's father with Oswald.
People have already brushed aside the accusations, including Cruz.
Per @alanhe, Cruz campaign out with a statement blasting Trump and media over Trump/Lee Harvey Oswald comments: pic.twitter.com/NKv4yI1c6J

— Sopan Deb (@SopanDeb) May 3, 2016
FACT CHECK: Trump was "asked" about enquirer lee harvey oswald story.

FALSE – Trump brought it up unprovokedhttps://t.co/4DArARZbal

— Rob Eno (@Robeno) May 3, 2016
Everytime Trump gets close to getting the party to accept him as likely nominee, he drops bomb like this Oswald bit.

— Jim Antle (@jimantle) May 3, 2016
Where's the media challenging #Trump's crazy accusation about Rafael Cruz and Lee Harvey Oswald?@seanhannity

— NoVicticratHere (@CalFreedomMom) May 3, 2016
With this Oswald bit, we get more insight into the conspiratorial worldview of Trump.

— Edward H. Miller (@eh_miller) May 3, 2016
As Andrew Kirell at The Daily Beast points out, Brian Kilmeade tried to tell Trump no one could verify the report, but immediately backed down when the frontrunner kept talking over him.
Best part: The way @kilmeade lets Trump stomp over his tepid attempt to say the Cruz-Oswald report is unverified. https://t.co/vEnsL1SslS

— Andrew Kirell (@AndrewKirell) May 3, 2016
"I mean, what was he doing?" exclaimed Trump. "What was he doing with Lee Harvey Oswald shortly before the death? Before the shooting? It's horrible."