Posted by
Kemberlee Kaye
Wednesday, July 20, 2016 at 10:49pm
| 7/20/2016 - 10:49pm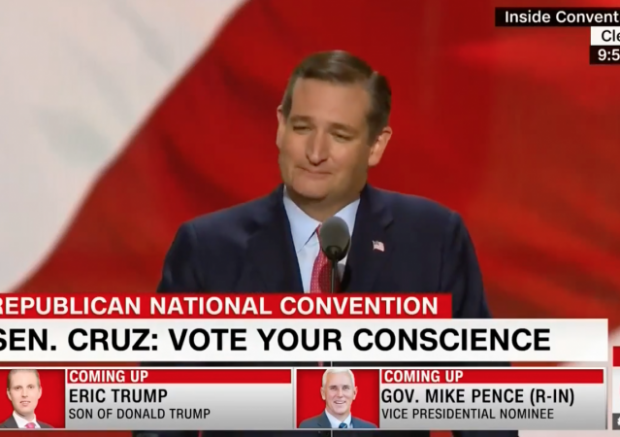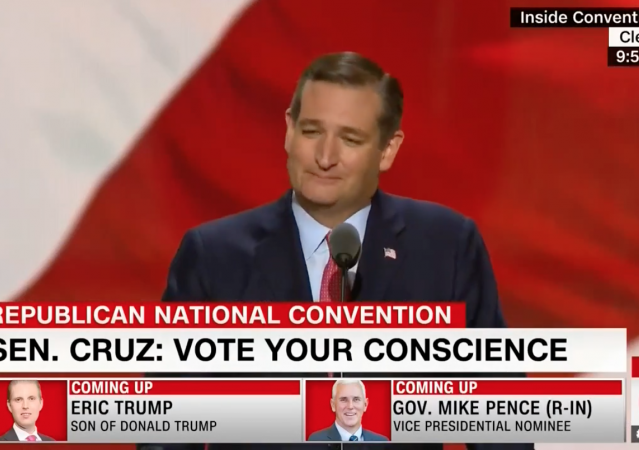 This is now one of my top five favorite moments in convention speeches.
Senator Cruz was given a prime time slot in Wednesday's Republican National Convention lineup.
Cruz didn't encourage convention goers and watchers to vote Trump, rather to vote their conscience. When delegates realized he wasn't going to explicitly endorse Donald Trump, they began booing and jeering. Then, Donald Trump made an entrance before Cruz had finished his speech.
That moment in all its glorious awkwardness:
The Internet responds
"My name is Donald Trump Jr. You insulted my father. Prepare to die." pic.twitter.com/nz2rFCrETO

— jimgeraghty (@jimgeraghty) July 21, 2016
Two sources tell me Trump team actively whipped the "boos" at the end of Cruz speech

— Zeke Miller (@ZekeJMiller) July 21, 2016
I've been very critical of Ted Cruz for a number of reasons. This speech tonight was the first time he played as smart as he is.

— Rick Wilson (@TheRickWilson) July 21, 2016
Live look at Ted Cruz. pic.twitter.com/7eK38l6b9P

— (((Harry Enten))) (@ForecasterEnten) July 21, 2016
Props to @SenTedCruz, in the most politely Texan way telling @realDonaldTrump where he can shove it. #RNCinCLE

— Kemberlee Kaye (@KemberleeKaye) July 21, 2016
Cruz will be persona non grata until Nov 9 when he claims victory.

— Noah Rothman (@NoahCRothman) July 21, 2016
Wow, Ted Cruz got booed off the stage, didn't honor the pledge! I saw his speech two hours early but let him speak anyway. No big deal!

— Donald J. Trump (@realDonaldTrump) July 21, 2016
Since the RNC will probably lie and say Cruz changed his speech, this is the text the RNC sent out at 8:21p.m. pic.twitter.com/7g96QDBC4L

— Sean Davis (@seanmdav) July 21, 2016
"I think it was awful, and quite frankly, I think it was selfish." – Chris Christie to @DanaBashCNN on Ted Cruz's speech.

— Ashley Killough (@KilloughCNN) July 21, 2016
I still instinctively hate you, @tedcruz, and I distrust your motives. That will never change. But I respect that you went up there tonight.

— Neal Dewing (@Neal_Dewing) July 21, 2016
.@realDonaldTrump to me just now, when I asked about @tedcruz speech: "I loved it!" #nbc2016

— Hallie Jackson (@HallieJackson) July 21, 2016
An angry Michael Cohen on CNN saying the RNC shouldn't back Cruz in 2020.

— Jimmy (@JimmyPrinceton) July 21, 2016
—@DonaldJTrumpJr on Cruz: "The best unity I saw was everyone booing him off the stage" pic.twitter.com/xlzB0K9qyl

— Oliver Darcy (@oliverdarcy) July 21, 2016
What a missed opportunity for Ted Cruz to show an example of Christian forgiveness. #RNCinCLE We've all failed there, but he could have led.

— Joel B. Pollak (@joelpollak) July 21, 2016
Sources: Cruz agreed to speak at RNC on condition he could say what he wanted, told Trump in face-to-face meeting in DC he wouldn't endorse.

— Eli Stokols (@EliStokols) July 21, 2016
Senator Ted Cruz's full remarks, boos and all:
Follow Kemberlee on Twitter @kemberleekaye