Posted by
Mary Chastain
Monday, September 12, 2016 at 8:30pm
| 9/12/2016 - 8:30pm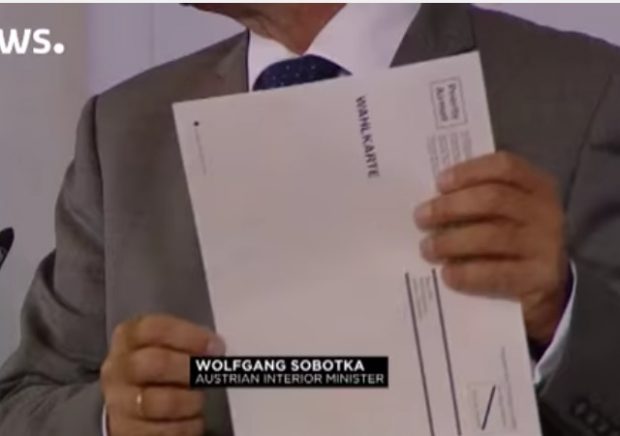 The current Austrian presidential election is filled with more drama than America's election cycle, if you can believe that.
Independent presidential candidate Alexander Van der Bellen, backed by the Green Party, barely beat Freedom Party candidate Norbert Hofer in May in an election that came down to the mail-in ballots.
However, Austria's highest court overturned the election results in July when the justices noticed problems with mail ballots affecting, "nearly 78,000 votes – more than twice the margin separating the two candidates." As a result, a runoff election was scheduled for October 2. That election has recently been delayed and for an all too familiar reason — mail-in ballots.
The Austrian government found the mail ballots contained defective glue, meaning the envelopes could pop open, invalidating the vote:
"I must acknowledge that a ballot-card production error is the reason why we cannot guarantee an election that is irreproachably in conformity with the law," said Interior Minister Wolfgang Sobotka, who oversees elections, in a news conference in Vienna on Monday. "We cannot estimate today how many and which of these ballot cards could still open."

Mr. Sobotka said he would submit a bill to parliament on Tuesday to postpone the vote until Dec. 4.
Now, in the first election, lawyers for the Freedom Party claimed 94 of the 117 districts "illegally handled" the ballots by opening them "far earlier than permitted." They also believe that people under the age of 16, and some non-residents voted. Sobotka admitted "[T]here was sloppiness while witnesses said he put "pressure on officials to provide a rapid count.""
Both nominees have used the incident as a metaphor to describe the situation in Austria:
On Monday, Van der Bellen suggested that the faulty glue was a metaphor for bigger problems in Austria, saying "what we need most of all is for us to stick together".

He told a press conference in Vienna that the next president had a duty to ensure that he "did not add to the feelings of division, but would unite society at a time of ever growing political and economic uncertainty, which has been triggered by the Brexit decision".

"Due to the high unemployment rate in Austria or the growing divide between rich and poor, we need cohesion in difficult times," Van der Bellen said.
Hofer said:
Hofer did not try to suppress his anger over the postponement, saying it was a reflection of the general mess that Austria was in. "We now have a new date because the organisation has failed once again, because this republic is not capable of carrying out elections in an orderly way," he said. "We simply want our Austria back."

Hofer has called for the abolition of postal votes, which are known to favour Van der Bellen.
President Heinz Fischer stepped down on July, leaving the post vacant. However, the presidency is more of a ceremonial post:
But the president does have the power to dissolve the National Council – the more powerful lower house of parliament. That triggers a general election. The president can only do that once for a particular reason – he cannot use the same grounds to dissolve it again.

It is the chancellor's job to appoint government ministers. And the chancellor has the power to dismiss the government. But ministers have to be formally sworn in by the president. And Mr Hofer has said he would not swear in a female minister who wore a hijab, which he has described as a sign of oppression.