Posted by
Mary Chastain
Saturday, June 18, 2016 at 6:00pm
| 6/18/2016 - 6:00pm
Egypt believes Al-Jazeera is a mouthpiece for the Muslim Brotherhood.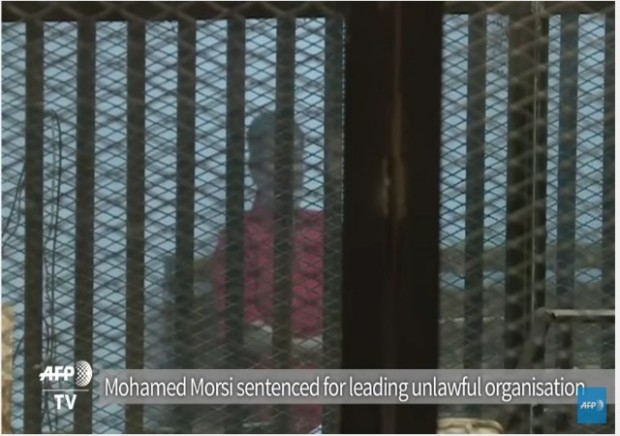 An Egyptian court has sentenced two al-Jazeera journalists to death for allegedly providing Qatar with state secrets. The court gave former President Mohammed Morsi 40 years prison for "leading an unlawful organisation."
The new government banned Morsi's Muslim Brotherhood after they deposed him in 2013.
Amin el-Sirafy, Morsi's secretary, and his daughter Karima also received 25 years in prison and added 15 more years to the sentence.
The court also sentenced four other people to death. From Fox News:
The two Al-Jazeera employees — identified by the judge as news producer Alaa Omar Mohammed and news editor Ibrahim Mohammed Hilal — were sentenced in absentia along with Asmaa al-Khateib, who worked for Rasd, a media network widely suspected of links to Morsi's Muslim Brotherhood.

The Brotherhood was banned and declared a terrorist group after Morsi's ouster.

The three other defendants sentenced to death Saturday are documentary producer Ahmed Afify, EgyptAir cabin crew member Mohammed Keilany and academic Ahmed Ismail.
The courts tried the Al-Jazeera journalists in absentia, but the others sentenced to death remain in Egypt custody. Hilal lashed out at his sentence:
"What really annoyed me today was the intensive talk and the self-assurances given by the judge and how he was sure these people betrayed the nation. For me. the real betrayal of this nation is wasting its time and money in these silly things and fabricated cases.

"I feel they have nothing so they are continuing to self-assure that we really proved it. If you read the evidences, the only two kinds of evidences they have are the secret investigations of the police which was disclosed and the second is the confessions of others who gave statements under interrogation and torture," he added.

"This is a political case … They want to threaten all journalists inside and outside of Egypt."
Egyptian officials believe Al-Jazeera serves "as the mouthpiece for the Muslim Brotherhood and for Morsi." Doha, the capital of Qatar, houses Al-Jazeera, which receives funds from the Thani family, which rules the small country. The organization went private in 2011, but some requests have led people to doubt this. In 2012, the news director told his team to re-edit a UN speech so it leads with Sheikh Hamad bin Khalifa al-Thani
Another court sentenced Morsi to death for allegedly "plotting with foreign militants to escape from prison alongside hundreds of other Muslim Brotherhood members and supporters in violent jail breaks during the 2011 Arab Spring."
Authorities arrested Egyptian-born Canadian Mohamed Fahmy and Egyptian Baher Mohamed in December 2013 after they allegedly aired "false news." But President Abdel Fattah al-Sisi pardoned the men with 100 other prisoners in September 2015 as part of his "initiative to release a number of youth."