Posted by
Kemberlee Kaye
Wednesday, March 9, 2016 at 3:45pm
| 3/9/2016 - 3:45pm
Not happy warrior after firing by Mizzou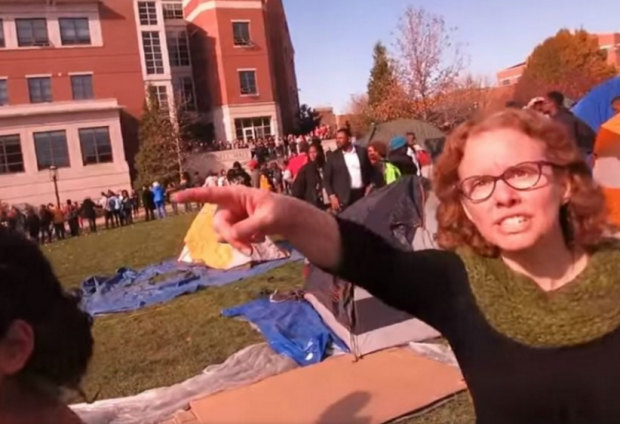 Well, this is awkward.
Embattled former Missouri Professor, Melissa Click, is refusing to accept that she is a professor no more.
CNN reported:
Melissa Click appealed the decision and is now getting support from the American Association for University Professors.

The AAUP announced Monday that it would be investigating Click's firing.

Click, an assistant professor of communications, said she was pleased by the news. She maintains that she was fired without due process when the university's Board of Curators "overstepped their authority."

According to a university spokesperson, Click was fired for failing to meet the standards expected of faculty members.
Click might claim she was denied due process, but by all accounts, the University was more than generous in considering her case prior to voting 4-2 to cut her lose.
The statement from Henrickson cited Click's behavior at the Homecoming parade, when she cursed at a police officer who was moving protesters out of the street, and on Nov. 9 at Concerned Student 1950's protest site on the Carnahan Quadrangle. Her actions at the protest site, Henrickson said, "when she interfered with members of the media and students who were exercising their rights in a public space and called for intimidation against one of our students, we believe demands serious action."

The investigators hired by the curators reviewed videos, documents and conducted more than 20 interviews, Henrickson said.

"She has the right to appeal her termination," Henrickson said. "The board went to significant lengths to ensure fairness and due process."
Click famously "used muscle" against journalists attempting to cover a student protest. Days later she was suspended. In January, Melissa Click was charged with class C assault.
As Professor Jacobson wrote in February, "Click claimed this was an aberration and that she's not really the wacko she appears to be on the video." And then video of a nasty police confrontation surfaced.
In Februrary, Click was canned.
As the Columbia Daily Tribune reported, Click had become an expensive political liability. "The House Budget Committee will consider a spending bill next week that cuts $402,000 from the Columbia campus budget — the amount of Click's salary as well as that of her department chair and the dean of the College of Arts and Science — and $7.6 million from the UM System's administrative budget," they reported.

Click responded calling the firing unfair:

Fired Assistant Professor Melissa Click, in her statement to explain her actions during campus protests, challenged the fairness and accuracy of the investigative report used by the University of Missouri Board of Curators to fire her.

In a five-page statement released along with the investigative report and a statement from Board of Curators Chair Pam Henrickson, Click said she should not be judged based on video recordings of her actions at a Homecoming parade protest and at the Concerned Student 1950 protest site on Carnahan Quadrangle.

"While some would judge me by a short portion of videotape, I do not think that this is a fair way to evaluate these events," Click wrote. "Those videotaped moments (for which I have formally and publicly apologized) deserve to be understood in a wider frame of reference, among all of the momentous events of the fall semester."
Follow Kemberlee on Twitter @kemberleekaye