Posted by
William A. Jacobson
Friday, March 11, 2016 at 7:45pm
| 3/11/2016 - 7:45pm
Protesters get inside arena, scuffles — Chants of "Bernie, Bernie"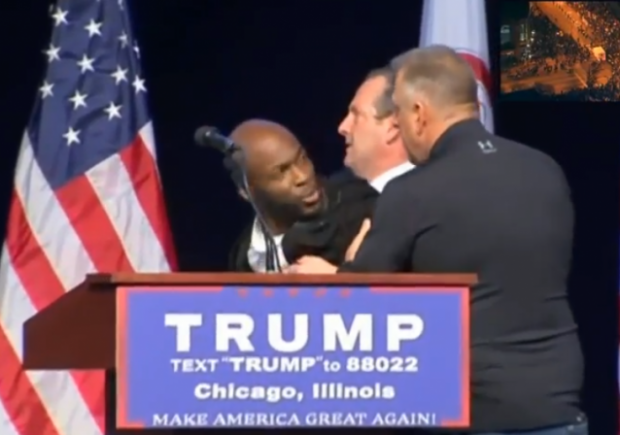 This is a developing situation.
There were large protests outside a planned Donald Trump rally in Chicago, at the University of Illinois.
The event was canceled for security reasons when a large number of protesters got inside, scuffles broke out, and at least one person managed to get on the podium.
Large groups of protesters chanted "Bernie, Bernie" and were met with chants of "Trump, Trump" as police moved to separate them.
Here is a live stream from earlier INSIDE:
Here is a live stream from earier OUTSIDE: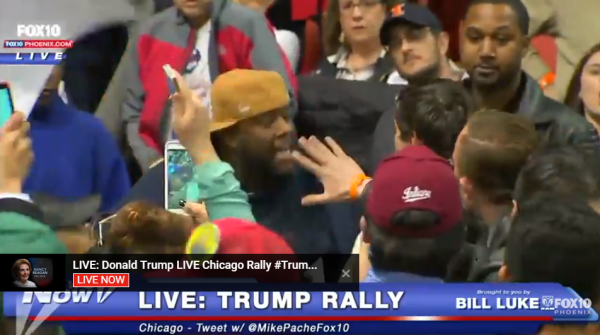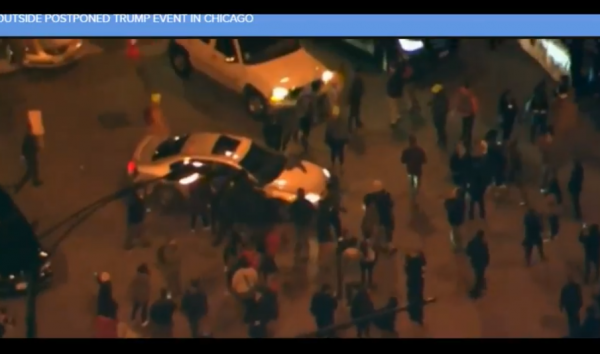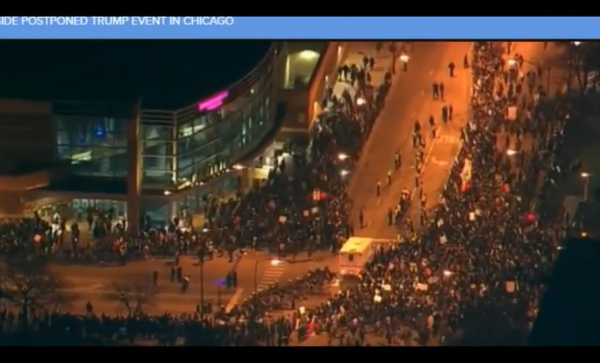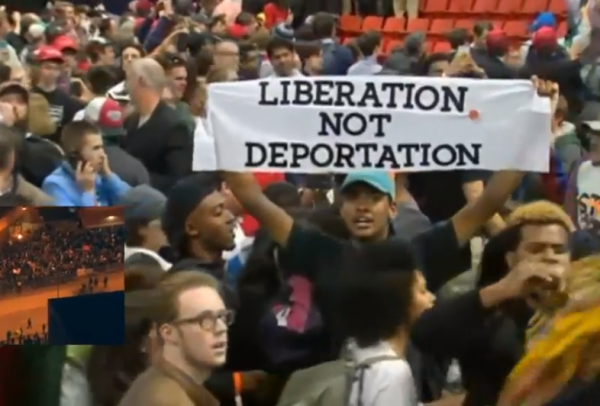 Chicago protesters chanting "BERNIE! BERNIE!" shut down @realDonaldTrump rally! #MakingAmericaGreatAgain pic.twitter.com/xIsCPZVuQK

— pplswar (@pplswar) March 12, 2016
VIDEO of @berniesanders supporters chanting "BERNIE! BERNIE!" + shutting down clown coward @realdonaldtrump rally. https://t.co/ue57anwIEX

— pplswar (@pplswar) March 12, 2016
Craziness in lower bowl of UIC Pavilion. People looking for a fight. pic.twitter.com/VANBa0O1rs

— Kevin Pang (@pang) March 12, 2016
The far end of the lower bowl is filled with folks chanting for Bernie pic.twitter.com/4HJg1WRLfZ

— Kevin Pang (@pang) March 12, 2016
People stuck in garage screaming at protesters, who are screaming back. #TrumpRally #TrumpChicago pic.twitter.com/b276RBJHVc

— Joe Ward (@JayDubWard) March 12, 2016
We won! The protesters shut down Trump! Rally postponed! #ProtestTrump #UIC #TrumpRally #TrumpChicago #TrumpRallyChi pic.twitter.com/gC0QnPASwE

— Jenny Korn ~ Groovy! (@JennyKorn) March 12, 2016
NEW VIDEO: Fight erupts. Trump speaks to MSNBC about violence at his rallies. #TrumpChicago #TrumpRally #Trump2016 pic.twitter.com/bES9aKLjCo

— Shomari Stone (@shomaristone) March 12, 2016
#Blacklivesmatter outside #TrumpChicago pic.twitter.com/ZFGHO0p54K

— Eviane Leidig (@evianeleidig) March 12, 2016
#Trump protesters shouting in support for @BernieSanders during Trump's rally in #Chicago @mystateline pic.twitter.com/ID0p4o1KH1

— Phil Reed (@Indeed_PhilReed) March 12, 2016
According to reports, MoveOn.org apparently had a role in encouraging the protests, and issued a statement supporting the protests after the event was shut down. MoveOn.org is backing Bernie Sanders:
MoveOn's statement on the cancellation of the Trump rally in Chicago. pic.twitter.com/eppJOy1O81

— MoveOn.org (@MoveOn) March 12, 2016
Remember the #TrumpRally wasn't just luck. It took organizers from dozens of organizations and thousands of people to pull off. Great work.

— People For Bernie (@People4Bernie) March 12, 2016
The UK had a debate if @realDonaldTrump should even be allowed in the country. Chicago had that debate tonight. pic.twitter.com/Qpf7AQanFw

— People For Bernie (@People4Bernie) March 12, 2016
Live from the ground! @JaymalGreen says "we stopped Trump, Trump is a coward!" #LoveTrumpsHate #FeelTheBern pic.twitter.com/5uOXPzEpoX

— People For Bernie (@People4Bernie) March 12, 2016