Posted by
William A. Jacobson
Sunday, February 22, 2015 at 10:12am
| 2/22/2015 - 10:12am
Joe Biden touching women, Elizabeth Warren being Native American and Bill Clinton hanging out with a pedophile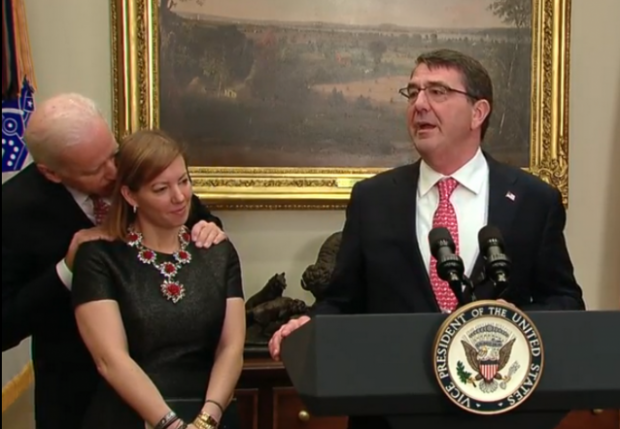 If you think the mainstream media is not out to elect Hillary Clinton in 2016 every bit as much as it was for Obama in 2008 and 2012, then you need your head examined.
The multi-day and ongoing demand that Scott Walker verify that Obama is Christian and loves America is a good example.
Why is it that Republican candidates and politicians are required to verify the bona fides of Democrats?
Here are three questions I have yet to hear Obama or any Democrat asked:
Our current VP is a serial groper, and the 2016 frontrunner takes Al Jazeera's funny money under the table. No question material there!

— Sean Davis (@seanmdav) February 21, 2015
Every Democrat must express an opinion on whether @SenWarren is Cherokee http://t.co/H1V24MqQAc cc: @seanmdav — Legal Insurrection (@LegInsurrection) February 22, 2015
3. Is it okay that Bill Clinton participated in vacations with a pedophile?
Convicted pedophile Jeffrey Epstein flew Bill Clinton to his private sex island b/c he owed Bill "a favor." Nobody asks Hillary about that.

— Sean Davis (@seanmdav) February 21, 2015
Hillary Clinton will get something similar to the Elizabeth Edwards treatment from the media for the next two years. Just watch. — Sean Davis (@seanmdav) February 21, 2015
More from Sean Davis at Twitchy
(added) And This:
Unseemly whiff of media Islamophobia in demand @ScottWalker verify Obama's Christianity http://t.co/bY2WWRkGmO

— Legal Insurrection (@LegInsurrection) February 22, 2015