Posted by
Amy Miller
Sunday, August 31, 2014 at 8:38pm
| 8/31/2014 - 8:38pm
Temperatures are rising in the Golan Heights.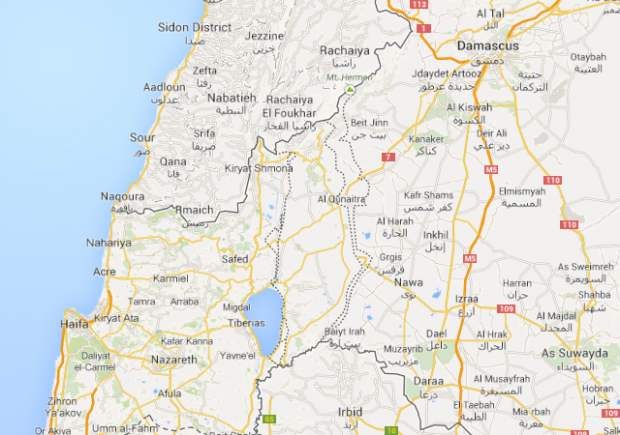 Israel has reportedly fired upon and shot down a Syrian drone that invaded Israeli-controlled airspace this Sunday. Although the Israeli military does not believe that the drone was launched as part of an attack on Israel, the tensions in the Golan Heights borderlands have officials on alert.
From the Wall Street Journal:
"Our sense is that it wasn't the intention to attack Israel," said Lt. Col. Peter Lerner, a military spokesman. Nevertheless, Defense Minister Moshe Yaalon said Israel has little tolerance for violation of its "sovereign" airspace and that its response would be "aggressive."

The intercept came just hours after U.N. peacekeeping forces from the Philippines made dangerous escapes from two border outposts in Syria, where they were trapped for two days by rebel forces including the al Qaeda-linked Nusra Front.

Despite the rescue, some 44 Fijian peacekeepers remain in captivity three days after their position near the Quneitra crossing was overrun by rebel forces who have wrested control of the area from the Syrian army.

The Nusra Front released a statement over the weekend saying they were holding the Fijians, and that they were being treated well. The group criticized the U.N. role in the Syrian civil war.
Officials believe that drone was launched by either the Syrian army or Hezbollah in an effort to control rebel forces. The nature of the Syrian Civil War has made it hard for Israel to distinguish actual attacks from "spillover". In the past, mortar fire intended as part of the intra-Syrian conflict has crossed over into Israeli-controlled portions of the Golan Heights; however, there is a history of actual aggression from Syria against Israeli sovereignty, and Israel's policy is to hold Syria accountable for all attacks, "spillover" or not.
Israeli officials are being cautious in the wake of the drone sighting. Reports from the area suggest that the presence of Islamist rebels has increased in the Syrian-controlled areas of the Golan Heights, further destabilizing an already volatile region.
The Nusra Front has taken the lead on the assault on Syrian forces that controlled the border crossing at Quneitra, the sole link between the two countries. Like Islamic State militants, they are subject to sanctions passed in August by the U.N. Security Council.

Though the Israel has prepared for the rising insecurity by bulking up defenses along the border, Nusra Front's could be a game changer, Amos Gilad, a senior Defense Ministry official, said in an interview with Israel Radio.
With tensions already at a peak in Gaza, and the Islamic State spreading out across the most volatile areas of the Middle East, it's crucial that Israel and her allies continue to take steps to deflect future attacks on friendly soil.
"It's clear, that once the border is controlled by extremist elements from the other side, it's a new reality," said Amos Gilad.