Posted by
William A. Jacobson
Friday, September 27, 2013 at 9:06pm
| 9/27/2013 - 9:06pm
"Weapon" was barely the size of a Quarter.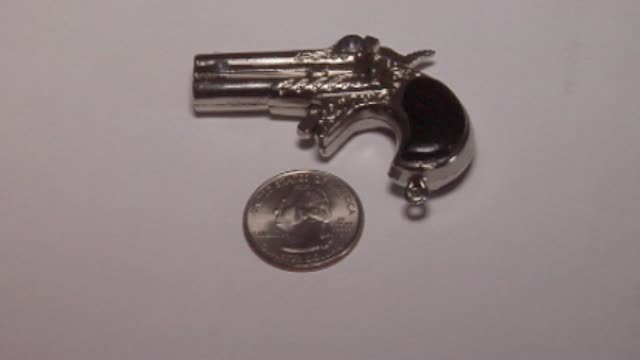 It never stops, does it?
We know the "zero-tolerance" insanity has gone overboard at schools, The zero-tolerance war on kindergarteners, including disciplining young students for a gun-shaped breakfast pastry, a pencil pointed like a gun, and a Quarter-size Lego piece.  And even in student's home front yards.
Now my formerly home State of Rhode Island and Providence Plantations has joined the "zero tolerance" lunacy club via the Coventry, RI school system.
Thanks to Tony from RI-based Redneck Republic for the tip on this.
From NBC 10 in Providence:
News, Weather and Classifieds for Southern New England
A 12-year-old boy was suspended from a Coventry middle school after his parents said he brought a small gun keychain to school.

Joseph Lyssikatos said the keychain was in his backpack at Alan Shawn Feinstein Middle School on Thursday when it fell out. A classmate picked it up and started showing it to other students.

A teacher confiscated it and before Joseph knew it, he was suspended.

"This boy was the one waving it or showing it to other kids. Not Joseph. Joseph wasn't doing that so why weren't both of them reprimanded," said Bonnie Bonanno, Joseph's mother.

The keychain in question is slightly larger than a quarter. Joseph told NBC 10 he bought it for 25 tickets at an arcade.

School officials released a statement that said, "Because this is a student discipline issue, we cannot comment on any specifics."

The school's zero tolerance policy states that suspensions are determined by the principal.

However, Joseph and his parents said he was told of the suspension by the school's behavioral specialist, and the principal and superintendent won't return their calls.

The school also informed Joseph's family that he would not be allowed to attend a class field trip to Salem at the end of the month.

"That's disgraceful because, OK, being suspended for three days, and this big punishment is enough for him mentally," Bonanno said.

Said Joseph: "I'm missing the NECAP testing and I'm in advanced math so I'm going to have to re-do all the homework I'm going to miss for advanced math."