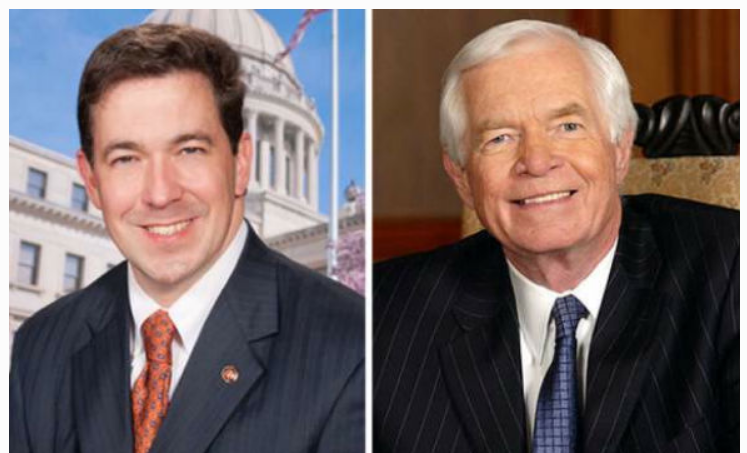 on
UPDATE
-- Chris McDaniel won by less than 1% of the vote, but didn't break 50% so there will be a runoff election on June 24. ------------ The key race we are watching is the Mississippi Republican Senate Primary between incumbent Thad Cochran and Chris McDaniel.  Polls close at 7 p.m. Central. The race has been marked by a bizarre scandal of McDaniel supporters taping Cochran's wife in a nursing home.  Because the Cochran campaign waited at least two weeks to go to authorities, the scandal broke relatively close to the election.  We don't know what other shoes -- if any -- might drop.  We also don't know if the McDaniel campaign will be completely exonerated; as of now there is no evidence linking it to the taping.  I also never got an answer to the question, 
What did the @NRSC know, and when did it know it?
We will post results as soon as meaningful numbers come in,
so refresh your screen every 5 minutes or so
. If not one gets 50%, there will be a runoff held June 24.
McDaniel 49.6%, Cochran 48.9%; 99.5% reporting in MS GOP Senate primary. http://t.co/gQXt0XzTyl #MSSEN http://t.co/SJ20ZHWSlG

— Legal Insurrection (@LegInsurrection) June 4, 2014
.@CMForUSSenate on stage, says will know if victory or runoff in morning #MSSEN http://t.co/xH7oGt7uVb pic.twitter.com/jHYsMhXNlg

— Legal Insurrection (@LegInsurrection) June 4, 2014
You can follow the Twitter feed below: