Posted by
Mary Chastain
Wednesday, February 17, 2021 at 4:30pm
| 2/17/2021 - 4:30pm
What is in the water at NBC and CNN? I like it!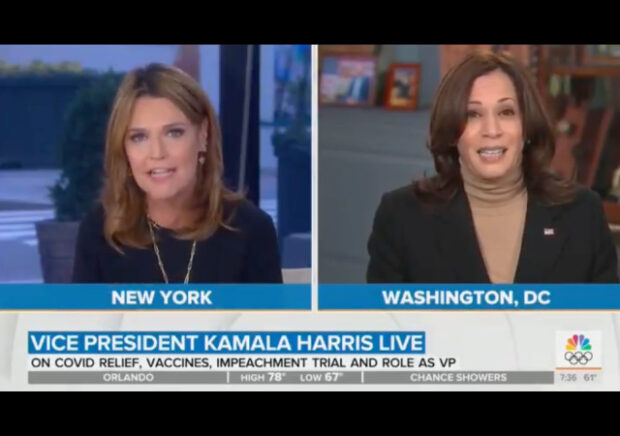 Are school reopenings the topic that will unite America? Today's Savannah Guthrie and CNN's John Berman gave me some hope.
Neither one could get a straight answer from Vice President Kamala Harris and her spokeswoman Symone Sanders regarding school reopenings, especially when it came to teacher vaccinations.
President Joe Biden has consistently said he wants schools to reopen, but the CDC and Dr. Anthony Fauci seem to move the goalposts when a union or lobby group issues new demands.
Parents have had enough. We have seen evidence proving the adverse effects of virtual learning. We have seen the left and right begging officials and school districts to reopen the schools.
I always thought NBC and CNN would give softball interviews. The networks would let anyone in the Biden administration give excuses or spin anything in their favor.
That did not happen today.
VP Harris on Today
Big props to Today's Savannah Guthrie. You can see Harris get uncomfortable when she realized Guthrie was not going to quit.
The CDC a few days ago finally put out some long-awaited guidance on how schools could safety reopen. But here's the thing. They tie it directly to the rate of infection in any given community. And I'm going to put a map up. Because if schools were to follow that right now, 90% of the counties, 90% of the schools, would not be able to open under the CDC's own metric. Was it a mistake for the CDC to connect school reopening to how much infection there is in a community?
Harries replied that schools have opened every week with more schools opening. She then brought up vaccinations, people wearing masks, and social distancing.
Harris stressed that everyone wants to get kids back to school.
But as you can tell, Harris ignored Guthrie's question. Guthrie, to Harris's shock, did not let up:
But what about that CDC guidance then? That's the question because the CDC is saying, essentially, their best guidance is, don't open if you're in a red zone. 90% of students are in a red zone. The science is very clear. The CDC's own science says schools are not a source of community risk.
Harris, completely flustered, admits that these are just recommendations from the CDC. In other words, schools are not bound to follow the guidelines from the school.
Guthrie did not slow down, though, because she brought up Biden's administration changing its mind about schools:
There has been a shifting timeline here. Back on December 8th, the President, then President-elect, tweeted, "We want to reopen the majority of schools in the first 100 days." He later said that day, "We want to have most schools open." Now he said as recently as last night, he's talking about the majority of K-8 schools. Last week, we heard a White House official saying "open" means it could mean just one day a week open. The President said, no, that was a miscommunication. But I mean, I guess, look, again, parents watching, what is the bottom line? What does it mean for schools to be reopened and how soon can they be reopened?
Harris spun her answer, but Guthrie continued. She got Harris to admit that keeping schools closed caused massive mental health issues with students.
Guthrie brought up vaccinations, which teachers and unions have insisted on getting before going back to work even though the CDC has said it is not a prerequisite!
Guthrie asked Harris three times to tell teachers they can return to school safely.
All Harris said was, "Teachers should be a priority."
Harris also talked about her favorite teacher, the American Rescue Plan, etc. Basically everything except for anything connected to Guthrie's question.
Full exchange over schools https://t.co/5ObnVZoZ7S

— Tom Elliott (@tomselliott) February 17, 2021
CNN's Dr. Sanjay Gupta Shuts Down Harris
CNN's Poppy Harlow played the Today segment of Harris dodging the teacher vaccine question.
Harlow described it as a great interview, but not because of Harris. Harlow made it known that Harris never answered Guthrie's question.
Dr. Sanjay Gupta provided the answer Harris should have given to Guthrie:
HARLOW: "So let's bring in our chief medical correspondent Dr. Sanjay Gupta. Sanjay, good morning. Glad you're here."
GUPTA: "Good morning."
HARLOW: "We've got a lot to get to but the answer the vice president gave to Savannah Guthrie in that great interview wasn't actually an answer to Savannah's question. Savannah's question was is it safe to send them back if they're not vaccinated? What does the science tell us about that? Because I think I were a teacher watching this right now, I would be very confused."
GUPTA: "Yeah, no — no doubt. I mean — and this has become a point of provocation. What does the science show? The science shows that it is possible to open schools safely without teachers having necessarily been vaccinated. And I realize that there are a lot of people who are confused by that and maybe even a little frightened by that. But that is what the science is showing."
VIDEO – CNN Calls out VP Harris: The Science Shows It Is Possible to Open Schools Safely Without Teachers Being Vaccinated https://t.co/8BM2O2XmmN

— Grabien (@GrabienMedia) February 17, 2021
Harris's Spokeswoman Symone Sanders
What is in the water at NBC and CNN?
CNN's John Berman wanted direct answers on teacher vaccines from Harris's spokeswoman Symone Sanders:
"The president and the administration's position is that by the end of the first 100 days … the president and vice president do believe that the majority of K through 8 schools will be able to be reopened and operating safely … by the end of late summer … September, it is his hope that schools would be operating and open safely all over this country. And the way that we get there is by passing the American Rescue Plan," Sanders said, not answering Berman's question on teachers.

"It's not a trick question, and I feel like you guys have treated it like a trick question. I think people just want to know what the White House position is on whether or not teachers have to be vaccinated for kids to return safely to school," Berman responded. "The CDC director Rochelle Walensky says the science is that teachers don't necessarily have to be vaccinated for kids to return. And I think people want to know what the White House position is on that."

"The White House position is that, and the president and vice president believe, that teachers should be prioritized for receiving the vaccination, along with other frontline workers. And in at least 22 states and the District of Columbia, that's exactly what's happening," Sanders answered.
Berman told Sanders that requiring teachers to have the vaccine is a "yes/no question."
Sanders tried to dodge it by claiming she thought Berman asked her if it was safe for kids to go back to the classroom (emphasis mine):
"Actually not," Berman interrupted, "In this case that's not the question. The question is, is it safe for teachers to go back to school. That's a very specific question in this case. And again, I'm not sure — I don't understand why it's a hard question to answer."

"Well, John, I think the president has been clear, the vice president has been clear, and I think I was really clear just now. It is the administration's position, the president and vice president believe, that teachers should be prioritized for vaccinations," Sanders said, continuing to dodge. "And in 22 states, at least, and the District of Columbia, that's exactly what is happening. You know, look —"

Berman interrupted again saying, "I'll try one last time. Does the president feel that teachers have to be vaccinated in order for schools to open safely? Yes or no?"

Sanders responded, still refusing to answer the question, saying that Biden believes that "teachers should be prioritized for vaccination" and that they want to get students in the classroom safely and operate "according to the science."

"Not going to get a yes or no on that," Berman concluded.
CNN's @JohnBerman presses VP Harris Chief Spokesperson Symone Sanders on teacher vaccinations:

"It's not a trick question. I feel like you guys have treated it like a trick question … Is it safe for teachers to go back to school?"

Sanders: pic.twitter.com/5JT8Md9ucA

— The Recount (@therecount) February 17, 2021