Posted by
Mary Chastain
Wednesday, January 13, 2021 at 9:00am
| 1/13/2021 - 9:00am
Picking the snide congressman who also had connections to a Chinese spy really shows the integrity of the impeachment trial.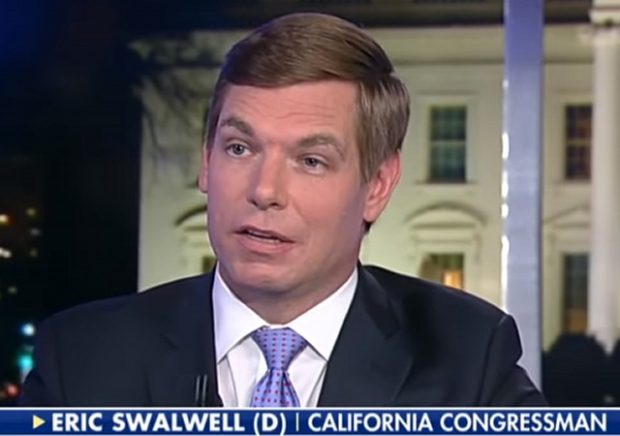 Speaker of the House Nancy Pelosi named nine managers to lead President Donald Trump's second impeachment trial.
The list includes Rep. Eric Swalwell (CA), who had a recent controversy involving a Chinese spy, and Rep. Jamie Raskin (MD), who objected to certifying the 2016 election.
Pelosi wrote: "Tonight, I have the solemn privilege of naming the Managers of the impeachment trial of Donald Trump. It is their constitutional and patriotic duty to present the case for the President's impeachment and removal. They will do so guided by their great love of country, determination to protect our democracy and loyalty to our oath to the Constitution. Our Managers will honor their duty to defend democracy For The People with great solemnity, prayerfulness and urgency."
Speaker Pelosi names impeachment managers:

* @RepRaskin, Lead Manager
* @RepDianaDeGette
* Rep. @DavidCicilline
* Rep. @JoaquinCastrotx
* @RepSwalwell
* Rep. @TedLieu
* Rep. @StaceyPlaskett
* Rep. @JoeNeguse
* Rep. @MadeleineDean

— Adam Klasfeld (@KlasfeldReports) January 13, 2021
Pelosi picked Raskin as lead manager. He filed the article of impeachment against Trump a few days ago. Ted Lieu and David Cicilline also authored the resolution.
Swalwell is an interesting pick since Axios dropped a report in December about how a Chinese spy targeted him and other California politicians.
Christine Fang befriended Swalwell in 2011 after disguising herself as an exchange student. She helped him raise money but also formed a close and personal bond with him. She managed to become an intern in his DC office.
The FBI flagged her in 2015. Agents notified Swalwell, and he cut off ties.
However, his brother and father remained Facebook friends with her until the Axios report.
Swalwell, who is as smug and gross as they come, tried to blame Trump for the report. Axios swiftly shot that down since he knew in 2019 the outlet was working on the story.
It doesn't help that Swalwell referred to Republican Sens. Josh Hawley and Ted Cruz, House Minority Leader Kevin McCarthy, and others as the Coup Klux Klan after the Capitol Hill Riots. So mature.
EVIDENCE: This Coup Klux Klan member gave her terrorist friends the location of a woman second in line to the presidency during an attack on the Capitol. https://t.co/pjuaUTBJLB

— Rep. Eric Swalwell (@RepSwalwell) January 12, 2021
Who should be expelled from Congress for inciting the attack on the Capitol? #CoupKluxKlan

— Rep. Eric Swalwell (@RepSwalwell) January 12, 2021
Forever you will be Ted Coup. https://t.co/2ruEsLufCQ

— Rep. Eric Swalwell (@RepSwalwell) January 10, 2021
Jonathan Turley suggested Pelosi picked Swalwell as "part of a rehabilitation campaign."
The Swalwell selection is clearly part of a rehabilitation campaign. Swalwell remained secluded as the many in the media refused to carry or investigate the story. Now Pelosi will use the impeachment as a way for Swalwell to reemerge from seclusion. https://t.co/2EuvG6pN8R

— Jonathan Turley (@JonathanTurley) January 13, 2021
He also pointed out other nonsense Swalwell has pushed since Trump came into office:
Usually a speaker selects House managers to reinforce the credibility and integrity of the case against a president. Even before the current scandal, Swalwell was viewed as a member who was a raw partisan. Last year, it was revealed that (despite long denials) the FBI did send an agent to report on his observations within the Trump campaign. As I discussed in a column, Democratic members spent years mocking allegations that there was any spying or surveillance of Trump or his campaign by the FBI. That was just a conspiracy theory. Now however there is proof that the FBI used a briefing in August 2016 of then candidate Trump to gather information for "Crossfire Hurricane," the Russia investigation. It turns out that it did not really matter after all and Rep. Eric Swalwell did not miss a step. Swalwell declared that such targeting of the opposing party and its leading presidential candidate was "the right thing to do." That's it. A conspiracy theory suddenly becomes a commendable act.

Previously, Swalwell also declared that if President Donald Trump refused to give Congress the documents and witnesses that it has demanded, he is clearly guilty of all charged offenses. Swalwell declared "We can only conclude that you're guilty."