Posted by
Fuzzy Slippers
Saturday, December 5, 2020 at 11:18am
| 12/5/2020 - 11:18am
"I'm losing everything. Everything I own is being taken away from me and they set up a movie company right next to my outdoor patio"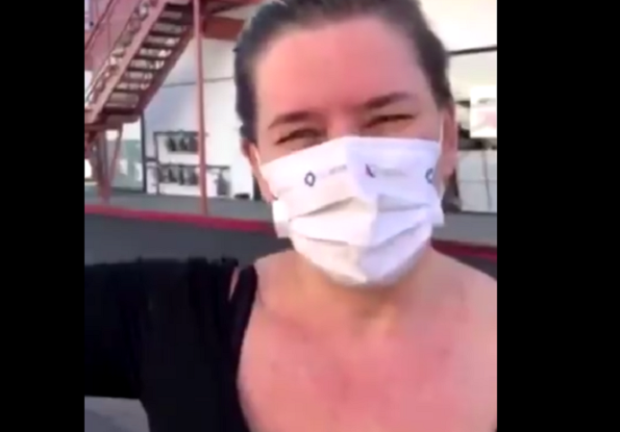 We've been covering the inconsistent, unscientific, and ineffective lockdowns and mask mandates across the nation.
Little speaks more eloquently and heartbreakingly to the spurious nature of these draconian edicts than Angela Marsden's now viral video.  Marsden, who owns the Pineapple Hill Grill & Saloon, says that she met every requirement for outdoor dining at her establishment in Los Angeles but then outdoor dining was banned.
The absolute travesty in this case is that a Hollywood production company set up outdoor dining accommodations literally feet from Marsden's own restaurant.
Bar owner in Los Angeles CA is livid to see that mayor Garcetti has approved an outdoor dining area for a movie company directly across from her outdoor dining area (which was shut down) pic.twitter.com/jkUP2CWg35

— Jake Coco 💙🇺🇸🎶🐻 (@jakecoco) December 4, 2020
A Los Angeles bar owner was fighting back tears Friday, claiming Mayor Eric Garcetti had shut down the outdoor patio at her business — while letting a Hollywood movie crew set up an outdoor dining area just a short distance away.

. . . . Angela Marsden, owner of the Pineapple Hill Grill & Saloon, appears a video in which she explains her situation – while walking over to the movie crew's setup of tents, tables and chairs to illustrate just how close it is to her business.

"So this is my place, the Pineapple Hill Grill & Saloon. If you go to my [Facebook] page you can see all the work I did for outdoor dining, for tables being seven feet apart," Marsden says.

"And I come in today because I'm organizing a protest and I came in to get stuff for that. And I walk into my parking lot — and obviously Mayor Garcetti has approved … this," she continues, pointing to the tent setup. "Has approved this being set up for … this being set up for … for a movie company.

"I'm losing everything. Everything I own is being taken away from me and they set up a movie company right next to my outdoor patio, which is right over here," she continues, her voice trembling with emotion. "And people wonder why I'm protesting and why I have had enough.

. . . . "Look at this. Tell me that this is dangerous," she says, pointing to her own patio, "but right next to me, as a slap in my face, that's safe. This is safe? Fifteen feet away?

"This is dangerous. Mayor Garcetti and Gavin Newsom [are] responsible for every single person that doesn't have unemployment, that does not have a job, and all the businesses that are going under.
Last month, Newsom exempted Hollywood/the entertainment industry from his lockdown orders. Apparently, Hollywood elites—and those who cater their every need—are just as immune to the Wuhan coronavirus as Newsom himself . . . and LA county supervisor Sheila Kuehl.
What's that called again when only government and their favored entities are afforded rights formerly enjoyed by all citizens?