Posted by
Mary Chastain
Saturday, December 5, 2020 at 4:00pm
| 12/5/2020 - 4:00pm
"We're here because Congress has failed to deal with a disastrous war on drugs and do its part for the over 15 million marijuana users in every one of your districts."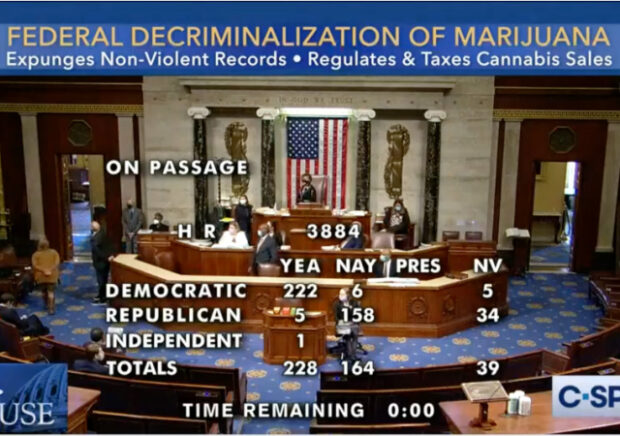 The U.S. House voted mostly along party lines to decriminalize marijuana at the federal level.
A few representatives finally admitted the war on drugs is a disaster.
Before anyone says anything let me say this. Oklahoma legalized weed, but private companies in Oklahoma still have drug testing, and you still cannot drive while impaired whether it's medicine, weed, alcohol, etc.
If this passes through the Senate and the president, the Controlled Substances Act would no longer list marijuana.
The bill also eradicates "previous marijuana convictions and order resentencing for those imprisoned with pot convictions."
Many states have already legalized marijuana for medicine, recreation, or both. From Fox News:
Marijuana legislation has been largely stagnant on the federal level, but more states have moved toward legalization in recent days. Arizona, Montana, New Jersey and South Dakota voted to legalize marijuana in election referendums, bringing the total to 15 states where the drug will be legal. In addition, 38 states allow medical marijuana.

"We're not rushing to legalize marijuana. The American people have already done that. We're here because Congress has failed to deal with a disastrous war on drugs and do its part for the over 15 million marijuana users in every one of your districts," said Rep. Earl Blumenauer, D-Ore., a key player behind the bill, said on the House floor before the vote. "It's time for Congress to step up and do its part. We need to catch up with the rest of the American people."

"Our marijuana laws disproportionately harm individuals and communities of color, leading to convictions that damage job prospects, access to housing, and the ability to vote," Rep. Sheila Jackson Lee, D-Texas, wrote on Twitter.
Rep. Matt Gaetz (R-FL) was the only Republican co-sponsor of the bill. He admits it's flawed, but still voted for it:
Rep. Matt Gaetz, the only Republican co-sponsor of the bill, admitted the measure was "flawed" because it "uses cannabis policy to do a great deal of social engineering" to create new taxes, new programs and redistribution of assets. But Gaetz said he would still vote for the bill "because the federal government has lied to the people of this country about marijuana for a generation."

"My Republican colleagues today will make a number of arguments against this bill, but those arguments are overwhelmingly losing with the American people," Gaetz, R-Fla., said. "I'm going to vote for the MORE Act. It won't pass the Senate. It won't become law. We should come back in the 117th Congress and we should truly do more for our people."
"The bill is passed."

U.S. House APPROVES #MOREAct legislation on Federal Decriminalization of #Marijuana, 228-164.

Goes now to the U.S. Senate. pic.twitter.com/qSngBuJr3I

— CSPAN (@cspan) December 4, 2020