Posted by
Mary Chastain
Wednesday, October 28, 2020 at 9:06pm
| 10/28/2020 - 9:06pm
Carlson said the shipping company told him "that our package had been opened and the contents were missing."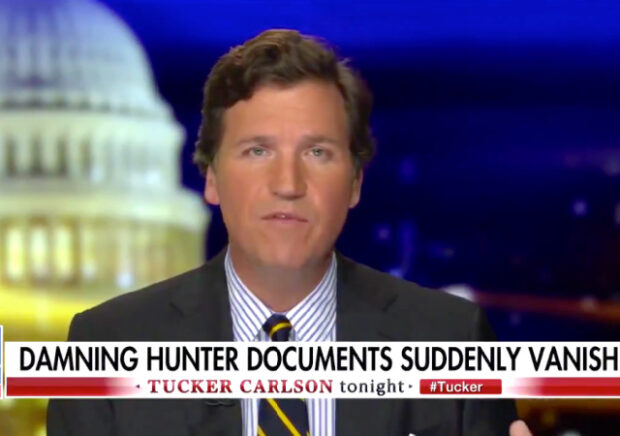 Fox News host Tucker Carlson announced that "damning" documents about Hunter Biden shipped to him while he was in California have vanished.
Carlson said the shipping company told him "that our package had been opened and the contents were missing."
As far as I know, there are no copies.
Damning Hunter Biden documents suddenly vanish pic.twitter.com/B2qsajZlID

— Tucker Carlson (@TuckerCarlson) October 29, 2020
Carlson did not name the shipping company, but the company is taking the situation seriously:
Carlson did not say which shipping company they had used but added that they took the complaint "seriously." They were able to track the package from when Carlson's producer shipped the package in New York until 3:44 a.m. Tuesday, when "an employee at a sorting facility in another state noticed that our package was opened and empty," the host said.

A security team interviewed everyone who had touched the package and conducted a thorough investigation of the sorting facilities but were unable to locate the documents or determine what happened to them. "As of tonight, the company has no idea or no working theory, even, about what happened to this trove of material," Carlson said.

Carlson made the announcement six days ahead of Election Day in which former Vice President Biden seeks to defeat President Trump.
Needless to say, the news caused outrage on Twitter. The amazing Sharyl Attkisson knows how this goes:
2-And with help of intel connection, I have photo evidence of unauthorized tampering of a person at my CBS computer inside my office without permission on a weekend. Of course nothing I can do with this anyway because @TheJusticeDept makes sure my lawsuit never makes it to court.

— Sharyl Attkisson🕵️‍♂️ (@SharylAttkisson) October 29, 2020
HOLY SHIT. Tucker Carlson just said documents he shipped to LA regarding the Hunter Biden story were STOLEN right out of the package somewhere between NY and LA. This is Watergate level shit.

— Mike LaChance (@MikeLaChance33) October 29, 2020
Tucker Carlson sent confidential docs having to do with Hunter Biden from NY to LA. On the trip the package was opened and the documents were missing. He calls it extremely damning material. The company that they shipped it with is baffled as to how this occured.

— Robby Starbuck (@robbystarbuck) October 29, 2020
Tucker Carlson: "Bubolinski documents went missing mid-shipment and the package was opened when we received it."

FedEx:… pic.twitter.com/mi105RGa1I

— Prison Mitch (@MitchMidnight) October 29, 2020