Posted by
Mary Chastain
Monday, October 12, 2020 at 2:34pm
| 10/12/2020 - 2:34pm
"I believe Americans of all backgrounds deserve an independent Supreme Court that interprets our Constitution and laws as they are written."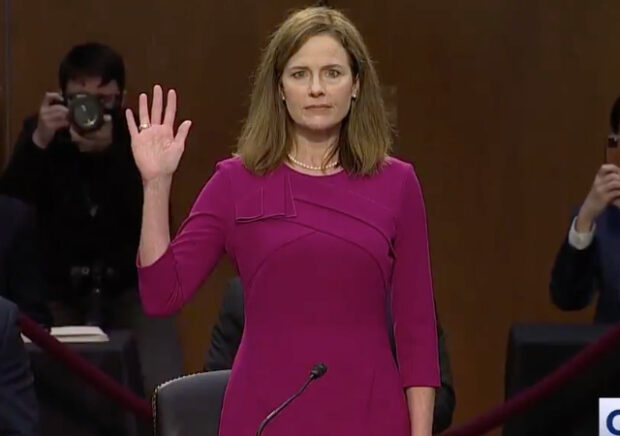 Senate Judiciary Committee Chairman Lindsey Graham swore in Judge Amy Coney Barrett around 2 p.m. ET.
We finally got to hear from Judge Barrett after hearing the opening statements from the senators. I think I speak for us all when I say that I would rather hear from her than any of the senators.
Here are some clips. I published her full opening statement in the live post.
Judge Amy Coney Barrett is sworn in by Senate Judiciary Committee Chair @LindseyGrahamSC.

Full video here: https://t.co/QdpF3WrYpX#SCOTUS pic.twitter.com/sk0pzD7mC2

— CSPAN (@cspan) October 12, 2020
Judge Barrett:

"I'm used to being in a group of nine: my family. Nothing is more important to me and I'm very proud to have them behind me." pic.twitter.com/DV4M743H1o

— Daily Caller (@DailyCaller) October 12, 2020
Courts have a vital responsibility to the rule of law, which is critical to a free society. But courts are not designed to solve every problem or right every wrong in the public life."

– Judge Barrett pic.twitter.com/HNjheOSAJU

— Daily Caller (@DailyCaller) October 12, 2020
Judge Barrett:

"I'd be the only sitting justice who didn't attend school at Harvard or Yale but I'm confident Notre Dame could hold its own and maybe I could teach them a thing or two about football." pic.twitter.com/3EkwfVDUP3

— Daily Caller (@DailyCaller) October 12, 2020
ACB: "I believe in the power of prayer."
pic.twitter.com/GG6rXLdVVA

— Daily Caller (@DailyCaller) October 12, 2020
Amy Coney Barrett: "I believe Americans of all backgrounds deserve an independent Supreme Court that interprets our Constitution and laws as they are written. And I believe I can serve my country by playing that role." https://t.co/uScvfX9o80 pic.twitter.com/mLeWUQZFFb

— CBS News (@CBSNews) October 12, 2020
Judge Barrett: "the policy decisions and value judgements of government must be made by the political branches elected by, and accountable to, the people"https://t.co/3LMYeeDrfJ pic.twitter.com/eB5vYKVVNN

— RNC Research (@RNCResearch) October 12, 2020
Judge Barrett: "I believe deeply in the rule of law and the place of the Supreme Court in our nation"https://t.co/ZnU5BSOhUe pic.twitter.com/LWWuMfj1sS

— RNC Research (@RNCResearch) October 12, 2020