Posted by
Mary Chastain
Thursday, October 15, 2020 at 10:03am
| 10/15/2020 - 10:03am
"It's a sham!" "It defies logic!"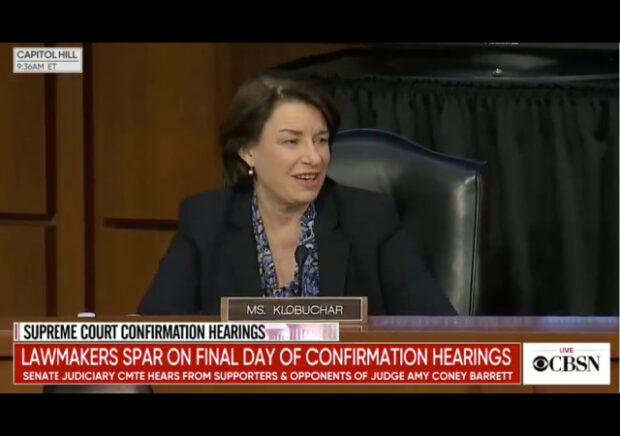 The fourth and final day of Judge Amy Coney Barrett's hearing began with fights between Democrats and Republicans because Chairman Lindsey Graham scheduled the committee vote for October 22.
I just heard Sen. Amy Klobuchar yell at the Republicans for "plopping" Barrett's nomination on them in the middle of an election.
My dear, Justice Ruth Bader Ginsburg passed away. This is what happens when there is a SCOTUS vacancy. Be mad at RBG.
Graham set the committee vote for October 22
WATCH: Sen. Lindsey Graham moves to schedule a committee vote on Judge Amy Coney Barrett's Supreme Court nomination on Oct. 22.

Sen. Dick Durbin objects on grounds that a quorum is not present because he's the only member of the minority party present. pic.twitter.com/wwFwsp8FhM

— Cheddar🧀 (@cheddar) October 15, 2020
From Roll Call:
Sen. Richard J. Durbin of Illinois was the only Democrat who showed up to a committee business meeting Thursday morning to consider the nomination, which under the letter of committee rules meant there were not two members of the minority party to form a quorum to conduct business.

Chairman Lindsey Graham responded with a motion to hold the vote at 1 p.m. on Oct. 22, which Republicans backed. And the South Carolina Republican suggested Democrats would be able to do the same if Republicans tried to stop committee work.

"We've had this problem in the past, we're dealing with it the way we are today," Graham said. "If we create this problem for you in the future, you're going to do what I'm going to do, which is move forward on the business of the committee."
Democrats proceeded to lose their damn minds
Sen. Dick Durbin says confirmation process has become "almost useless" and that Barrett refused answers about rights spelled out in the Constitution: "I would be afraid to ask her about the presence of gravity on Earth. She may decline to answer because it may come up in a case" pic.twitter.com/p0quPXu4WA

— CBS News (@CBSNews) October 15, 2020
"It just defies logic": Sen. Dick Durbin says Amy Coney Barrett "hides behind originalism — she's not the only one, many do — but won't even go to the original words of the Constitution when it comes to the transition of power" https://t.co/COWr56xUUB pic.twitter.com/NRaW66Vpxz

— CBS News (@CBSNews) October 15, 2020
Amy Klobuchar: "I don't come out of this with cries of defeat. You know why? Because it's motivating more people to vote. You chose to do it in the middle of an election, so let's all go out there and vote. That is what happens. Because this should not be Donald Trump's judge" pic.twitter.com/xGDzZrwUNO

— CBS News (@CBSNews) October 15, 2020
"It's going to create a lot of bad will that doesn't need to be created," Feinstein warns

Graham cites Reid's 2013 rule change on lower court nominees.

"That set in motion a lot of things that have taken the Senate in the wrong direction," he says

— Igor Bobic (@igorbobic) October 15, 2020
"Anybody who has doubts about climate change is weird in your world…I personally reject the idea she wasn't forthcoming," Graham, who was very climate friendly before Trump, tells Durbin

— Igor Bobic (@igorbobic) October 15, 2020
"Y'all have a good chance of winning the White House," Graham says

"Thank you for acknowledging that," Klobuchar responds

— Igor Bobic (@igorbobic) October 15, 2020