Posted by
Mike LaChance
Wednesday, September 16, 2020 at 1:00pm
| 9/16/2020 - 1:00pm
"We're happy to confirm that Gordon Klein is teaching once again, and hope that in the future UCLA will consider its constitutional obligations before throwing educators out of the classroom"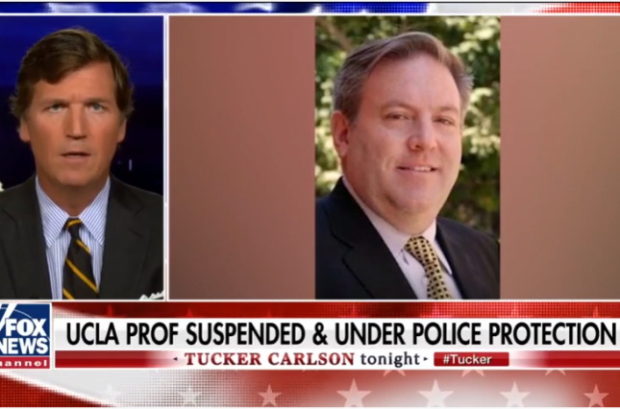 Back in June, we brought you the story of Professor Gordon Klein, an accounting instructor at UCLA's Anderson School of Business.
Klein was suspended, pending an investigation, for refusing to bend the rules for black students following the death of George Floyd, despite the fact that he was following directions from the school's diversity chair.
There were threats against Klein which were so credible that he had a police detail posted outside his home.
UCLA has now reinstated Klein, due in part to the efforts of the Foundation for Individual Rights in Education, which got involved in his case.
From the FIRE blog:
VICTORY: UCLA reinstates professor suspended for email on why he wouldn't change exam, grading for black students

The University of California, Los Angeles, reinstated a professor who was put on mandatory leave for the tone of an email to a student who asked him to alter his grading policies for black students during the protests surrounding the killing of George Floyd.

The Foundation for Individual Rights in Education called on UCLA in June to reinstate lecturer Gordon Klein, citing the university's academic freedom promises, as well as its obligations under the First Amendment. Klein faced public backlash for his email, including a petition for his firing signed by more than 20,000 people.

"We're happy to confirm that Gordon Klein is teaching once again, and hope that in the future UCLA will consider its constitutional obligations before throwing educators out of the classroom," said Katlyn Patton, author of FIRE's June 10 letter to UCLA. "UCLA investigated his 'tone' in an attempt to quell public backlash. But regardless of how many people demand his firing, UCLA cannot justify using that anger to erode Gordon's rights."
An interesting development in this story is that a petition was launched in defense of Klein that received over 75,000 signatures, demanding Klein's reinstatement and an apology from the school.
From Change.org:
Justice for UCLA Professor Gordon Klein #TitleVI

UCLA Andersen School of Management Professor Gordon Klein was placed on leave after defending equality and promoting Martin Luther King Jr.'s dream protesters are calling for him being fired. Take a stand for Gordon Klein, for equality, for human rights.

The Goal of this petition is to have UCLA immediately allow Prof. Klein to be reinstated if he wishes, and we demand an apology both privately, directly to Gordon Klein and publicly to acknowledge this issue.

The student's request simultaneously spread stereotypes and promoted both microaggressions and macroaggressions that black, African-American, and other minorities are unable to be graded equally as other races, colors, and origins because of lesser intelligence of any type. This is just not true and should not be supported. Where are the disciplinary actions on the students who believe and say these ridiculous accusations that all people are not equal?
Congratulations to Professor Klein on his reinstatement, and to anyone who helped make this happen.
People who believe in academic freedom, freedom of speech, and real justice must stand together to denounce cancel culture and groupthink in higher education.