Posted by
Kemberlee Kaye
Friday, September 18, 2020 at 7:48pm
| 9/18/2020 - 7:48pm
"My most fervent wish is that I will not be replaced until a new president is installed."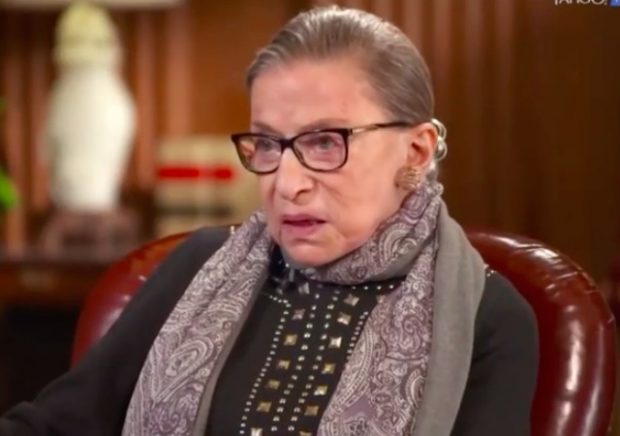 The Supreme Court confirmed Friday evening that Justice Ginsburg passed away at 87 of complications with pancreas cancer.

NPR reports:
Justice Ruth Bader Ginsburg, the demure firebrand who in her 80s became a legal, cultural and feminist icon, died Friday. The Supreme Court announced her death, saying the cause was complications from metastatic cancer of the pancreas.

The court, in a statement, said Ginsburg died at her home in Washington surrounded by family. She was 87.

"Our nation has lost a justice of historic stature," Chief Justice John Roberts said. "We at the Supreme Court have lost a cherished colleague. Today we mourn but with confidence that future generations will remember Ruth Bader Ginsburg as we knew her, a tired and resolute champion of justice."

…Architect of the legal fight for women's rights in the 1970s, Ginsburg subsequently served 27 years on the nation's highest court, becoming its most prominent member. Her death will inevitably set in motion what promises to be a nasty and tumultuous political battle over who will succeed her, and it thrusts the Supreme Court vacancy into the spotlight of the presidential campaign.

Just days before her death, as her strength waned, Ginsburg dictated this statement to her granddaughter Clara Spera: "My most fervent wish is that I will not be replaced until a new president is installed."

She knew what was to come. Ginsburg's death will have profound consequences for the court and the country. Inside the court, not only is the leader of the liberal wing gone, but with the Court about to open a new term, Chief Justice John Roberts no longer holds the controlling vote in closely contested cases.
[WAJ adds] Ginsburg was liberals' Scalia. She was that important intellectually and in her public presence to them as Antonin Scalia was to us. She was a giant, and I hope that we can treat her death and memory with the respect liberals disregarded when reacting to the death of Scalia.
The fight over her replacement is going to be vicious and reshapes the presidential election in ways that are hard to predict.
Flashback to our prior posts about filling a vacancy this year, Republicans gearing up to fill possible Supreme Court vacancy this election year, and why it would not be inconsistent with Republicans' position on Merrick Garland.
REACTIONS
The American people should have a voice in the selection of their next Supreme Court Justice. Therefore, this vacancy should not be filled until we have a new president.

— Chuck Schumer (@SenSchumer) September 18, 2020
If McConnell jams someone through, which he will, there will be riots.

— Laura Bassett (@LEBassett) September 18, 2020
If they even TRY to replace RBG we burn the entire fucking thing down.

— Reza Aslan (@rezaaslan) September 19, 2020
FYI the so-called McConnell rule does not apply to SCOTUS nominations during an election year when the Senate & the presidency are held by the same party. The "but… but… Merrick Garland" comparison is false because in 2016 Obama held the WH & the GOP held the Senate.

— Liz Wheeler (@Liz_Wheeler) September 19, 2020
McConnell explains that he never said there was a blanket ban on SCOTUS noms in an election year, and in fact, the so-called "McConnell Rule" was first articulated by Joe Biden. https://t.co/D4CBTOXYjh

— Mark Hemingway (@Heminator) September 19, 2020
This is the "rest in power," not "rest in peace" mindset. What matters now is celebrating RBG's life, and allowing a proper ritual, not weaponizing the deceased. Even if the Justice herself couldn't let go of politics. https://t.co/7VbDP3Bg9d

— Katya Rapoport Sedgwick (@KatyaSedgwick) September 19, 2020
The Court must be at a full compliment should any election disputes such as Bush v Gore occur.

— John Fund (@johnfund) September 19, 2020
If SCOTUS is deadlocked 4-4 during post-election litigation, equal protection is a dead letter. Because ties affirm the appellate court's decision, we will end up with split circuits and different rules and standards across the country. That is a recipe for chaos and division.

— Sean Davis (@seanmdav) September 19, 2020
We obviously have to play hardball.

Trump needs to nominate and the Senate needs to confirm a new Supreme Court Justice.

We should it because we can; the Democrats would do the same.

The Democrats stole a lot from us in the past four years. I have no compunction on this.

— Molly McCann (@molmccann) September 19, 2020
If Republicans do not fill this seat they will lose the Senate, the White House, and deserve to.

— Marc Thiessen (@marcthiessen) September 19, 2020
Republicans have 53 seats in Senate. 2 senators (Murkowski and Collins) have already said they're against voting to confirm this close to election day. All it takes is 2 more GOPers and confirmation window closes. (And there are plenty of possible nays here…)

— Fred Bauer (@fredbauerblog) September 19, 2020
Full statement pic.twitter.com/H3dejKGnc1

— Tal Kopan (@TalKopan) September 19, 2020
TRUMP'S FIRST REMARKS:

"She just died? Wow. I didn't know that. She led an amazing life. What else can you say? she was an amazing woman, whether you agree or not. She was an amazing woman who led an amazing life."

— Steven Portnoy (@stevenportnoy) September 19, 2020
WATCH: Trump hears from a reporter that Justice Ginsburg has died.

"She just died? Wow. I didn't know that, you're telling me now for the first time."

"She led an amazing life. What else can you say? She was an amazing woman…I'm sad to hear that." pic.twitter.com/5Na3vHzP7f

— Yahoo News (@YahooNews) September 19, 2020