Posted by
Mike LaChance
Sunday, September 13, 2020 at 4:00pm
| 9/13/2020 - 4:00pm
"In a speech given in Warren, Democratic nominee Joe Biden on Wednesday unveiled a plan to tax companies that move work overseas at a higher rate and reward those that bring jobs back into the U.S."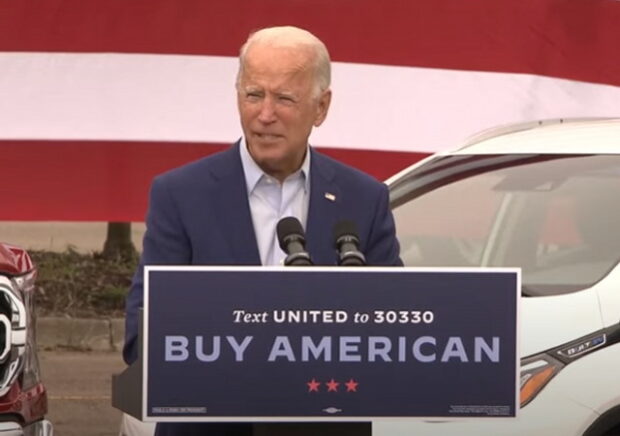 Have you been listening to Joe Biden's economic message lately? If you have, you may find that it sounds a bit familiar. It almost seems like Joe is going to say "Make America Great Again" any day now.
They say imitation is the sincerest form of flattery, but in Biden's case, it just sounds like his latest attempt at plagiarism.
In Michigan, Biden even spoke in front of a sign that said "Buy American" and threatened to tax companies that move jobs overseas. Where have we heard that before?
Todd Spangler and Dave Boucher report at the Detroit Free Press:
Joe Biden promises Michigan workers: He'll tax companies that move job overseas

In a speech given in Warren, Democratic nominee Joe Biden on Wednesday unveiled a plan to tax companies that move work overseas at a higher rate and reward those that bring jobs back into the U.S.

In any other campaign, it would be a proposal directly from the Democratic playbook, but given that President Donald Trump has made the same claims a central part of his presidency, it came as a frontal assault on Trump's economic record in a state the president won by just two-tenths of 1% four years ago…

Biden, the former vice president, met Wednesday afternoon with UAW members and held a roughly 26-minute live-streamed campaign event at the union's Region 1 headquarters in Macomb County. The campaign stop came one day ahead of a Trump rally scheduled in Freeland, near Saginaw…

Throughout his 2016 campaign and four years of his presidency, Trump has made a key component of his agenda returning jobs from overseas, especially manufacturing jobs, saying he would target companies, including automakers, who moved U.S. production out of the country.
Democrats and the Biden campaign are figuring out way too late that they have done nothing to win back the working class voters they lost to Trump four years ago.
Does Joe Biden think America slept through the eight years of the Obama presidency, along with the media? Obama and Biden did nothing to stop the flow of jobs out of the United States. One could even argue that their policies made the situation worse.
Yet now Joe wants to be taken seriously because he's standing behind a 'Buy American" sign? Please.
Biden and Democrats still don't understand that Trump is trying to fix problems they created. He is already doing it. We don't need them.
Trump is already doing all of this. https://t.co/OV8WPHxBaN

— Mike LaChance (@MikeLaChance33) September 12, 2020
Sounds an awful lot like Trump's platform https://t.co/KrSjT1y8dG

— Jamie White (@WhiteIsTheFury) September 12, 2020
They are years too late for this.
That ship sailed long ago.
Featured image via YouTube.