Posted by
Mary Chastain
Wednesday, September 23, 2020 at 3:00pm
| 9/23/2020 - 3:00pm
"The 12 jurors returned three counts of wanton endangerment in the first degree against Brett Hankison for shooting his gun into an apartment next to Taylor's."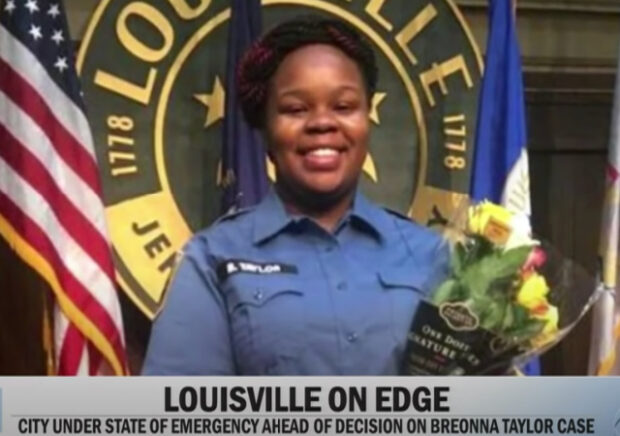 A grand jury indicted former officer Brett Hankison "on charges of wanton endangerment in the first degree" in the shooting death of Breonna Taylor.
A witness corroborated that it was not a no-knock warrant.
https://twitter.com/HARRISFAULKNER/status/1308832700741058563?ref_src=twsrc%5Etfw
The charge is a Class D Felony, one to five years in prison. He has a $15,000 bond:
A Kentucky grand jury has cleared current and former police officers in the shooting death of Breonna Taylor — indicting one ex-cop for "wantonly" firing shots into another apartment the night she died.

The 12 jurors returned three counts of wanton endangerment in the first degree against Brett Hankison for shooting his gun into an apartment next to Taylor's. Occupants of that residence were identified by their initials in charges — and none of them were "BT."
The Kentucky penal code states that "a person is guilty of wanton endangerment in the first degree when, under circumstances manifesting extreme indifference to the value of human life, he wantonly engages in conduct which creates a substantial danger of death or serious physical injury to another person."
Det. Cosgrove shot the bullet that killed Taylor. But the attorney general said Cosgrove and Sgt. Mattingly "were justified in their shooting."
AG says according to Kentucky law, former Louisville officers Jonathan Mattingly and Myles Cosgrove were "justified" in returning fire on Breonna Taylor's boyfriend Kenneth Walker, who thought there was a home invasion. Neither ex-officer faces charges https://t.co/FvRQzN4r8x pic.twitter.com/0qmUcyokdU

— CBS News (@CBSNews) September 23, 2020
From The New York Times:
The three-count indictment concerns Brett Hankison, a detective at the time, who fired into the sliding glass patio door and window of Ms. Taylor's apartment building, both of which were covered with blinds, in violation of a department policy that requires officers to have a line of sight. He is the only one of the three officers who was dismissed from the force, with a termination letter stating that he showed "an extreme indifference to the value of human life."

The decision came after more than 100 days of protests and a monthslong investigation into the death of Ms. Taylor, a 26-year-old emergency room technician who was shot five times in the hallway of her apartment by officers executing a search warrant.

Because the officers did not shoot first — it was the young woman's boyfriend who opened fire; he has said he mistook the police for intruders — many legal experts had thought it unlikely the officers would be indicted.
Louisville Mayor Greg Fischer issued a curfew from 9PM to 6:30AM ahead of the announcement.
People already began boarding up businesses and federal buildings began other preparations in case of riots tonight.
KY Attorney General Daniel Cameron is holding a press conference about the Breonna Taylor investigation.

Louisville grand jury just reported indictment against one officer in the Breonna Taylor raid, Brett Hankison, 3 counts 1st degree wanton endangerment. 2 others not charged pic.twitter.com/34NjkdLu50

— Ryland Barton (@RylandKY) September 23, 2020
Cameron says his job was to find out if criminal violations resulted in the loss of Breonna Taylor's life. Cameron says that any civil rights violations would be better addressed by federal justice system.

— Ryland Barton (@RylandKY) September 23, 2020
Cameron says there was no video or body camera footage of the warrant being executed at Taylor's apartment. Instead, the investigation was conducted using ballistics, 911 calls, police radio traffic and interviews.

— Ryland Barton (@RylandKY) September 23, 2020
Cameron says he is prohibited from making comments that could sway public opinion related to the Breonna Taylor case.

— Ryland Barton (@RylandKY) September 23, 2020
Cameron says officers announced themselves before knocking down Breonna Taylor's door.

— Ryland Barton (@RylandKY) September 23, 2020
Cameron says there is no evidence that Sgt. Jon Mattingly was hit by "friendly fire," that ballistics report shows bullet came from 9mm handgun (not an LMPD handgun)

— Ryland Barton (@RylandKY) September 23, 2020
Cameron says six bullets struck Taylor, but only one was fatal. He says there is no evidence that 10 bullets shot by Brett Hankison, the only one charged in this case, hit Taylor

— Ryland Barton (@RylandKY) September 23, 2020
Cameron says officers "Mattingly and Cosgrove were justified in their use of force after being fired upon" by Breonna Taylor's boyfriend Kenneth Walker.

— Ryland Barton (@RylandKY) September 23, 2020
BREAKING: Louisville Detective Brett Hankison charged with three counts of wanton endangerment in the first degree by a grand jury in the shooting death of Breonna Taylor six months ago. pic.twitter.com/Llno58DUjV

— Daily Caller (@DailyCaller) September 23, 2020