Posted by
William A. Jacobson
Thursday, August 13, 2020 at 7:05pm
| 8/13/2020 - 7:05pm
Robert O'Brien's comments upon announcement of the Israel-UAE peace deal triggered an avalanche of TDS.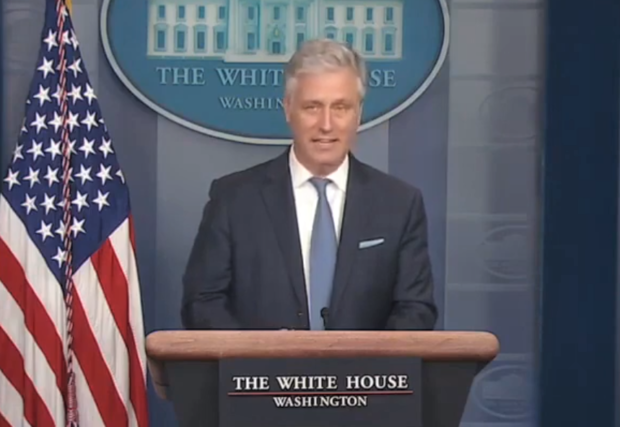 Donald Trump announced an Israel-UAE peace deal today, an historic accompishment by any measure.
Of course, the haters were gonna hate, but the effort also was widely praised.
National Security Advisor Robert O'Brien triggered TDS world when he suggested that Trump deserved a Nobel Peace Prize:
"It wouldn't surprise me if the President is eventually nominated for a Nobel Prize," the president's top national security adviser, Robert O'Brien, told reporters Thursday. "Today's work is an example of why he would be rightly considered and should be a front-runner for the Nobel Peace Prize."
Hailing Israel-U.A.E. agreement to normalize relations, national security adviser Robert O'Brien says Pres. Trump "should be a frontrunner for the Nobel Peace Prize." https://t.co/NCj5g1WI8W pic.twitter.com/uLuIw33tsB

— ABC News (@ABC) August 13, 2020
Trump has long complained that he would deserve the Peace Prize if it were handed out fairly.
Recall Obama was given the Nobel Peace Prize just for existing.
The reaction to Obrien's statement was predictable.
Donald Trump has let 165,000 Americans die, and my twitter feed is filled with Washington reporters credulously repeating that he should win the Nobel prize.

— Adam Parkhomenko (@AdamParkhomenko) August 13, 2020
A real President, @BarackObama actually won the Nobel Peace Prize. @realDonaldTrump more likely to win Inmate of the Month in Allenwood Federal Penitentiary. https://t.co/TEeb1yr5Sz

— Paul Begala (@PaulBegala) August 13, 2020
Sorry Donald Trump, they don't give the Nobel Peace Prize to people who have committed 160,000 counts of felony negligent homicide.

— Palmer Report (@PalmerReport) August 13, 2020
LOL to see @realDonaldTrump's sycophants getting "Nobel Peace Prize" trending to compete with the far more appropriate (and likely) #ProsecuteTrump.

— Eric Swalwell (@ericswalwell) August 13, 2020
Can you get a Nobel peace prize for killing your own people. https://t.co/iOteD5LteV

— Molly Jong-Fast🏡 (@MollyJongFast) August 13, 2020
What if they gave @realDonaldTrump a Nobel Peace Prize to tempt him to leave the country… where he could be apprehended by Interpol and sent to The Hague to answer for his crimes against humanity?https://t.co/Qk63tMwdo6

— Elie Mystal (@ElieNYC) August 13, 2020