Posted by
Kemberlee Kaye
Tuesday, August 25, 2020 at 7:05pm
| 8/25/2020 - 7:05pm
And it's not the only time this kind of thing has happened: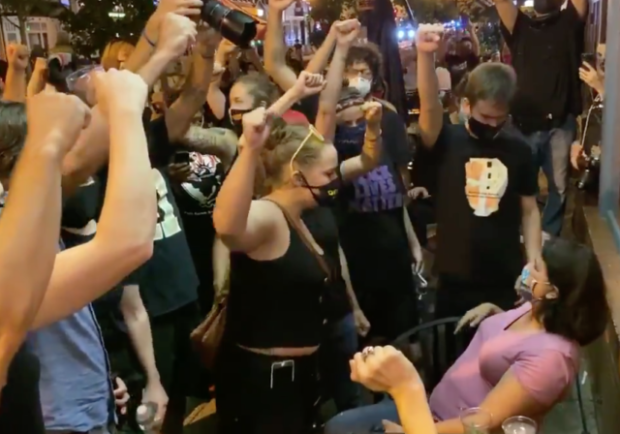 In case we needed a gazillionth example that the "peaceful protest" is an angry mob whose angst and confrontations are rapidly escalating, I've got one for you.
In DC, the Black Lives Matter mob harassed restaurant patrons, demanding they show their solidarity. Nothing inspires solidarity quite like yelling in their face, but we all know it's not about solidarity nor has it ever been.
Watch:
1) In a scene that played out several times Monday, a Black Lives Matter protest that began in Columbia Heights confronted White diners outside D.C. restaurants,  chanting "White silence is violence!" and demanding White diners show their solidarity. #DCProtests pic.twitter.com/fJbPM76vb0

— Fredrick Kunkle WaPo (@KunkleFredrick) August 25, 2020
If that's not horrifying enough, the woman actually agreed with the protesters, but refused to be intimidated into "solidarity."
2) In Adams Morgan, protesters screamed at Lauren B. Victor for several minutes for refusing to raise her fist with them.
"Are you a Christian?" a female protester demanded.
"Good for you — you stood your ground," Chuck Modiano said sarcastically as the crowd moved on.

— Fredrick Kunkle WaPo (@KunkleFredrick) August 25, 2020
3) Modiano, who had been yelling at Victor and moments later identified himself as a citizen journalist who writes for @Deadspin, told Victor he couldn't understand why she was the only diner in the area who wouldn't comply. "What was in you, you couldn't do this?"

— Fredrick Kunkle WaPo (@KunkleFredrick) August 25, 2020
4) "I felt I was under attack," Victor, an urban planner, said, adding that she felt there was something wrong about being coerced to show support.

— Fredrick Kunkle WaPo (@KunkleFredrick) August 25, 2020
5) "In the moment, it didn't feel right," Victor said, adding that she also could understand their anger. "I wasn't actually frightened. I didn't think they'd do anything to me," she said. "I'm very much with them. I've been marching with them for weeks and weeks and weeks."

— Fredrick Kunkle WaPo (@KunkleFredrick) August 25, 2020
6) Given many comments regarding protesters' races, it's worth noting that a young Black woman leading the protest Monday asked White protesters to step forward, as seen here. This direction was given more than once. pic.twitter.com/NEj7z7hdLj

— Fredrick Kunkle WaPo (@KunkleFredrick) August 25, 2020
And it's not the only time this kind of thing has happened:
BLM scumbags demand that diners at restaurant raise their fists for black power. Brave young couple retains dignity, refuses. Be that couple. Don't be the embarrassing mustachioed coward to the right who has forfeited his dignity for all time.

— Matt Walsh (@MattWalshBlog) August 25, 2020