Posted by
Mary Chastain
Tuesday, July 7, 2020 at 7:00pm
| 7/7/2020 - 7:00pm
"We cannot and will not stop until we overthrow it and replace it with a world based instead on solidarity, genuine democracy, and equality – a socialist world."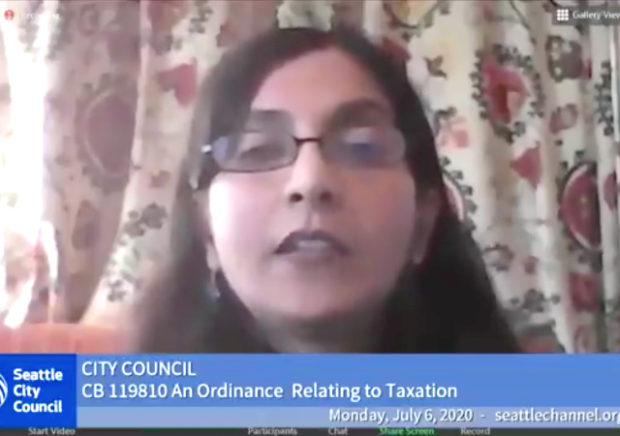 Seattle Councilwoman Ksghama Sawant, socialist, went on a crazy rant against Amazon after the council passed a payroll tax on big businesses.
Sawant is basically a female Sen. Bernie Sanders (I-VT). No private businesses, housing, etc.
First off, background on the tax:
The narrowly tailored tax is aimed only at the city's biggest businesses paying the highest salaries. It would spare small businesses and middle- and lower-class residents struggling to get by in a city where housing prices have continued to rise unabated during the Covid-19 pandemic.

The council bill would provide for levies on an estimated 800 Seattle corporations at escalating rates. Companies with payrolls of $7 million to under $100 million would be subjected to a .7% rate on cumulative compensation of $150,000 to under $400,000 and 1.7% on compensation of $400,000 and above. Corporations with $100 million to under $1 billion payrolls would be taxed at a .7% rate on cumulative compensation of $150,000 to under $400,000 and 1.9% on compensation of $400,000 and above. Corporations with payrolls over $1 billion would be taxed 1.4% on compensation from $150,000 to under $400,000 and 2.4% on compensation of $400,000 or more.
To Sawant, this tax is the first step to building that socialist utopia where money grows on trees, the skies always have rainbows, and nobody is allowed to showcase a personality!
After passing the "Amazon Tax," Seattle City Councilwoman Kshama Sawant went on this unhinged rant.

She threatens to seize control of the Fortune 500 and overthrow the "racist, sexist, violent, utterly bankrupt system of capitalism."

If you oppose her? "We are coming for you." pic.twitter.com/2L17D6wScp

— Christopher F. Rufo (@realchrisrufo) July 7, 2020
The Socialist Alternative website has the whole speech, but here's the big part:
I have a message for Jeff Bezos and his class.

If you attempt again to overturn the Amazon Tax, working people will go all out in the thousands to defeat you.

And we will not stop there.

Because you see, we are fighting for far more than this tax, we are preparing the ground for a different kind of society.

And if you, Jeff Bezos, want to drive that process forward by lashing out against us in our modest demands, then so be it.

Because we are coming for you and your rotten system.

We are coming to dismantle this deeply oppressive, racist, sexist, violent, utterly bankrupt system of capitalism, this police state.

We cannot and will not stop until we overthrow it and replace it with a world based instead on solidarity, genuine democracy, and equality – a socialist world.
Sawant also had ideas for this utopia that Seattle can accomplish if they take advantage of this "energy." She wants the city to release "all arrested protesters without charges, and to defund Seattle police by at least 50 percent, to stop the sweeps of homeless neighbors and fund tiny house villages, to win at least a thousand homes in the Central District for black working families."
After all, "capitalism is completely incapable of meeting the most basic needs of working people." Did Sawant not see the stores at the beginning of the pandemic? Sure the stores ran out of products, but it did not take long for stockers to fill the shelves again.
You know, unlike in Venezuela or Cuba.
It seems that Sawant is not popular with Seattle officials.
Only six days ago Seattle Mayor Jenny Durkan asked the City Council to investigate and maybe even expel Sawant from the council due to a "series of actions surrounding police protests."
Durkan sent a letter to Council President Lorena González last week:
"Disagreements on policy contribute to a robust public debate. However, policy disagreements do not justify a Councilmember who potentially uses their position in violation of law or who recklessly undermines the safety of others, all for political theatre," Durkan wrote in the letter.

Durkan's letter accuses Sawant of the following:

Allowing hundreds of protesters into City Hall after hours without following social distancing or masking protocols, prompting safety complaints from janitorial staff.
Leading a protest to the mayor's home, knowing that Durkan's address is protected by a state program due to threats related her her time as a U.S. Attorney.
Using her position to encourage protesters to occupy the East Precinct as "the City has been trying to de-escalate the situation and ask individuals to depart because of violence in the area."
Durkan took personal issue with Sawant's decision to deliver a speech outside her home over the weekend.

"All of us have joined hundreds of demonstrations across the City, but Councilmember Sawant and her followers chose to do so with reckless disregard of the safety of my family and children. In addition, during or after Councilmember Sawant's speech at that rally, her followers vandalized my home by spray-painting obscenities," Durkan wrote.
González said she will not investigate Sawant.