Posted by
Mary Chastain
Friday, July 31, 2020 at 8:30pm
| 7/31/2020 - 8:30pm
Flashback to 2014 in Ferguson: "Pigs in a blanket, fry 'em like bacon."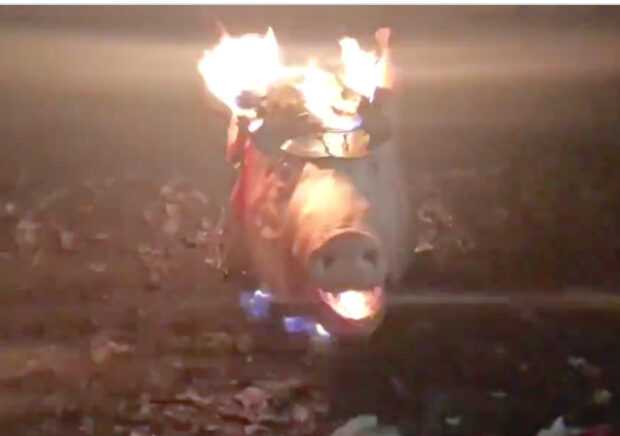 Journalist Andy Ngo posted a video of ANTIFA rioters in Portland, OR, setting fire to a bloody pig's head with a cop's hat on it.
ANTIFA has a history of weaving pigs into their riots.
Antifa protesters dumped a bloody severed pig's head on an American flag outside the Justice Center in downtown Portland. They put a cop's hat on it and set all of it on fire. #PortlandRiots #antifa pic.twitter.com/qfAOT4ItxP

— Andy Ngô (@MrAndyNgo) July 31, 2020
Last night was not the first time a severed pig's head was used as a threat to law enforcement in Portland. In the early weeks of the riots, a burnt pig's head was left at the base of the now-gone elk statue. This was long before federal agents showed up outside the courthouse. pic.twitter.com/uzgeOjo46X

— Andy Ngô (@MrAndyNgo) July 31, 2020
The riots have been going on for over 60 nights in a row.
Police rescued an abandoned pig in Portland a few weeks ago. They think a rioter abandoned it after he or she decided not to kill it.
People found a burnt pig's head around the base of a now-removed statue weeks before the federal agents came to town.
Burning pigs has been popular with ANTIFA. It began in Ferguson, MO, in 2014 when rioters chanted "pigs in a blanket, fry 'em like bacon."
The chant didn't become prominent until December 2014 when a man executed NYPD officers Wenjian Lu and Rafael Ramos. His last Instagram post said, "I'm Putting Wings On Pigs Today. They Take 1 Of Ours…Let's Take 2 of Theirs. This May Be My Final Post … I'm Putting Pigs In A Blanket."