Posted by
Stacey Matthews
Sunday, July 12, 2020 at 4:00pm
| 7/12/2020 - 4:00pm
"Hell no. Hell no," Goya Foods CEO Bob Unanue said when asked if he planned on bowing to cancel culture mobs and apologizing for his recent praise of President Trump.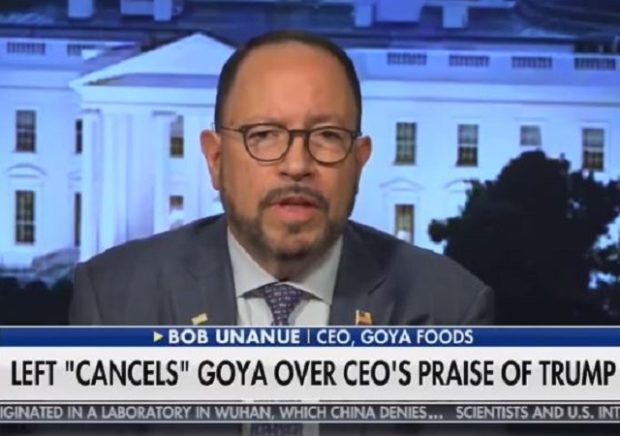 When a person is faced with a cancellation notice from left-wing mobs, they have two choices: apologize and beg for forgiveness or stand and fight for what they think is right.
Just as "Harry Potter" author J.K. Rowling has in recent weeks, Goya Foods CEO Bob Unanue has chosen to stand and fight.
During a Rose Garden ceremony Thursday, Unanue stated "We're all truly blessed … to have a leader like President Trump, who is a builder" during an event announcing a "Hispanic Prosperity Initiative" that will, according to the White House, "improve Hispanic Americans' access to educational and economic opportunities."
After the video was shared on Twitter of Unanue complimenting Trump, the backlash ensued, with Democrat politicos like Rep. Alexandria Ocasio-Cortez (NY) and failed presidential candidate Julián Castro calling for a boycott of Goya Foods, a company that has proudly served the Hispanic community for nearly 85 years.
Unanue told Fox and Friends Friday that he was not going to apologize for what he said, and condemned cancel culturalists for what he called "suppression of speech" while also noting he had also worked with the Obama administration on Hispanic initiatives.
In another appearance Friday night on Fox News, Unanue was asked by Laura Ingraham if he would end up backing down and modifying his stance as many others in the past have in the face of withering criticism. His response? "Hell no. Hell no":
UNANUE: Goya has been in business for the last 84 years. Since 2000 the U.S. Hispanic population has doubled. The Goya brand is extremely iconic, and it means something to every ethnicity. That's very powerful. And that can't be taken down, I don't believe, in a moment.

But the fact of the matter is, our country is very divided. I'm 66 years old, and I have been through a few decades, let's say. And in my lifetime, I've never seen the country more, unfortunately, divided. I like the saying there are those who are born to love and build and others to hate and destroy. And unfortunately, there is a movement of hatred and destruction. Who wants to see houses of worship burn, businesses people have put their whole lives savings and to build the business, and to only have people come along and destroy it. They have no right to do that.

[…]

INGRAHAM: Bob, will you be one of these big figures in American life — you have seen it in Hollywood, you've seen it in sports — who is forced to apologize for standing with President Trump or next to President Trump? Will you do that?

UNANUE: The White House has an issue on Hispanic prosperity, and I was asked by the White House to attend a roundtable and even be part of a new commission, which is yet to be named. But of course, when you are called to service, to serve our country in whatever way possible, I am blessed to have the fortune of being ahead of a company that is iconic. And so —

INGRAHAM: So the answer is no. The answer is no, you are not going to apologize for standing next to President Trump.

UNANUE: Hell no. Hell no.
Watch:
Goya CEO Bob Unanue on whether he will apologize for praising the Trump administration as top Democrats are calling for people to boycott his business, which is one of the largest Latino businesses in the America: "Hell no." pic.twitter.com/5GPfYwZZg9

— (((Jason Rantz))) on KTTH Radio (@jasonrantz) July 12, 2020
Unanue's comments are refreshing and inspiring at a time when America needs more like him to push back hard and say "enough is enough."
From the looks of things, his message is resonating. Not only has Goya's Facebook page gained over 100,000 new followers since the backlash began, but more people are pledging to #BuyGoya, and acting accordingly:
#BuyGoya #BuycottGoya pic.twitter.com/xRJ45qiUoQ

— Legal Insurrection (@LegInsurrection) July 12, 2020
I just loaded up my cart with #BuyGoya and drove over to the local food pantry. Thank you Goya for not backing down to the ridiculous mob. pic.twitter.com/JSCgUWIBZk

— vin g (@VinVing33) July 11, 2020
Doing our part to support the Goya Brand. #BuyGoya pic.twitter.com/nFKfYsMQ9z

— Jason Turner (@petjetman73) July 11, 2020
My fiancé and I came grocery shopping and decided to support #goya and #BuyGoya products! pic.twitter.com/KMR4peZqsP

— George Santos (@Santos4Congress) July 12, 2020
As Dana Loesch once said, "never bend a knee to the rage mob. Ever."
— Stacey Matthews has also written under the pseudonym "Sister Toldjah" and can be reached via Twitter. —