Posted by
Leslie Eastman
Sunday, July 19, 2020 at 12:00pm
| 7/19/2020 - 12:00pm
Fire breaks out just over a year after a massive fire destroyed historic Notre-Dame Cathedral in Paris.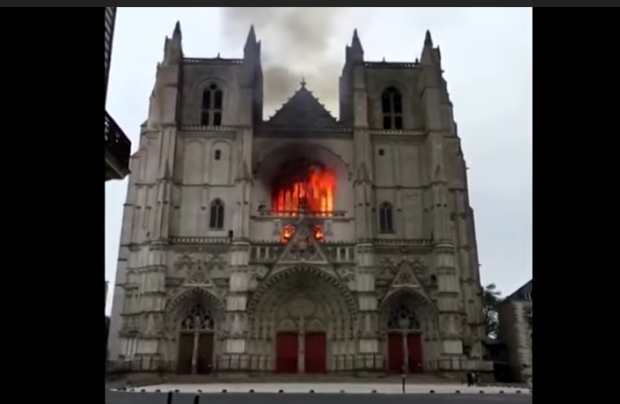 Arson is suspected in a fire that has ravaged the famous 15th-century cathedral in the French city of Nantes, blowing out stained-glass windows and destroying a grand organ.
French officials said they suspected arson was behind the blaze at the Cathédrale Saint-Pierre-et-Saint-Paul de Nantes or Cathedral of St. Peter and St. Paul of Nantes.

Prosecutor Pierre Sennes told reporters three fires had been started at the ancient site and authorities were treating the incident as a criminal act. He gave no further details.

The blaze began early Saturday morning around 7.45 a.m. local time (2:45 a.m. ET), engulfing the inside of the church with massive flames.

More than 100 firefighters battled for several hours to bring it under control and smoke was still coming out of the Gothic structure on Saturday afternoon, local time.
A preliminary investigation has revealed that the fire began in several different locations within the cathedral.
The city's prosecutor Pierre Sennes said: "We've observed this morning that the fire started in three spots. This observation leads us to open an investigation for arson, an investigation to regional judicial police.

"The next phase will be working into the investigation, consultations, we will take a lot of statements. We will also verify the technical installations, the fire prevention installations, and again, we are waiting for this expert who could give us interesting elements."

Fire Chief Laurent Ferlay told a press briefing in front of the cathedral that the blaze was not as big as the one that engulfed Notre Dame Cathedral in April 2019, and the damage is not as bad.

"I can confirm that we are not in the Notre Dame of Paris situation, rooftop is not affected," Ferlay told CNN affiliate BFM on Saturday.

"The damage is concentrated on the organ, which seems to be completely destroyed. Its platform is very unstable and could collapse," he said.
French churches experienced a spate of arson, vandalism, and other attacks in 2019. Currently, officials indicate that the investigation into the infamous Notre Dame inferno point to a cigarette or an electrical panel fire being the cause of the blaze.
Work on the restoration of the Notre Dame cathedral has slowed due to the coronavirus pandemic. For those of you who like classic architecture, there is some good news: Notre Dame will be restored to its original form.
A national heritage and architectural commission approved plans to restore the cathedral to its last "complete, coherent and known" state, including the spire, the restoration body said in a statement.

President Emmanuel Macron promised after the fire to rebuild Notre Dame within five years and later suggested that a contemporary design could be used for the spire.

Church officials hope Notre Dame will be open for mass by 2024 when Paris is due to host the Olympic Games.