Posted by
Mary Chastain
Wednesday, June 17, 2020 at 7:00pm
| 6/17/2020 - 7:00pm
Uh-huh: "Popular Mechanics is not encouraging anyone to remove any statues."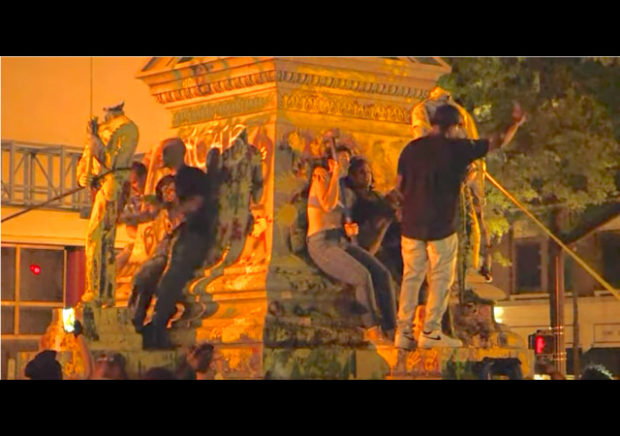 Last week, a man was injured when a statue hit him on the head as he participated with a Black Lives Matter group to remove it.
Popular Mechanics decided to publish an article with instructions on how to topple these statues so you don't get hurt.
The magazine claims the article is not an encouragement for people to tear down the statues, though!
Remember, folks! Popular Mechanics only published the article "to describe the physics and mechanics of removing statues, in light of national attention being drawn to the removal of Confederate monuments and statues."
I'm not going to post any of the instructions, but here's the introduction:
It hasn't been a great past few weeks for statues.

From Bristol, England to Birmingham, Alabama, people all over the world have been grappling with the legacy of racism by tossing their grappling hooks around the heads of problematic monuments.

Should you happen to find yourself near a statue that you decide you no longer like, we asked scientists for the best, safest ways to bring it to the ground without anyone getting hurt—except, of course, for the inanimate racist who's been dead for a century anyway.
Hilarious that the disclaimer states, "Popular Mechanics is not encouraging anyone to remove any statues."
But not because you shouldn't destroy property! Only because "[T]here is a risk of injury whenever you try to remove or destroy a statue, even if you were to apply information in this article."
Naah. They're no activism in journalism… Popular Mechanics publishes how-to guide to take down statues 'without anyone getting hurt' – https://t.co/2qcIEeYS27

— Joe Concha (@JoeConchaTV) June 17, 2020
I look forward to Popular Mechanics putting together a primer on how to make a Molotov cocktail https://t.co/Re2VkHeJSN

— Ben Shapiro (@benshapiro) June 17, 2020
???Popular Mechanics goes full Taliban. Several engineers chime in on how to destroy statues. I always thought @PopMech was about building things. https://t.co/hiXFORXRDW

— Christina Sommers (@CHSommers) June 17, 2020
— Grumpy bear (@thpl6750) June 17, 2020
nothing to see here just journalists at popular mechanics advocating for building illegal explosive devices to blow up historic monuments https://t.co/axLd3qKr3u

— Alpha9571 (@Alpha9571) June 17, 2020
Cancel my subscription to now unpopular mechanics! #youcanterasehistory when does the loony left grow some nuts!#peanutsinyoursak Protests Rage, Popular Mechanics Publishes Guide on How to Take Down Statues https://t.co/HHxyAPsPwI #Newsmax via @Newsmax

— Deplorable greg (@gregspace2) June 17, 2020
"Should you happen to find yourself near a statue that you decide you no longer like, we asked scientists for the best, safest ways to bring it to the ground…" https://t.co/fMFP8Y54Rx pic.twitter.com/UJs6bB0NHO

— David Reaboi (@davereaboi) June 16, 2020
Popular Mechanics is now Teen Vogue for slightly more intelligent communist nerds. https://t.co/SqK9594dJG via @JohnEkdahl pic.twitter.com/ULCO9zMIo7

— David Reaboi (@davereaboi) June 17, 2020
Dear Popular Mechanics @PopMech, I'm sure the rioters and criminals you encouraged to tear down statues are avid subscribers to your magazine. I no longer am! Pound Sand! pic.twitter.com/wXtrAqrmhD

— Hammy ✈ (@e2pilot) June 17, 2020
I subscribed to Popular Mechanics for years.

Glad I let it lapse recently.

That they would throw fuel onto the fire in this moment is fucking despicable. Pathetic cunts.

— Blake Elliott (@TheBlakeElliott) June 17, 2020