Posted by
Mary Chastain
Thursday, June 11, 2020 at 7:57am
| 6/11/2020 - 7:57am
"It came and fully hit him in the head, and his skull was actually showing … there was a great amount of blood. We are just asking everyone to pray for that man right now,"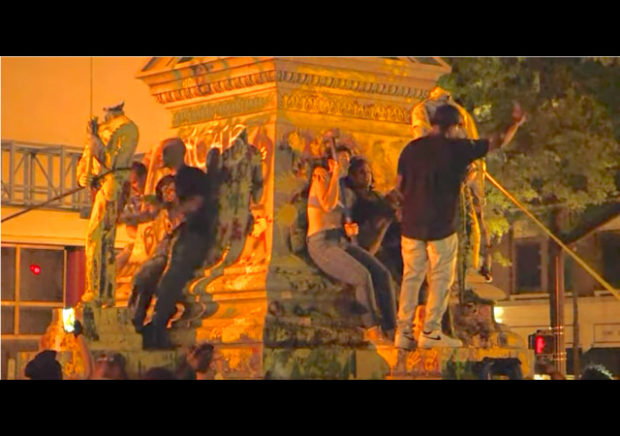 I am shocked this hasn't happened more. The Black Lives Matter chapter of Portsmouth, VA, vandalized and toppled a Confederate statue.
President of @BLM757 describes what he saw of the incident. He says afterwords you could see part of the mans skull. He is Asking everyone to pray for the man who believes was in his 30s @WAVY_News pic.twitter.com/Lh5vQSVtOX

— Brett Hall (@BrettHNews) June 11, 2020
"It came and fully hit him in the head, and his skull was actually showing … there was a great amount of blood. We are just asking everyone to pray for that man right now," said Aubrey 'Japharii' Jones, the president of the local BLM group.
The Black Lives Matter group organized a protest around the statue at 7:57 p.m. on Wednesday.
The City Council held an emergency meeting after these people threw paint on the monument and officers charged two NAACP leaders with trespassing:
While protesters were still gathered around the 54-foot-tall statue, council scheduled a public hearing on the relocation of the monument for July 28.

Under a state law that goes into effect on July 1, altering or relocating public monuments in the state of Virginia can occur. Following a public hearing—which the City Attorney couldn't be for at least 30 days to account for public notice — the city has to wait another 30 days to offer the monument up to a museum or other group before moving it themselves. Under this timeline, Portsmouth's monument may not move until at least September.

NAACP Portsmouth chapter leaders along with activists from Black Lives Matter 757 listened to the discussion as it happened.

"If there is something morally courageous to do, you don't wait 30 days, you do it now," said James Boyd, President of the local NAACP chapter. "If you get a legal challenge in court then you allow the city attorney and whole team of attorneys that can argue in the court like they did in 2017. So this was just more delay and disappointment."
But now people want to know why officers didn't step in.
Portsmouth PD Chief Angela Greene told the media she never ordered the police "to ignore the destruction of property." She also said that "an elected official directed them to let vandalism of the Confederate monument to occur."
NEW: @PortsmouthPD Chief Angela Greene says no order from her was ever given for officers to ignore the destruction of property. Rather…an elected official directed them to let vandalism of the Confederate monument to occur @WAVY_News pic.twitter.com/Vc4e5RZ9tA

— Brett Hall (@BrettHNews) June 11, 2020