Posted by
Mary Chastain
Wednesday, May 27, 2020 at 9:00am
| 5/27/2020 - 9:00am
"I'm just saying, we fly over those states that voted for a racist tangerine for a reason."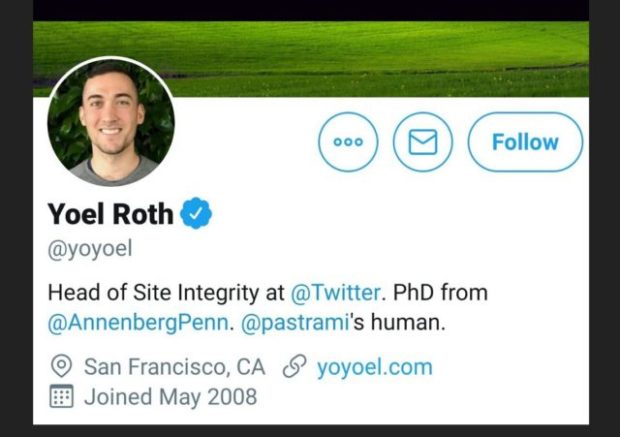 Twitter's Head of Site Integrity Yoel Roth is in charge of "developing and enforcing rules," which means he likely had a say in fact-checking President Donald Trump's tweets about mail-in ballots.
But can we truth Roth to enforce these rules across the board? He has a long history of attacking Trump and other Republicans.
Look, I love free speech. Roth can say whatever he wants, but until I see Twitter actually go after the left like it does the right, I don't trust him or anyone else there.
I mean, Roth doesn't hold back.
This person is the "head of site integrity" at Twitter pic.twitter.com/hyZcl5VIe0

— Jon Levine (@LevineJonathan) May 27, 2020
Yes, that person in the pink hat is clearly a bigger threat to your brand of feminism than ACTUAL NAZIS IN THE WHITE HOUSE.

— Yoel Roth (@yoyoel) January 22, 2017
I'm just saying, we fly over those states that voted for a racist tangerine for a reason.

— Yoel Roth (@yoyoel) November 9, 2016
I've never donated to a presidential campaign before, but I just gave $100 to Hillary for America. We can't fuck around anymore.

— Yoel Roth (@yoyoel) September 27, 2016
Sanders protest voters, and racism.

— Yoel Roth (@yoyoel) January 20, 2017
I'm almost ready to stop dwelling on how my friends are complicit in the election of Donald Trump. Almost. https://t.co/06x7brT6Vn

— Yoel Roth (@yoyoel) January 7, 2017
Massive anti-Trump protest headed up Valencia St. ❤ San Francisco. pic.twitter.com/GFYQyrAZZD

— Yoel Roth (@yoyoel) January 21, 2017
Roth's tweets surfaced because it fact-checked Trump's tweet about mail-in ballots potentially leading to voter fraud.
If you click on the link on his tweet it says: "Experts say mail-in ballots are very rarely linked to voter fraud. … Fact-checkers say there is no evidence that mail-in ballots are linked to voter fraud."
However, some experts have said that mail-in ballots is "an invitation to widespread fraud."
One such study came in 2005 from the Commission on Federal Election Reform. Here's a surprise! President Jimmy carter chaired that commission.
The study said: "Absentee ballots remain the largest source of potential voter fraud."