Posted by
Kemberlee Kaye
Friday, May 15, 2020 at 6:16pm
| 5/15/2020 - 6:16pm
Thank goodness for people of the internet who were more than happy to point the ridiculousness of the style change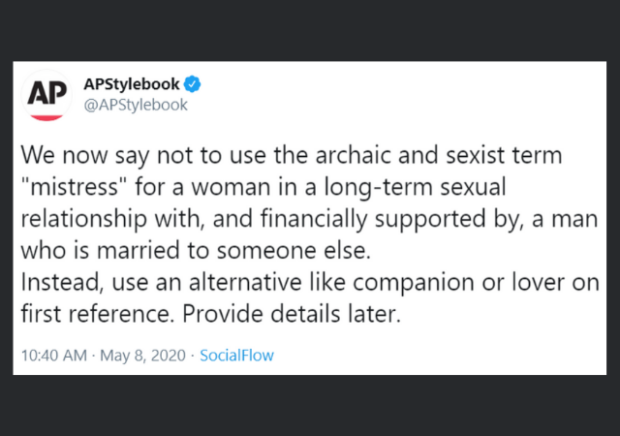 The war on language rages on. And then attempt to normalize behaviors and relationships that destroy the family unit gets an assist from the AP.
The Associate Press, responsible for wire stories appearing in local press nationwide, announced they'd no longer use the term "mistress" and instead will use "lover" or "companion." Because either of those is any better?
We now say not to use the archaic and sexist term "mistress" for a woman in a long-term sexual relationship with, and financially supported by, a man who is married to someone else.
Instead, use an alternative like companion or lover on first reference. Provide details later.

— APStylebook (@APStylebook) May 8, 2020
"Lover" and "companion" both gloss over the fact that the relationship is extramarital and make it sound super rosy and perfectly appropriate when in fact, it is not. Mistresses, side pieces, concubines, all fitting. And this is not France. Mmmkay?
But thank goodness for people of the internet who were more than happy to point the ridiculousness of the style change:
I prefer "concubine," but it has a narrower set of qualifications. I guess "side piece" should suffice.

— Jay (@OneFineJay) May 8, 2020
So we should call them whores ?

— Ken Webster ??? (@KenWebsterII) May 9, 2020
Home wrecker will do! Thanks.

— Stacy Washington (@StacyOnTheRight) May 9, 2020
Likely:
Seems less accurate. Does someone at AP have a mistress who got huffy over the term?

— John Hawkins (@johnhawkinsrwn) May 9, 2020
Also true:
That is too harsh. Adultry requires two to tango

— Kevin Brown (@KevinKay500bee) May 8, 2020
But really, this:
God forbid words have meaning everyone can understand, and people responsible for reprehensible acts like home-wrecking be assigned a title.

— Smells Like Teen Statism_ (@Repressed86) May 8, 2020