Posted by
William A. Jacobson
Thursday, May 21, 2020 at 7:00pm
| 5/21/2020 - 7:00pm
"ORDERED, on the court's own motion, that … the district judge file a response addressing petitioner's request that this court order the district judge to grant the government's motion to dismiss"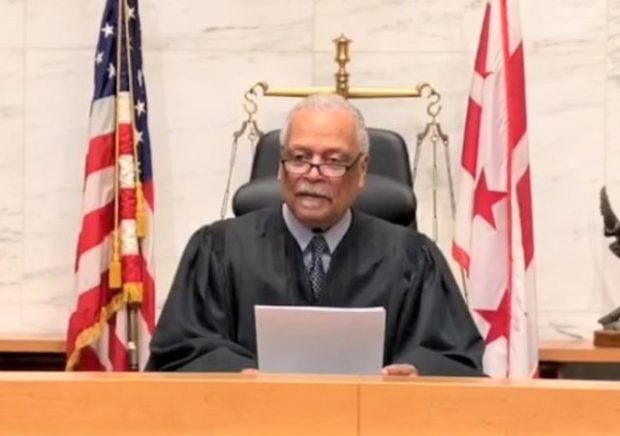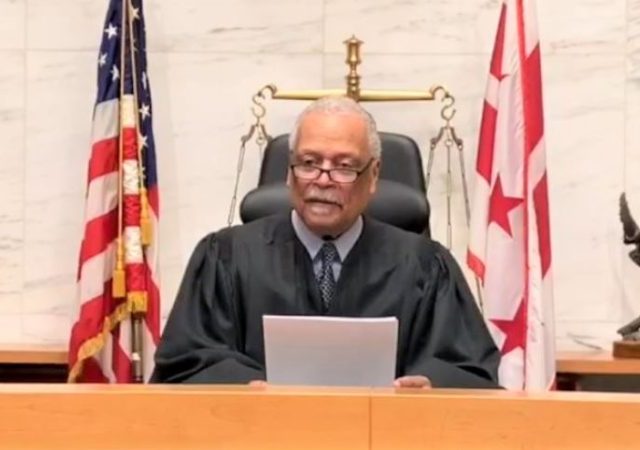 Michael Flynn has asked the Court of Appeals for the D.C. Circuit to order the district court to dismiss the criminal prosecution as requested by the government, and to remove Judge Emmet Sullivan from the case.
Instead of dismissing the case, Sullivan appointed former Judge John Gleeson, who has a documented hostility to Flynn, to argue as 'friend of the court' against dismissal and also as to whether Flynn should be held in criminal contempt of court for perjury (presumably for pleading guilty then later denying guilt).
For background on the Petition for Mandamus filed by Flynn in the appeals court and prior proceedings, see these prior posts:
The D.C. Circuit has issued an order (pdf.) which is as unusual as Sullivan's own conduct. The appeals court order Sullivan to explain what he is doing:
BEFORE: Henderson, Wilkins, and Rao, Circuit Judges

O R D E R

Upon consideration of the emergency petition for a writ of mandamus, it is

ORDERED, on the court's own motion, that within ten days of the date of this order the district judge file a response addressing petitioner's request that this court order the district judge to grant the government's motion to dismiss filed on May 7, 2020 (ECF No. 198). See Fed. R. Crim. P. 48(a); United States v. Fokker Services B.V., 818 F.3d 733 (D.C. Cir. 2016). The government is invited to respond in its discretion within the same ten-day period.

The Clerk is directed to transmit a copy of this order to the district court.

Per Curiam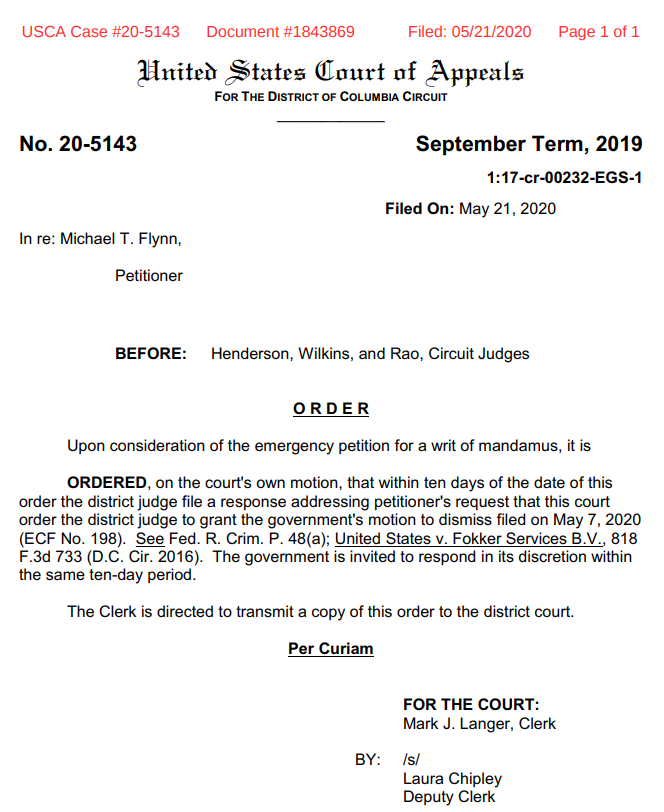 The Court's mention of Fokker may be significant, as it was one of the main cases cited by Flynn in his Emergency Petition for Mandamus (pdf.), including the following:
The district court's failure to grant the Government's Motion to Dismiss defies this Court's binding precedent in United States v. Fokker Servs., B.V., 818 F.3d 733, 740 (D.C. Cir. 2016).

* * *

This Court has held that the discretion of the Justice Department under Rule 48(a) is predominant, while the role of the judge is ministerial: "[D]ecisions to dismiss pending criminal charges … lie squarely within the ken of prosecutorial discretion" and "'at the core of the Executive's duty to see to the faithful execution of the laws.'" Fokker Servs., 818 F.3d at 741 (citation omitted)

* * *

A district court cannot deny the Government's motion to dismiss because the judge has "a disagreement with the prosecution's exercise of charging authority," such as "a view that the defendant should stand trial" or "that more serious charges should be brought." Fokker Servs., 818 F.3d at 742-43. Nor should a court second-guess the Government's "conclusion that additional prosecution or punishment would not serve the public interest." Id. at 743….
Sullivan is notoriously hostile to Flynn. This Rachel Maddow segment has excerpts from court statements by the judge slamming Flynn: